Fox's Untitled X-Men Series Casts Jamie Chung As Blink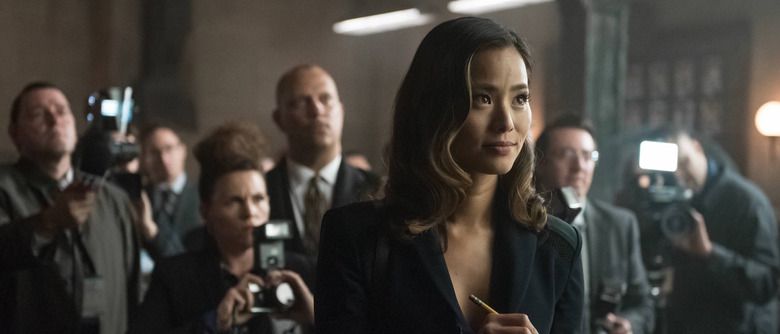 With FX's Legion out there enthralling and confusing audiences from week to week, that other X-Men-related TV show is starting to pull itself together. The untitled Fox superhero series announced last year has just cast its first mutant. Jamie Chung is set to play Clarice Fong a.k.a. Blink, who has the ability to teleport. The show is created by Matt Nix (Burn Notice). Bryan Singer will direct the pilot episode. 
As we reported last year, the untitled series follows two ordinary parents who discover their kids have mutant powers. With a hostile government hot on their heels, the family goes on the run and links up with an underground network of mutants. Marvel announced the Fox Marvel Jamie Chung casting, and describes her character as a "sarcastic and lively tomboy." Here's more:
Clarice's naturally strong exuberance has taken a hit after a sudden and traumatic upheaval of her life. As she adjusts to the new people and places that are suddenly 'home,' Clarice is slowly becoming herself again. Blink is an established character from the X-Men comics with the power of teleportation.
Fans of the X-Men films may recall that Blink was previously portrayed by Fan Bingbing in X-Men: Days of Future Past — which could get confusing if it turns out the new television series is set in the same universe as the existing X-Men movies. But I'm sure they could retcon some convoluted explanation involving time travel if they really wanted to. And anyway, Fox's X-Men continuity hasn't really made sense in years. So sure, why not another version of Blink?
Chung actually has a fair amount of experience with superhero properties already. She has a recurring role as Valerie Vale on the current season of Fox's Gotham, and voiced Go Go Tomago in Disney Animation's Marvel adventure Big Hero 6. Her other recent credits include ABC's Once Upon a Time (she recurs as Mulan), Zack Snyder's Sucker Punch, Robert Rodriguez's Sin City: A Dame to Kill For, and the last two Hangover movies.