Uma Thurman Turned Down A Role In 'Lord Of The Rings'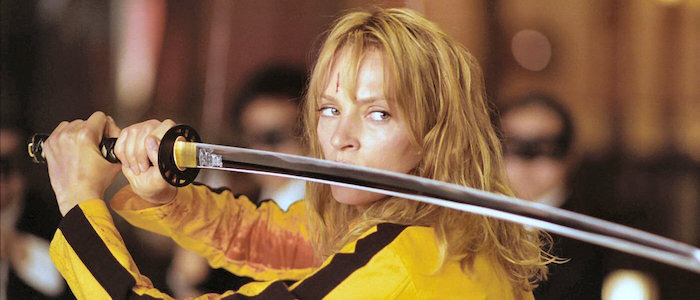 Here's some trivia for you: while appearing as a guest on The Late Show with Stephen Colbert, Uma Thurman revealed that she was offered a key role in Peter Jackson's Lord of the Rings trilogy and regrets turning it down.
While Thurman was technically on the show to promote her new Bravo series, Imposters, Colbert led with a piece of trivia that will get any geek to take notice – the Pulp Fiction star was offered the role of Eowyn, but she declined the offer. Here's her explanation:
Yes. It was a very long time ago, and I do consider it one of the worst decisions ever made. But I had just had my first child, and I just...I don't know, I was a little housebound. [...] It's really definitely a regret.
To be fair, dragging a new mother and her child down to New Zealand for a long film shoot on a project that was far from a sure thing is not ideal. Can you blame her? No one knew that the Lord of the Rings movies were actually going to work until the first one was in theaters, somehow working. Besides, the alternate universe where Thurman said yes to this role is the alternate universe where filming overlapped with Kill Bill, keeping her from taking on her greatest role.
Plus, it's hard to argue against Miranda Otto's performance as Eowyn, who brought the perfect blend of ferocity and tenderness to the role. Plus-plus, Thurman was probably a little too recognizable for the part, especially since the Lord of the Rings trilogy benefitted from actors capable of completely vanishing inside their characters.
Now we can toss this Uma Thurman tidbit on the pile of Lord of the Rings trivia for future generations to enjoy. It now sits alongside the story of how Sean Connery and Patrick Stewart reportedly turned down Gandalf the Grey. It's shelved next to Jake Gyllenhaal's Frodo audition. It resides with the many, many actors who were apparently connected to Aragorn at some point, including Daniel Day-Lewis (!), Nicolas Cage (!!), Russell Crowe (!!!) and Vin Diesel (!!!!). Someone needs to invent dimension-hopping technology so we can visit the world where some combination of those names headlined the film.
You can watch Colbert's complete interview with Thurman below.