'Mystery Science Theater 3000' Revival First Look And Release Date Revealed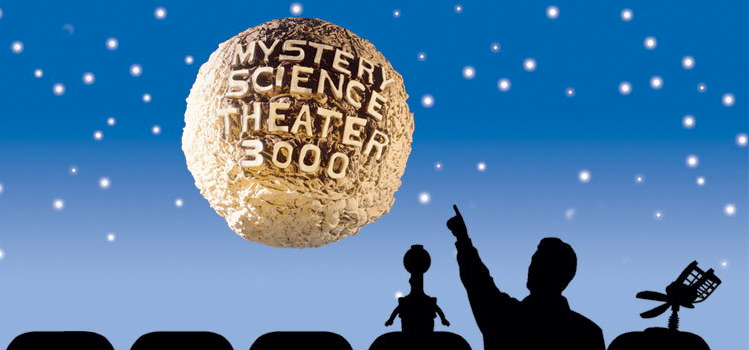 Fans of the movie-mocking Mystery Science Theater 3000 had their wildest dreams come true when a successful Kickstarter campaign resulted in the show getting revived for a whole new season of episodes making fun of more movies. Making the return of the show even sweeter was that Netflix picked it up for exclusive distribution on their streaming service.
The Mystery Science Theater 3000 revival has been in production for awhile, and now we finally get to see how the whole new crew of the Satellite of Love looks in the first cast photo. Plus, Netflix has announced the official release date, and fans won't have to wait too much longer to get some new cinema lampooning.
Find out the Mystery Science Theater 3000 release date and see the first photo below.
Here's the first MST3K photo that Netflix released on Twitter: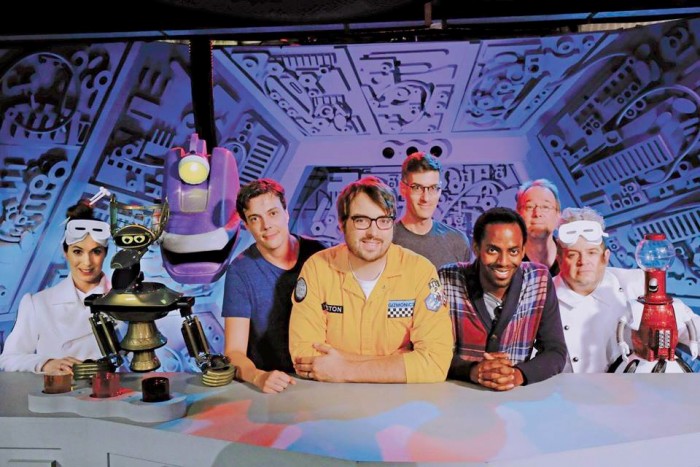 The cast includes comedian Jonah Ray (center) as the new observer and to his immediate left and right are Hampton Yount and Baron Vaughn as the new voices of robots Crow and Tom Servo. On the outer left and right are Felicia Day and Patton Oswalt as evil scientist Kinga Forrester TV's Son of TV's Frank, respectively. Meanwhile, series creator Joel Hodgson is hiding there in the back on the right while the revival's director Robert Cohen (Fresh Off the Boat, Maron) is in the background. Fun Fact: Cohen was the inspiration for Milhouse Van Houten on The Simpsons, and he even worked on the show's earlier seasons, including writing "Flaming Moe's", a beloved episode of many fans.
Along with that photo, the streaming service announced that Mystery Science Theater 3000 will return in the not-too-distant future, with a release date of April 14. One thing we're not too sure about is whether Netflix will follow their usual release strategy of releasing all the episodes at once, or maybe staggering them so fans don't binge them all right away. While I'm certainly a fan of binging a good show every now and then, in the case of Mystery Science Theater 3000, I wish they would hold back new episodes so that we have a new treat to look forward. But then again, we can all just try to resist the temptation of watching all the episodes in a couple days.
In addition to the primary cast, guest stars are supposed to include Mark Hamill, Jack Black, Neil Patrick Harris, Joel McHale, Bill Hader and Jerry Seinfeld. As for writing duties, The Daily Show's former head writer Elliott Kalan is serving as head writer and he'll have help from Justin Roiland, Rob Schrab (The LEGO Movie Sequel), Nell Scovell (The Muppets), Ernest Cline (Ready Player One), Pat Rothfuss (The Name of the Wind), comedian Dana Gould, musical act Paul & Storm, and Robert Lopez (the EGOT-winning songwriter behind Frozen).
Spring can't get here soon enough for new episodes of MST3K.