'Thor: Ragnarok's Tom Hiddleston On Why Loki Isn't Impressed By Doctor Strange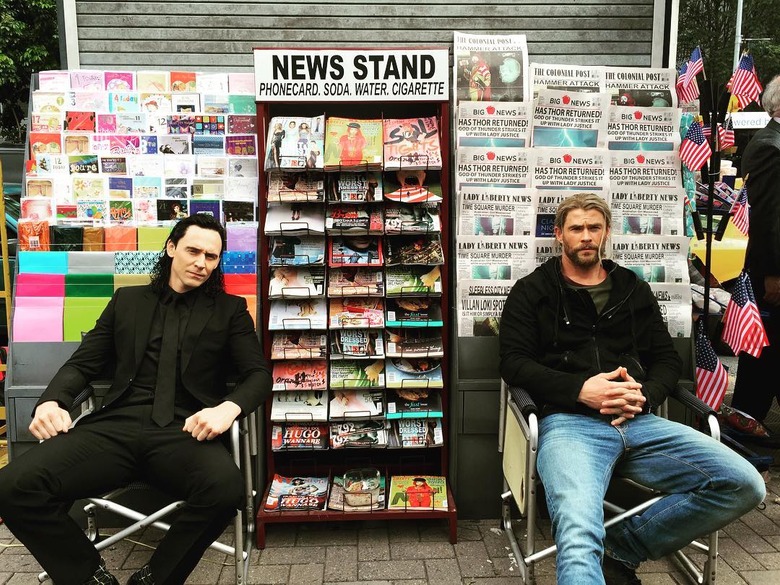 Loki hasn't been seen in a hot minute, but he'll be back with glorious purpose later this year in Thor: Ragnarok. So what's everyone's favorite trickster god been up to? What does he think of the latest developments and additions to the MCU? What'll he do once he's reunited with his big brother? As you've probably assumed, Tom Hiddleston isn't ready to say too much just yet. But he's not above dropping some hints.
Click through to see what Hiddleston had to say about the future of Loki, his thoughts on Strange (Benedict Cumberbatch) and Hela (Cate Blanchett), and of course his relationship with Thor (Chris Hemsworth). 
The Doctor Strange credits scene revealed that Strange is aware of Loki and none too thrilled that he's landed in New York. Strange is so eager to get rid of Loki, in fact, that he promises to help track down Loki so the brothers can return to Asgard. But what does Loki think of Strange? Hiddleston offered his thoughts to IGN. "I think he probably dismisses Strange," he said. "Yes, his sorcery is very impressive, but Loki has been doing that for centuries, so who cares?"
While Loki may be underwhelmed by Strange, he's apparently more impressed by Hela. Which makes sense, considering that she's a supervillain death goddess played by Cate Motherf***in' Blanchett. Teased Hiddleston, "Hela is a different beast, and full of surprises, and actually might have been someone with whom at one time he could have gotten along, but the circumstances have changed."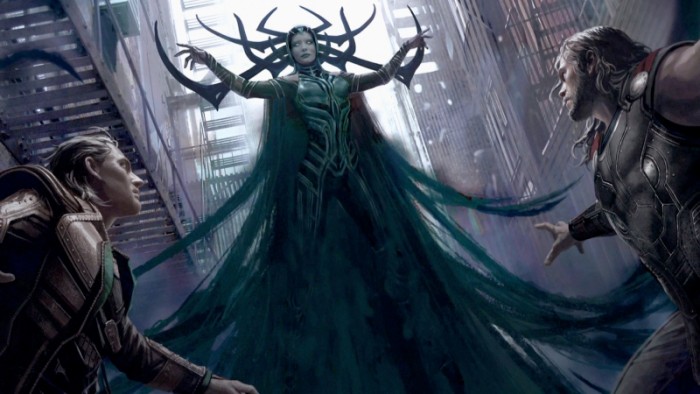 But Loki and Hela don't seem to be getting along at all these days, at least if the Thor: Ragnarok concept art is any indication. As you can see above, one of the pieces shows Loki and Thor joining forces against her. But aren't those two still at odds? Hiddleston filled in some of the blanks about Thor and Loki's relationship:
At the beginning of Ragnarok, Thor has a lot of questions, and Loki, true to form, is not forthcoming with that many answers. But hammers are involved and the stakes are raised. Cate Blanchett, it's no secret, is playing the goddess of death, who brings destruction in her wake and it is the kind of destruction that both Thor and Loki have never seen, on a scale of terror that they have never ever seen before. So they fall back on their brotherhood, fractured though it is, to see what they can do to stop her.
The MCU has a (well-deserved) reputation for crummy supervillains, but Loki's always been one of the more interesting ones. He and Thor have a uniquely complicated, ambivalent, back-and-forth relationship — they're as likely to try and kill each other as they are to reluctantly team up together. Which, come to think of it, is probably how a lot of people feel about their real-life siblings.
Thor: Ragnarok is in theaters November 3. Taika Waititi directs, and Mark Ruffalo, Idris Elba, Anthony Hopkins, Jeff Goldblum, Tessa Thompson, and Karl Urban star alongside Hemsworth and Hiddleston. Here's the synopsis:
In Marvel Studios' "Thor: Ragnarok," Thor is imprisoned on the other side of the universe without his mighty hammer and finds himself in a race against time to get back to Asgard to stop Ragnarok — the destruction of his homeworld and the end of Asgardian civilization — at the hands of an all-powerful new threat, the ruthless Hela. But first he must survive a deadly gladiatorial contest that pits him against his former ally and fellow Avenger — the Incredible Hulk!