Kyle Chandler Joins 'Godzilla: King Of The Monsters'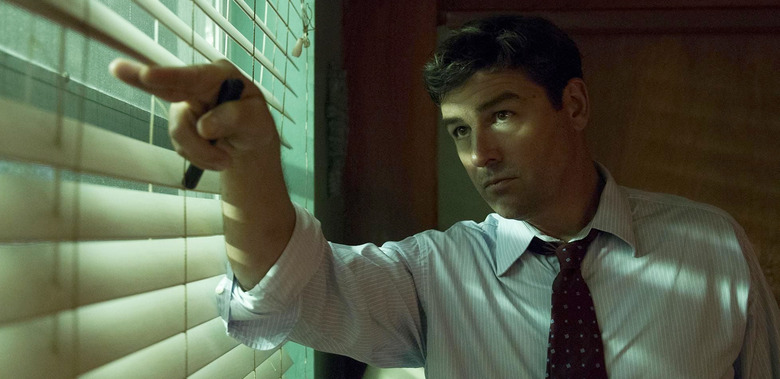 Actor Kyle Chandler will play the father of Millie Bobby Brown's (Stranger Things) character in Godzilla: King of the Monsters. The actor, known for his excellent dramatic work in Bloodline and Friday Night Lights, will co-star in Michael Dougherty's (Krampus) monster movie, due out in 2019. Right now, Chandler and Brown are the only actors confirmed to star in Legendary's sequel to Gareth Edward's hit 2014 film.
Below, learn more about the Kyle Chandler Godzilla sequel casting.
Variety broke the news of Chandler joining the sequel. All we know at this time is that Chandler will play the father of Brown's character. The plot of Godzilla: King of the Monsters is tightly under wraps. When Edwards was still planning on directing the sequel, he said it'd be a Destroy All Monsters-like film, featuring Rodan, Mothra, and King Ghidorah. That was years ago, and before 2020's Godzilla vs. Kong was announced and Dougherty became involved with Godzilla 2, so that game plan easily could've been scrapped. Dougherty co-wrote Godzilla: King of the Monsters with Zach Shields, who he wrote Krampus with.
Most of the leading characters from Edward's film were still breathing once the end credits rolled, but Aaron Taylor-Johnson, Elizabeth Olsen, and Sally Hawkins don't appear to be returning for the sequel in any capacity. Variety does mention, however, that Ken "let them fight" Watanabe may return as Dr. Serizawa. The outlet's sources tell them he's likely the only character returning for the sequel.
We may or may not get some indication of what the future holds for the King of Monsters with the upcoming Kong: Skull Island. There's a post-credits sequence attached to Jordan Vogt-Roberts' adventure film. Perhaps it'll provide some context for how Kong and Godzilla will meet up and trade some punches, but we'll have to wait and see.
Chandler, of course, once appeared in a King Kong film; he played cornball actor-turned-hero, Bruce Baxter. In the years since Peter Jackson's epic, he's been delivering some powerhouse performances. He's given some truly emotional performances over the last few years, whether we're talking about Manchester by the Sea, Friday Night Lights, Super 8, or Bloodline. He's a great actor, and he often shines in roles dealing with fatherhood or father figures, so we're happy to learn he's boarded the Godzilla sequel. We'll next see Chandler in the third and final season of Bloodline this summer.
Godzilla: King of the Monsters opens in theaters March 22nd, 2019.