The Complete 'Alien: Covenant' Cast (And Xenomorph Buffet) Revealed In New Image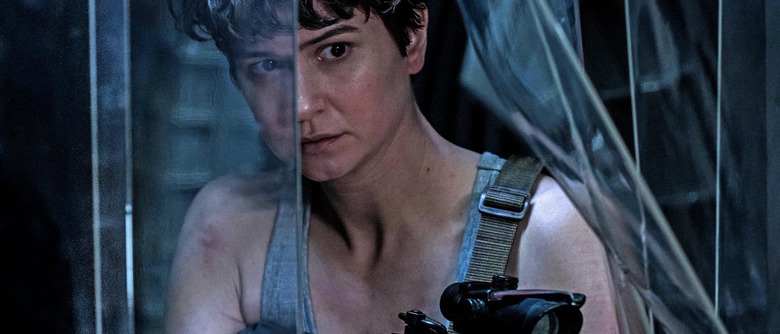 Yesterday, we got our first look at the complete cast of Shane Black's The Predator, so it makes perfect sense that today offers up our first look at the complete cast of Ridley Scott's Alien: Covenant. After all, these are the definitive science fiction/horror movie series, with the beasties at the center of both franchises even battling it out in the two Alien vs. Predator movies. It's fun to imagine that rivalry extending beyond the screen – "Well, if they're going to release a cast picture..."
So here we go: here is our first look at the Alien: Covenant cast gathered in one place.
The first thing you'll notice is that this is a big cast, which means that the Xenomorphs are probably going to rack up quite the body count this time around. The second thing you'll notice is that this ensemble is a pretty even mixture of both familiar and unfamiliar faces. James Franco, who joined the cast late in production, stands at the center of it all, acting as the Jesus Christ to a tableau that deliberately recalls The Last Supper.
Also on hand are familiar and reliable character actors like Demián Bichir, Amy Seimetz, and Billy Crudup. Danny McBride, taking a giant step outside of his usual zone, is there as well. However, the film's two leads flank the photo, with Katherine Waterston standing on the far left and Michael Fassbender standing on the far right. The cast is rounded out by Carmen Ejogo, Jussie Smollett, Callie Hernandez, Nathaniel Dean, Alexander England, and Benjamin Rigby.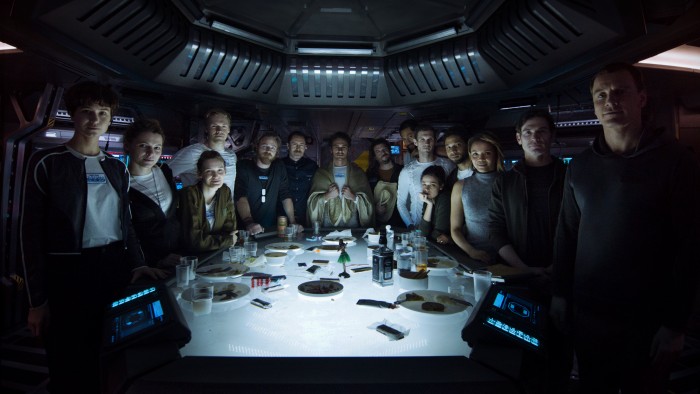 If you want to get specific, this isn't the complete cast of characters. After all, we know that Fassbender is pulling double duty this time around, playing the malicious android David (who was introduced in 2012's Prometheus) and a new android named Walter, who supposedly isn't all about infecting human beings with alien weirdness to see what happens. Since this cast picture depicts the crew of the colony ship Covenant, we can assume that the present Fassbender is Walter.
Our own Angie Han recently saw a few minutes of Alien: Covenant, noting that the film appears to earn its R-rating and that the cast has her intrigued:
While the clips we saw were focused more on plot and action than on the characters or the overarching themes, we saw enough of the Covenant crew to make me look forward to getting to know them better. There's a lot of crude but affectionate banter between the crew, especially when Danny McBride's character is involved. He's not goofy enough to be called the "comic relief," but he does seem like the wisecracking type. We didn't see a lot of Waterston's character, but the glimpses we saw suggested a fierce performance with plenty of action. Still unclear is how exactly the android David ties into all of this, but Michael Fassbender's performance looks just as chilling as it did in Prometheus.
Alien: Covenant opens on May 19, 2017. Although we don't know the exact details, the press release attached to this new photo teases an "exclusive debut" during tomorrow night's episode of Legion on FX. So consider this another reason to check out one of the most exciting new television shows of 2017.
Here's the (refreshed!) official synopsis:
Ridley Scott returns to the universe he created, with ALIEN: COVENANT, a new chapter in his groundbreaking ALIEN franchise.  The crew of the colony ship Covenant, bound for a remote planet on the far side of the galaxy, discovers what they think is an uncharted paradise, but is actually a dark, dangerous world.  When they uncover a threat beyond their imagination, they must attempt a harrowing escape.