Interview: 'Moonlight' Star André Holland On Meeting The Kevins, Working With Soderbergh, And The Politics Of Art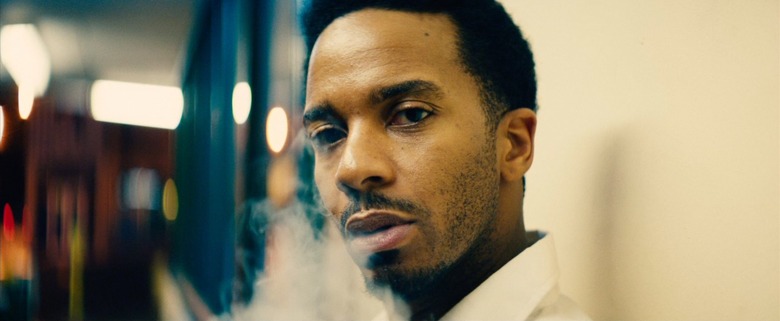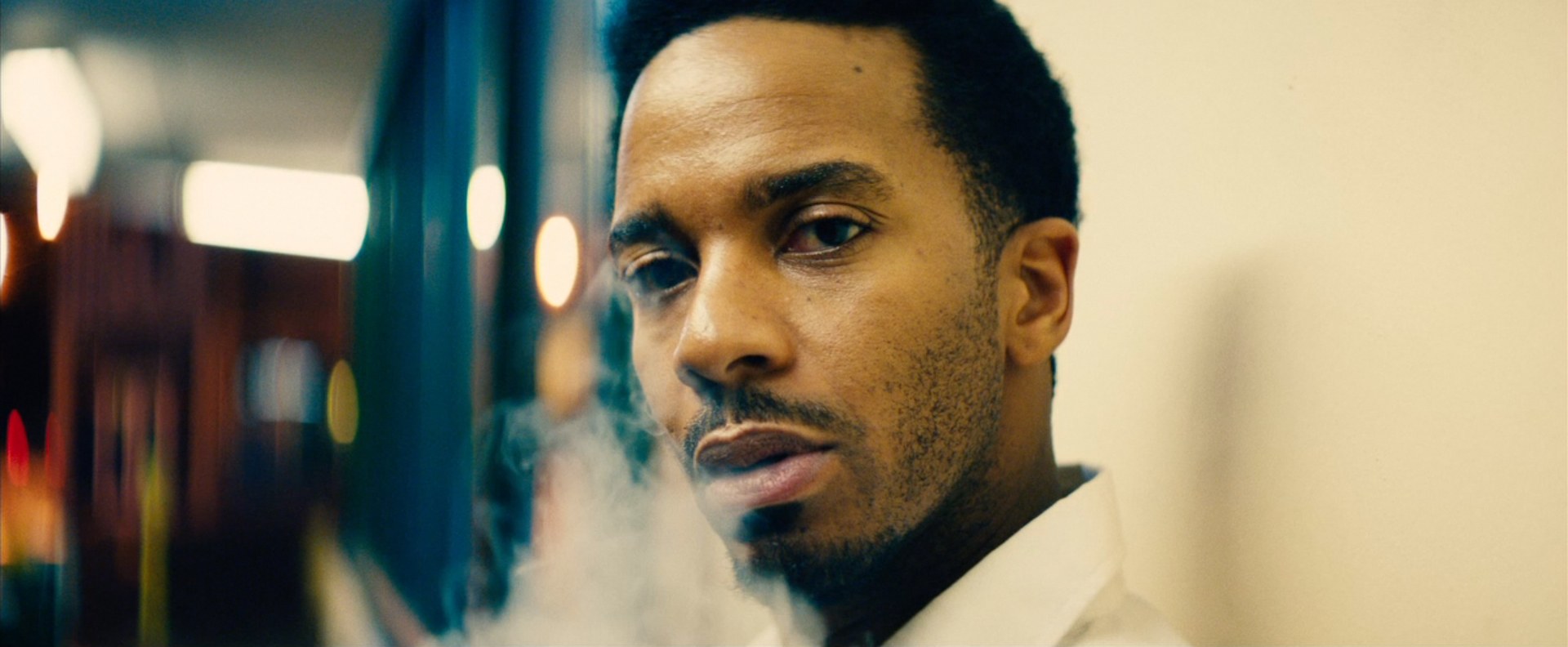 Last night, Moonlight capped off its years-long journey to the big screen by taking home Best Picture at the 89th Academy Awards. For those following this year's race, the film's win didn't come as a huge surprise (though the way that win was announced is another story). It topped a slew of year-end critics' lists in December, and emerged as one of this season's awards frontrunners in January. But it wasn't always so clear Moonlight would catch on quite the way it did. Few of the cast or crew are what you'd call household names, though there's a good chance you've seen at least some of them before.
One of the movie's more familiar faces belongs to André Holland, who's spent years doing everything from cinema to theater to broadcast comedy to prestige cable drama before drawing some of the best reviews of his career for his portrayal of a grown-up Kevin in Moonlight. In the weeks leading up to last week's Oscars, I had the chance to chat with him about the film's incredible journey, his work with Barry Jenkins and Steven Soderbergh, the role of art in today's political landscape, and the unusual stylishness of the Moonlight cast.
Moonlight's really emerged as this huge success story over the past several months. Were you surprised at all by that reception? When did you realize the reaction was going to be so massive?
I was surprised by it. It wasn't until Telluride, our very first public screening, we showed the movie and there was a sort of weird silence that fell over the audience when it ended. We all sat basically in limbo about what they thought, and then suddenly there was all this applause and then standing ovation and then we walked outside and the people who were exiting the theater were still applauding as we were leaving to go to our next screening. I think at that point, we all kind of went, whoa! We've really got something here.
Most of your Moonlight experience, at least onscreen, was working with Trevante Rhodes. How did you guys build that rapport between Chiron and Kevin, and what did you find most striking about his work as an actor?
We didn't really have a whole lot of time to get to rehearse our parts, and by "not a lot of time" I mean no time, basically. The first day that we met was the day that we shot the car scene, so we had to kind of instantly dive in. He's a really kind, open, generous person, and I think that made it easy. I think we just both sort of recognized that we were in a very difficult situation and that the only way for us to survive it, let alone thrive in it, was to really trust one another. Often trust was what it really came down to. Working with him was great. He's a really talented young man and I think he has an extremely bright future ahead. I really look forward to seeing what he does next and seeing the rest of his career.
I've heard that you didn't work with either of the other Kevins while shooting Moonlight, so when you finally did meet them, what was your impression of them? Do you see yourself in them at all?
Yeah, I think we all have different personalities, but I do see myself in them. I think that we have similar energies. You know, when I look at Jaden [Piner], he's quite quiet and a bit reserved at first, and that's definitely a part of who I am. And then there's Jharrel [Jerome], who's outgoing and charming and excited and kind, I recognize that in myself as well. I would hope that, obviously, they see probably a part of themselves in me as well. I think that we got along really well from the very beginning and I think we all were very excited and pleased that the casting turned out as good as it did. And again, we didn't get to meet one another ahead of time, so we were all taking a leap of faith.
When did you meet for the first time? Was it at Telluride?
No, they didn't come to Telluride. We actually met for the first time I think at the premiere, so probably farther down the road. We met at the Lincoln Center New York Film Festival.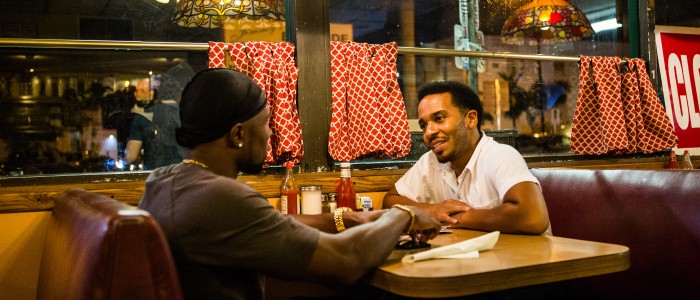 I know you worked with Tarrell McCraney in some of his other plays, so how was it different doing a film adaptation of one of his works versus a stage production?
In a lot of ways it's all similar, because we've spent so much time working together over the past eight or nine years, probably, at this point. Just from reading the script, I could hear his voice. I kind of knew, based on the other work that we did, I had a really strong sense of what it is that he was going for in certain moments. So I felt like I had a little bit of an advantage. But in this case, in the movie, most of my time was spent — where in the theater, the playwright is usually there, not necessarily every day, but often, they're very heavily involved in the production. On this, I met Tarrell a week before we started filming and we had a talk but I didn't see him again during the course of filming. It was me and Barry [Jenkins], our collaboration, that really was the most important relationship.
But me and Tarrell having grown up together, having known each other for a while now, it felt like they were really on the same page about what they wanted to do. So it was a really smooth transition.
I've read elsewhere where you've talked a bit about how Steven Soderbergh pointed you toward Barry Jenkins. Can you talk about the differences and similarities in working with them?
They're very similar in the sense that they're both quite trusting of their actors. They're both very efficient in terms of the approach for the making of the film. And again, they really require the actors to do their jobs, to prepare and to come ready to play. I personally really enjoy working that way because I'm from the theater and in the theater, you've got to show up ready to go. So I would say those two things. They're also really technically proficient. They have a plan going into it, they understand what it is they're trying to execute, and they have the efficiency to execute those things. The net result of that for the actor is that it just feels like you're really well taken care of it, and you're relaxed and just focused on doing your job.
Since you shot Moonlight, obviously, there's been some major political upheaval in the U.S. What do you see as the role of art, and cinema in particular, in resisting Trump? Is it about telling inclusive stories, or about using your platform as a celebrity to speak out...
I think that theater and art probably have always been political in some way. I think that what I hope to do is to tell stories that are personal to me and that resonate with me and then just hope that in exploring and expressing my own strategy, that then will be recognized by other people. To me, it's what we do. That's the mission statement of what we do. And then I do feel an obligation as a person first, but also as an artist too, to speak up and speak out and be more involved. I think that a lot of us are going through a political reawakening, and I think that being called to be more civic-minded and to be more involved in what's going on in our communities. I certainly hope to be a part of that new wave of activism.
Okay, one more question. Who is the most stylish person in the Moonlight cast?
The most stylish person? Oh, man. That's a tough one. I think you've got a lot of stylish people there. At the moment, I'm thinking about Mahershala [Ali]'s beautiful white tux that he wore to the SAG Awards, so he's the person that came to mind. But then you've got Naomie [Harris], who kills it every time she steps out, and of course Janelle [Monae], who has her own thing. I think it's a tough one. I think we have to do an ensemble award on that one.
***
Moonlight is available now on VOD and Digital HD. It hits Blu-ray and DVD tomorrow, February 28.