Watch The 'La La Land' Opening Musical Number Rehearsal Shot On Damien Chazelle's iPhone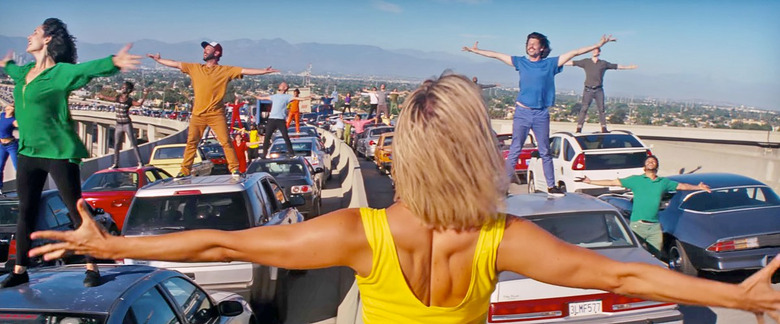 Even though La La Land has been sweeping up during awards season (with plenty more victories to come at the Academy Awards this coming weekend), there has been some backlash surrounding the modern romance with classical musical style. One of the lingering criticisms about the film has been the fact that despite turning in fantastic performances, Ryan Gosling and Emma Stone don't sing and dance like true musical professionals. Frankly, I think that's intentional, but that doesn't mean director Damien Chazelle took the musical elements of his film lightly by any means.
A new La La Land rehearsal video has surfaced that was shot on Damien Chazelle's iPhone. The video in question shows the extensive rehearsal process that was employed in order to plan the opening Los Angeles freewayway song and dance number. The cast and crew took over a scaled down parking lot in order to plan all the blocking with cars and performers, and you can see how it compares with the final scene below.
Here's the La La Land rehearsal video recorded by Damien Chazelle from USA Today:
It's awesome to see how the final cut of the movie compares to this rehearsal. All the camera movements and dance cues are their as best as they can be delivered without a steadicam or crane. Plus, there are some changes for the sake of rehearsal. For example, there's no skateboarding or bicycling, and there's far less dancing on top of cars since some of the cars used in the lot likely aren't prepared or meant to be danced on. Even so, it's fascinating to see how Damien Chazelle planned out this complicated sequence so they could nail it when they actually shot it on the real freeway.