Cool Stuff: Star Wars, Batman, Westworld, The Princess Bride, Marvel & More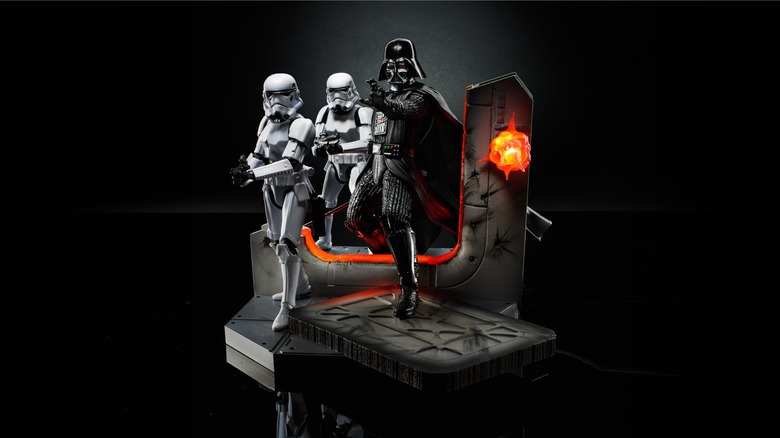 Cool Stuff is your geekarific holiday shopping guide published all year round. In today's edition, we take a look a look at Cuyler Smith's "Trading Cards 2" cards, Hasbro's Star Wars Darth Vader black series centerpiece diorama, Batman vs Harley Quinn Battle Statue from DC Collectibles, Funko Pop takes on HBO's Westworld, a beautiful three giclee The Princess Bride set from Disney Animation artist Lorelay Bove, Trollhunters action figures, and Hasbro's Marvel Legends Guardians of the Galaxy Star-Lord Helmet and Thor's Mjolnir replica toy collectibles.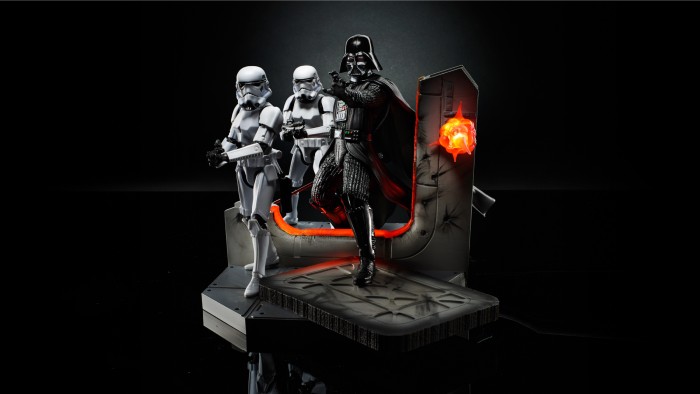 Darth Vader Centerpiece Diorama
At Toy Far over the weekend, Hasbro unveiled this beautiful Darth Vader black series six inch centerpiece diorama. No word on when this will hit stores or how much this will cost. I've always loved figures which could be displayed almost like collectible statues, and I'm glad to see Hasbro is continuing the tradition started in the old Star Wars Unleashed line.
Cuyler Smith "Trading Cards 2"
Artist Cuyler Smith held his "Trading Cards 2" solo art show at Gallery 1988 last week, and the remaining prints are now online for your purchase. The prints come in the form of 2.5 x 3.5 inch trading cards featuring pop culture sports characters from movies and tv shows. Each card is sold for $15, or you can buy the whole set of 40 cards for $600.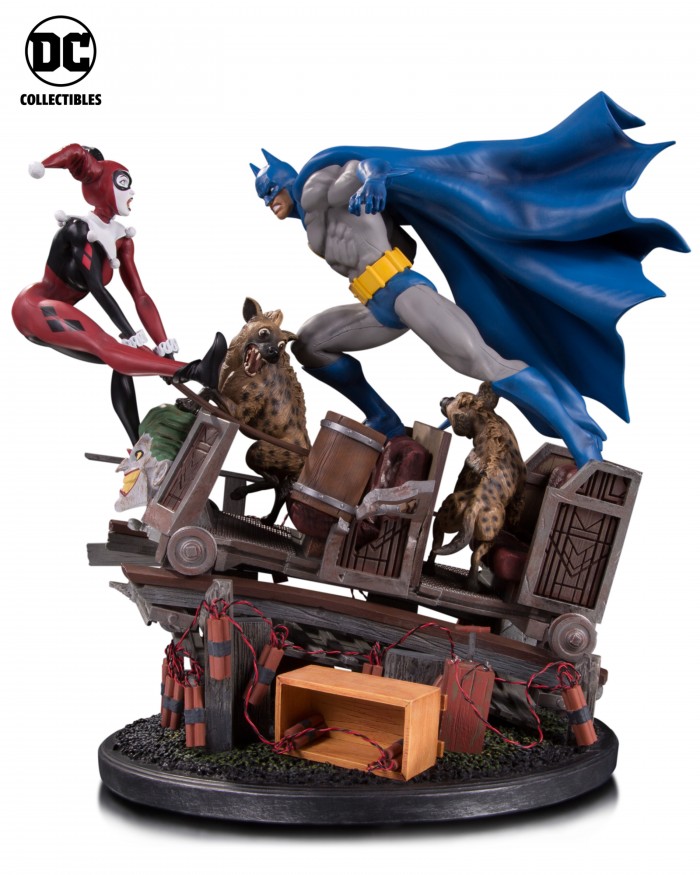 Batman vs Harley Quinn Battle Statue
Another piece revealed at Toy Fair was this awesome Batman vs Harley Quinn Battle Statue from DC Collectibles. Again, no details on the cost or release date.
Trollhunters Action Figures
Trollhunters from Dreamworks Animation and Guillermo del Toro is probably one of the best tv shows that you aren't watching. Funko is bringing the franchise to life with Action Figures, Mystery Minis, Plush, Pop! Vinyl figures, apparel & 12" deluxe figures. Shown above are the following upcoming 3 3/4" figures: Bular, Aargh, Blinky, Jim, Toby and Claire.
Westworld Funko Pop Figures
Also at the New York convention, Funko revealed their designs for their line of Funko Pop figures based on the popular HBO series Westworld. The first wave includes figures Dr. Robert Ford, Dolores, the Man in Black, Bernard, Maeve, Young Ford and Teddy. I love how even the Funko Pop figure of Bernard wears his glasses low on his nose.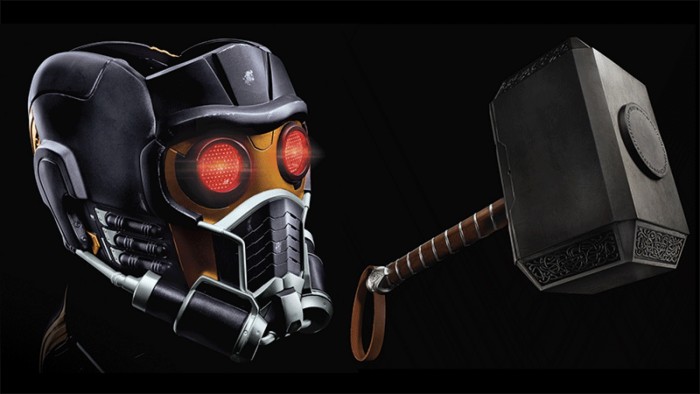 Marvel Legends Star-Lord Helmet and Mjolnir Replicas
Hasbro is releasing a couple new accessories to their affordable role-playing line of toys.
The Marvel Legends Series Star-Lord Electronic Helmet features electronic sounds and a pair of glowing eyes. There's a bluetooth-connected speakers inside this helmet as well.The full-scale replica of Thor's Mjolnir hammer has thunderous sound effects as you swing it around, and voice recognition lights up Odin's symbol whenever the wielder says "worthy."
Both role-play accessories will be available for pre-order on Amazon for $100 each, but they won't be released until Fall 2017.
Lorelay Bove's The Princess Bride Giclees
Bottleneck Gallery last week released a set of three The Princess Bride giclees by Walt Disney Animation Studios artist Lorelay Bove (The Princess and the Frog, Tangled, Big Hero 6). Lorelay's triple-take on The Princess Bride focuses on Westley and Buttercup's budding romance throughout the film. Each piece is available individually for $35 or grab the whole set with matching numbers for $100. The fine art giclees are printed on 11 x 16 inch paper, hand numbered editions of 50.