Watch The Opening Musical Number From 'Beauty And The Beast'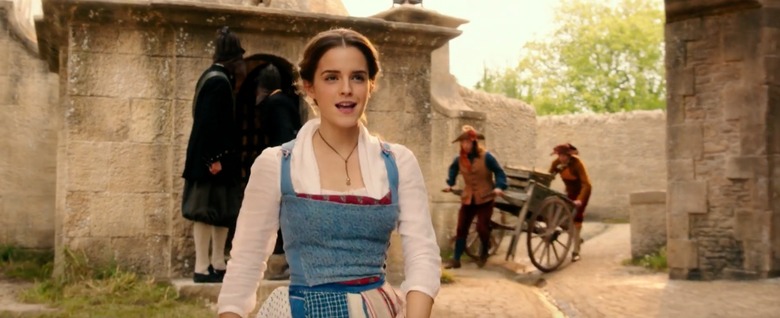 Walt Disney Pictures has released a new clip from their live-action Beauty and the Beast. The one-minute long clip shows the opening musical number from director Bill Condon's adaptation, recreating the song "Belle" from the animated classic. Hit the jump to watch Emma Watson perform the Beauty and the Beast Belle song.
Beauty and the Beast Belle Song
As you can see above, the song and staging is a pretty faithful adaptation to the Gary Trousdale and Kirk Wise-directed animated film version. I'm not even a huge fan of the original movie, and yet this clip brings a big smile to my face. I think this clip will reassure fans who maybe weren't sure that Bill Condon's staging would be faithful to the classic movie. Star Emma Watson seamlessly falls into this famous role.
The song "Belle" was written by composer Alan Menken and lyricist Howard Ashman for Walt Disney Pictures' 30th animated feature film, which hit theaters in 1991. The original number was recorded by Paige O'Hara and Richard White. The song serves to introduce us to the film's heroine Belle, as well as to the little village that she lives in. It also introduces us to the film's villain Gaston, who demands her hand in marriage despite Belle's rejections.
You can watch the original "Bell" opening number sequence embedded below for comparison sake:
The official plot synopsis follows:
The story and characters audiences know and love come to spectacular life in the live-action adaptation of Disney's animated classic "Beauty and the Beast," a stunning, cinematic event celebrating one of the most beloved tales ever told. "Beauty and the Beast" is the fantastic journey of Belle, a bright, beautiful and independent young woman who is taken prisoner by a Beast in his castle. Despite her fears, she befriends the castle's enchanted staff and learns to look beyond the Beast's hideous exterior and realize the kind heart of the true Prince within. The film stars: Emma Watson as Belle; Dan Stevens as the Beast; Luke Evans as Gaston, the handsome, but shallow villager who woos Belle; Kevin Kline as Maurice, Belle's father; Josh Gad as LeFou, Gaston's long-suffering aide-de-camp; Ewan McGregor as Lumière, the candelabra; Stanley Tucci as Maestro Cadenza, the harpsichord; Audra McDonald as Madame de Garderobe, the wardrobe; Gugu Mbatha-Raw as Plumette, the feather duster; Hattie Morahan as the enchantress; and Nathan Mack as Chip, the teacup; with Ian McKellen as Cogsworth, the mantel clock; and Emma Thompson as the teapot, Mrs. Potts.
Beauty and the Beas will be released in theaters on March 17th, 2017.