Director Gore Verbinski Narrates A Scene From The Overlooked 'A Cure For Wellness'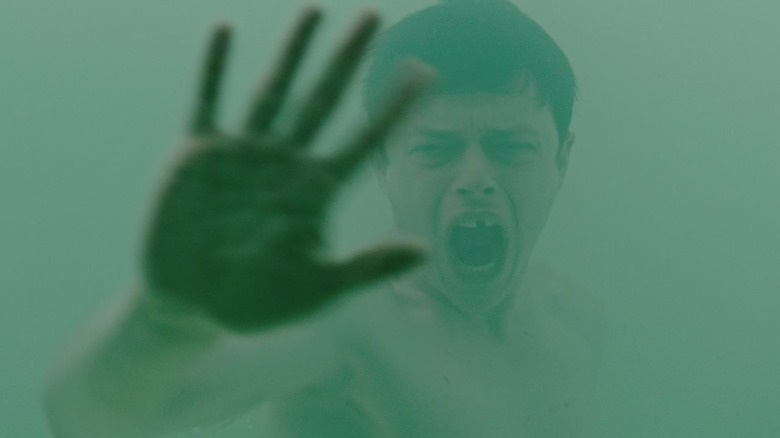 A Cure For Wellness hails from a remarkable craftsman. Director Gore Verbinski's latest has more to offer than beautiful and grotesque imagery. He's continually heightening, in big and small ways, the film's unholy atmosphere, as the camera moves smoothly from one creepy room to the next.
One of those menacing rooms is the steam bath, where Dane DeHaan's character first begins to experience what he can't explain. If you want to know how Verbinski and everybody pulled off that sequence, then hear the director provide commentary for A Cure for Wellness scene below.
DeHaan is perfectly cast as Lockhart, a brash exec sent to the Swiss Alps to retrieve his boss, who's staying at a "wellness" spa home to all sorts of horrors and secrets. Even the way DeHaan moves, speaks and appears is integral A Cure for Wellness' mood. How his pale complexion contrasts the spa's murky colors makes for some chilling shots where Lockhart appears as if he's drained of life. Even DeHaan's boyish scream feels right next to the movie's piercing sound effects.
Here's Verbinski explaining some of the choices made, in great detail, to The New York Times for when Lockhart first begins to experience the story's dream logic:
It wouldn't be surprising if Verbinski and the sound department made the crutches even louder in other scenes later on. There are a few sound effects in the film that find their way under the skin just as much as some of the movie's startling sights, especially in the third act, which does get a tad too excessive in one scene. Verbinski walks a fine line between the extreme and the excessive, and he only stumbles once in that regard.
The rest of the movie is every bit as horrific and as disgusting as it should be, but by the end, there's a surprisingly kind, albeit darkly funny and demented, moral and heart buried underneath all the gorgeously shot ugliness. There is plenty to admire and even love about this somewhat messy, frequently stunning piece of work, which is likely to find a more receptive audience down the line.
A Cure for Wellness is now in theaters.