'King Arthur: Legend Of The Sword' Trailer: Guy Ritchie Tries To Make King Arthur Cool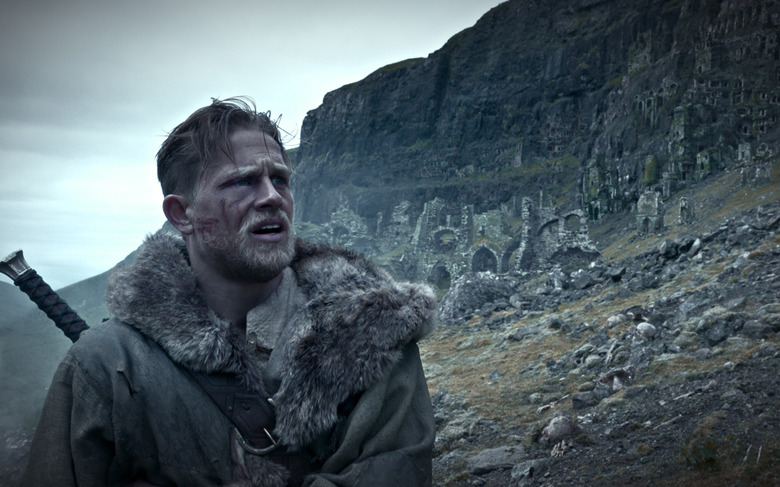 If you keep forgetting that King Arthur: Legend of the Sword hasn't actually come out yet, you're not alone. Indeed, if you keep forgetting it exists at all, you're probably not alone there either. After all, it's been nearly two years since Guy Ritchie entered production on his medieval fantasy epic, which was originally supposed to open in summer 2016. Even Warner Bros. barely seems to be paying this film any mind — they haven't released a new trailer for its would-be franchise-starter since Comic-Con.
But with about three months to go until release, the studio is finally getting around to marketing it for real. Today, we've got the new King Arthur: Legend of the Sword trailer, starring Charlie Hunnam as the legendary leader and the Young Pope Jude Law as the villainous Vortigern. Eric Bana, Astrid Bergès-Frisbey, Djimon Hounsou, Aidan Gillen, and Eric Bana also star. 
King Arthur: Legend of the Sword Trailer
Well, it looks more or less like what I'd expect from a King Arthur movie directed by Guy Ritchie — which is to say it looks slick and stylish and expensive, and also like it's maybe trying a little too hard to look cool. "I'm not like a regular King Arthur movie! I'm a cool King Arthur movie!" it seems to be squawking. "Listen to my non-traditional soundtrack! Notice my fancy camerawork! Look how sassy our King Arthur is!" But hey, at least it looks better than another lazy Lord of the Rings knockoff that takes itself way too seriously. And I don't know about you, but Richie's earned the benefit of my doubt after his last film, the surprisingly delightful Man From U.N.C.L.E.
King Arthur: Legend of the Sword is in theaters May 12.
Acclaimed filmmaker Guy Ritchie brings his dynamic style to the epic fantasy action adventure "King Arthur: Legend of the Sword." Starring Charlie Hunnam in the title role, the film is an iconoclastic take on the classic Excalibur myth, tracing Arthur's journey from the streets to the throne.
When the child Arthur's father is murdered, Vortigern (Jude Law), Arthur's uncle, seizes the crown. Robbed of his birthright and with no idea who he truly is, Arthur comes up the hard way in the back alleys of the city. But once he pulls the sword from the stone, his life is turned upside down and he is forced to acknowledge his true legacy...whether he likes it or not.
Starring with Hunnam (FX's "Sons of Anarchy") and Oscar nominee Law ("Cold Mountain," "The Talented Mr. Ripley") are Astrid Bergès-Frisbey ("Pirates of the Caribbean: On Stranger Tides") as Mage; Oscar nominee Djimon Hounsou ("Blood Diamond," "In America") as Bedivere; Aidan Gillen (HBO's "Game of Thrones") as Goosefat Bill; and Eric Bana ("Star Trek") as Arthur's father, King Uther Pendragon.