Josh Gad's Famous Friends Beg For 'Star Wars: The Last Jedi' Secrets From Daisy Ridley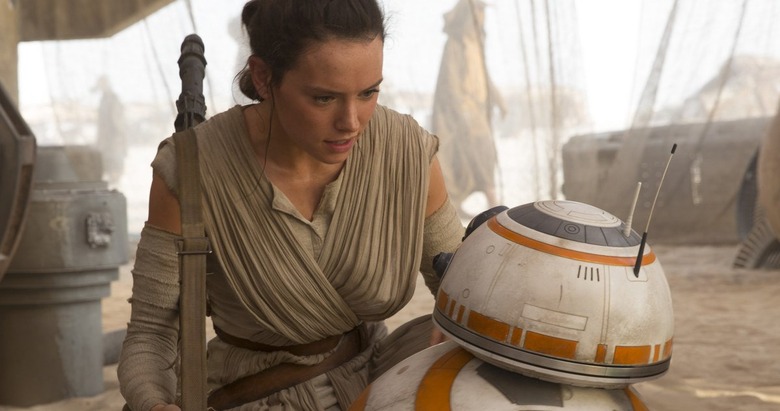 Daisy Ridley may have been new to movie stardom circa Star Wars: The Force Awakens, but by now she's an old pro at dodging questions. Watch as shrugs that she doesn't think Rey's parentage is really "so important," or coolly deflects further inquiries with "curiosity is a wonderful thing." Unfortunately for her, though, fans and journalists aren't the only ones she has to watch out for.
For the past several weeks, Josh Gad — Ridley's co-star in the Murder on the Orient Express remake — has been trying his damnedest to get some Star Wars: The Last Jedi answers from her, even enlisting the help of Judi Dench. So far, Ridley's resisted. But can she continue to stand firm against all of Gad's famous friends? Find out below. 
Gad posted the latest Daisy Ridley Star Wars questions video on social media. Make sure to stick around until the very end.
And so it ends. #DaisyRidley #StarWars Give us the truth pic.twitter.com/o4d429ydzL

— Josh Gad (@joshgad) February 20, 2017
Gad opens the video by apologizing to Ridley and promising, "I have no more questions." And he's not lying! But he makes no such claims about all his friends, including Hamilton's Leslie Odom Jr., Episode IX's Colin Trevorrow and Derek Connolly, Jurassic World's Chris Pratt and Bryce Dallas Howard, Penélope Cruz, Sing Street's Lucy Boynton, Jekyll & Hyde's Tom Bateman, and, holy crap, J.J. Abrams. Oh, how the tables have turned — now it's Mr. Mystery Box begging other people for spoilers.
Of course, none of them actually manage to get anything out of Ridley. Look, if Rey can stand up to Kylo Ren's Force-assisted interrogation tactics, she can certainly hold firm against a bunch of movie stars. (Especially when they include the likes of Pratt, who's not there for answers so much as he is to promote all his own upcoming projects.) If anyone at Lucasfilm is listening, though, for the record, I would love to see Odom sing and dance in Star Wars. Can that be the next spinoff after Han Solo, please?
Gad, Ridley, Odom, Cruz, Boynton, and Bateman all star in Murder on the Orient Express, directed by Kenneth Branagh and scheduled for release November 22. Pratt, Howard, Trevorrow, and Connolly are currently working together on Jurassic World 2, to be directed by J.A. Bayona. That one is out June 22, 2018.