'Logan' Review Round-Up: Fans Finally Get The Wolverine Movie They Deserve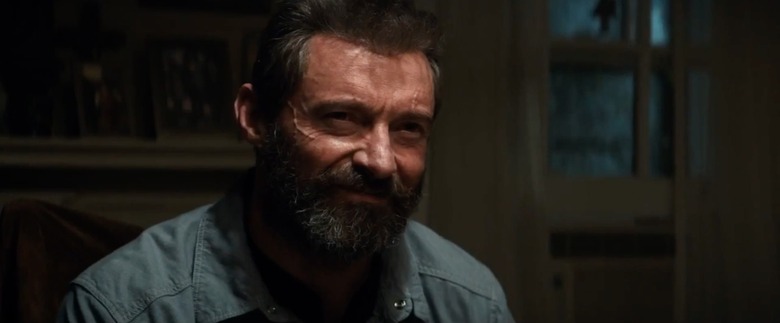 In just under two weeks, Logan will hit theaters, giving us what is supposed to be the last outing for Hugh Jackman as Wolverine. Thankfully, it sounds like this movie not only gives fans the Wolverine movie they've been waiting to see for years, but it also gives Hugh Jackman a powerful send off as the adamantium-clad mutant.
Our own David Chen already delivered a spoiler-free review of Logan, and he loved it. Of course, you might want to know what a variety of other critics though, so we rounded up some of the other reviews out there. For anyone excited for Logan, you'll be happy to hear that the latest sequel from director James Mangold will not disappoint.
Check out our Logan reviews round-up after the jump.
Scott Collura at IGN put his reaction rather succinctly:
Logan is in many ways an emotional, heavy picture, but it's also an uplifting one that reminds us that it's okay to fight for something more, something better. It's an amazing swan song for the Wolverine character, and for Jackman, and perhaps the best X-Men movie yet.
Susana Polo at Polygon made a comparison that will make comic book fans happy:
Make no mistake, Logan is longer than it needs to be, and it's a brutal experience — from the ferocity of its violence to its emotional punches — but it's still probably the best movie in the X-Men franchise.
Logan has very different goals [from the X-Men movies], and it has emphatically telegraphed that from the beginning of its production... The closest parallel I've come up with in the 20-odd hours since my screening began is that it is to the X-Men franchise as The Dark Knight Returns was to superhero comics in the mid-'80s. It's a story where the world has moved on from our heroes, our heroes have moved on from heroism, and hope for the future begins only when we break down the aging systems of the past.
Mark Hughes at Forbes shoots for the moon with his Logan praise, saying:
Logan is the first superhero movie since The Dark Knight to have a strong chance of being considered among the contenders for Best Picture come Oscar time in early-2018. It could hypothetically also be considered a contender for some other awards, including Best Actor, Best Supporting Actor, too.
Logan is the most beautifully rendered film in the X-Men franchise, and the most visually unique of the bunch. Within the genre overall, it stands out in this regard as well, with only a very few films comparing (the Dark Knight trilogy and Watchmen come instantly to mind, ). It's about more than having an identifiable aesthetic, instead speaking to the way the film captures an entire attitude and idea of itself in its visuals, its framing of shot, and how those things are in turn reflections of the story and characters and themes. It's not hard to have a "look," but it's hard for that look to not just mean something but also reinforce and speak to story and meaning. Mangold seems to have born this in mind in every frame, not out of sense of trying to force it to comply but out of artistic vision so absolute he imbues all elements of the work with that vision.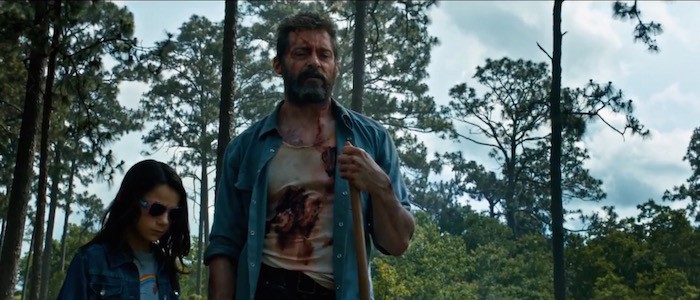 Tasha Robinson at The Verge says Logan digs deep into tragedy:
Logan, on the other hand, embraces its misery, positing a world where heroism and even kindness are always brutally punished, and yet personal connection is the only meaningful resource left to its characters. Of all the X-Men movies to date, it's the saddest and most serious, and the one that most challenges the familiar ideas of superhero narratives. But its uniqueness and its complete devotion to tragedy makes it feel like the most adult story this film series has ever told. The weight of graphic, grotesque violence hangs over the entire movie. But the daring emotional violence lingers longer, well after the lights go down on the final shot.
Sandy Schaefer at ScreenRant compares Logan to Deadpool in what it achieves:
As irreverent and comically R-Rated as Deadpool was, Logan is equally but effectively morose and grounded, with its own mature take on the X-Men movie franchise and the Wolverine character specifically. The movie thus succeeds as a moving sendoff to the Hugh Jackman-led era of the X-Men cinematic universe, as well as yet another demonstration of how different in tone and style a superhero comic book movie adaptation can actually be. Longtime X-Men fans are in turn advised to prepare themselves emotionally for a somber Wolverine movie – but also one that can be described as a cross between The Wrestler and Dredd, in the best way possible.
Owen Gleiberman at Variety praises the film for taking its time to tell a different kind of story:
As a movie, "Logan" takes a cue from its hero's slowed-down metabolism of invincibility. Directed by James Mangold, whose last feature was "The Wolverine" (2013) — one of the most dynamic entries in the "X-Men" cosmos — the new film doesn't try to be a shoot-the-works, how-crazy-are-his-powers grand finale. It's a scruffy dystopian road Western that takes its time in a way that most slam-bang superhero movies don't. And the analog pace and elemental story work for it. Each time the violence explodes, it's slashingly satisfying, because it's earned, and also because Mangold knows just how to stage it.
Sheri Linden at The Hollywood Reporter notes that the film starts to feel tiring, but still gives it plenty of acclaim:
As its title suggests, Logan strips away the superhero bells and whistles, cast-of-thousands spectacle and labyrinthine twists of the X-Men franchise to focus on its most tormented mutant, aka Wolverine. Seamlessly melding Marvel mythology with Western mythology, James Mangold has crafted an affectingly stripped-down stand-alone feature, one that draws its strength from Hugh Jackman's nuanced turn as a reluctant, all but dissipated hero. That he rises to the occasion when a child is placed in his care is the stuff of a well-worn narrative template, yet it finds a fair level of urgency in this telling.
Even as the film's energy drains in the later going, much like Logan's healing powers, and long after the fight scenes have lapsed into overkill, Jackman makes his superhero the real deal. The actor, who reportedly conceived the basic thrust of the story, takes the ever-conflicted Logan/Wolverine to full-blooded depths, and the result is a far more cohesive and gripping film than his previous collaboration with Mangold, 2013's The Wolverine.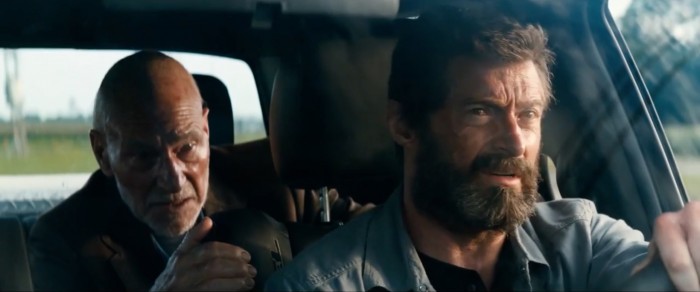 Richard Lawson at Vanity Fair notes how violent Logan is, almost to a bit of a fault, but still commends its quality:
Wolverine has been presented as tough and dangerous, but never as a straight-up murderer. Logan undoes all that, making its bold statement of purpose in the very first scene. We see Logan impale and literally unarm, a sight as shocking and gruesomely thrilling as when we hear Logan—and later, another venerable X-Men character—drop that f-bomb. (He continues to do that, profusely, throughout.) There are points when Logan may be a bit too enamored of its hardboiled edge, pushing things a bit too far. But for the most part, Mangold's film is pitched at just the right tone—bracing and enveloping, a crunching chase movie that has the heft of true conviction.
Alex Billington over at FirstShowing made sure to see the movie twice in Berlin because he loved it so much:
I had to see Logan twice at the Berlin Film Festival before writing this review to confirm how awesome it is. I haven't enjoyed watching an X-Men movie this much in such a long time, and I'd say this is easily one of the best X-Men movies. It's not really an X-Men movie, but it actually is – there's so much mutant mythology hidden within.
Pardon my French, but – Logan is so f***ing awesome. I still can't even believe how amazing it is. It makes me so happy that it turned out this good. The action is extraordinary, even better than the action in John Wick: Chapter 2 (at least I think it is), seriously brutal and totally badass. This movie is more violent and bloody than any other superhero movie we've seen before.
Matt Singer at ScreenCrush notes that the movie loses some steam, but not in a way that overshadows the rest:
Logan's momentum definitely flags towards the end, but there are some nice touches in the finale as well (including a final shot that is absolutely perfect). There have been some R-rated superhero movies over the years, but Logan might be the first that doesn't simply use an adult rating to drown the viewer in "adult content"; it's a mature consideration of the ideas underpinning its comic-book motifs. It's also easily the best Wolverine movie of the three, and an impressive sendoff for Jackman's version of the character.
David Ehrlich at IndieWire is a little less enthralled with it than some other critics, but that doesn't mean he doesn't have compliments to give:
2013's "The Wolverine" proved — in its finer, earlier moments — that Mangold knew how to tap into the title character's feral rage. Transplanting the superhero to Japan without losing anything in translation, the director used one genre to clarify Logan's role in another, re-conceiving him as a wandering ronin who served at the pleasure of his inner demons. Here, Mangold repeats that trick with similar success, dropping Jackman's iconic nomad into the middle of a hard-edged oater and giving him a chance to ride off into the sunset. Will Logan have a triumphant ending, like "Shane?" Or will he slump over in his saddle as he disappears over the horizon, like "Shane?"
"Logan" isn't always a satisfying movie, but there's a very satisfying answer to those questions waiting for viewers at the end of it. Satisfying not only because Mangold resolves things with some brilliantly expressive imagery, or because he endows this story with a no-s***s-left-to-give honesty that defies its origins and justifies its spectacular violence and salty vocabulary, but because it proves how iconic Jackman has made this character over the last 17 years.
***
Though there are some shortcomings noted here and there in some of the reviews, Logan is receiving overwhelming praise for being a fantastic swan song for Hugh Jackman as Wolverine. The film subverts the superhero genre, though not necessarily in a way that sets out to reshape the X-Men franchise. But if fans keep receiving movies like Logan and Deadpool so well, studios may finally get more courage to create riskier comic book movies that don't try to adhere to the conventions of franchise filmmaking.
Reading all these reviews, I can't wait to see what Logan does with this iconic characters. We'll all get to see it when the movie arrives on March 3 next week.