Cool Stuff: 'Star Wars' 40th Anniversary Black Series Action Figures Go Old School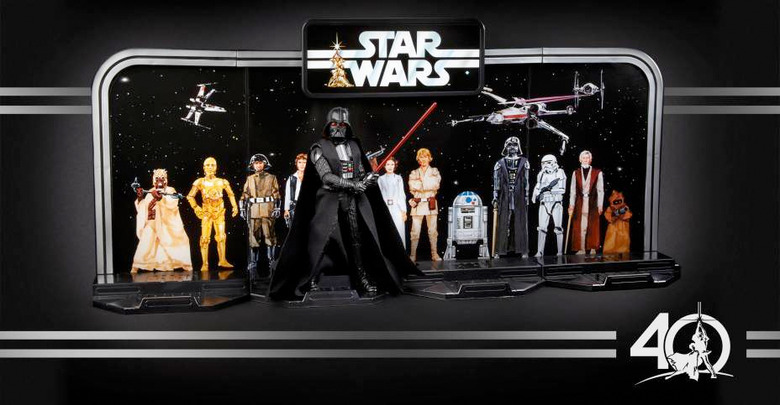 In case you didn't realize it, this year will mark the 40th anniversary of Star Wars. Surely the excitement will be much higher towards the end of the year when Star Wars: The Last Jedi hits theaters, but there's a lot of time between then and now. Fans need something to hold them over, and some of the 40th anniversary memorabilia hitting shelves should to the trick.
One of the best Star Wars toy lines in recent memory is the roster of 6-inch Black Series action figures. They're well articulated, impressively sculpted, and they just might be the best moderately prices action figures the franchise has ever seen. In honor of Star Wars 40th anniversary, Hasbro is paying homage to the original release of Kenner action figures with a new line of Black Series figures of characters from A New Hope. One special edition figure will even come with something that older, seasoned Star Wars fans will be very familiar with.
Check out the Star Wars 40th anniversary Black Series figures after the jump.
The new line-up of Black Series figures isn't entirely new since most of the figures have seen release previously (though some have become much more rare), but it's the packaging that makes them a bit more desirable. They're all in boxes modeled after the packaging that the original action figures came in 40 years ago.
Here's the first wave of figures coming to shelves sometime this spring:
The R2-D2 will be one to pick up since that figure has been hard to find for some time now. Princess Leia will surely be in demand after the passing of Carrie Fisher not too long ago. Meanwhile, the release of Obi-Wan Kenobi and Luke Skywalker aren't all that special since those figures were more recent releases in the Black Series line. The only thing new about them is the packaging.
Here's the second wave that will arrive later this year:
That C-3PO (without the red arm) is one that's hard to find now, so that'll be a great figure to pick up. Meanwhile, the Tusken Raider and Jawa figures have never been released before, so those will be great additions. Plus, there's the Death Squad Commander, which is what those Imperial soldiers were called before they became known as Death Star troopers.
What's cool about this set of figures is that all 12 of them were the first action figures released in Kenner's original 3.75" action figure line. And for those who remember those action figures very well, you might want to pick up a special version of the Darth Vader 40th anniversary figure.
Here's the Star Wars 40th anniversary Black Series Legacy Pack:
Fans who were kids when the original Kenner action figures were released should remember that diorama and packaging. That's the infamous empty box that was sold as an Early Bird gift certificate for a set of Star Wars action figures that weren't yet available. There was a high demand for the toys after the movie blew up in popularity, but Kenner didn't have enough product to meet the demand. So in Christmas of 1977, some kids received an empty box with the promise of these action figures coming in 1978.
Thankfully, the Black Series Legacy Pack isn't just an empty box since it comes with Darth Vader and a stand to display all the rest of the figures if you're so inclined to take them out of the package after you buy them.
Those aren't the only figures getting the 40th anniversary treatment either. This year will also see a repackaging of Luke Skywalker in pilot gear, though that will only be exclusive to Star Wars Celebration attendees in Orlando in April. But if you're a fan of droids with bad motivators, then you can get the R5-D4 Black Series figure at GameStop locations. Here they are:
Since this is the 40th anniversary of Star Wars, there will certainly be much more celebratory memorabilia hitting shelves, and if anything else worth buying comes along, we'll be sure to let you know.