'Castle Rock' Teaser: J.J. Abrams Dives Into The Entire Stephen King Universe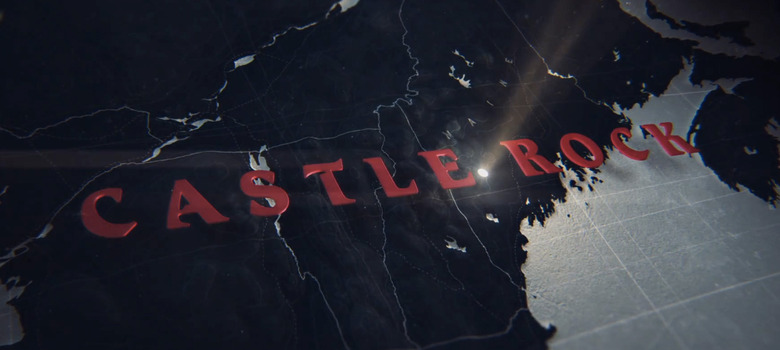 The Constant Readers of the works of Stephen King (yes, there's a proper name for his most loyal fans) will recognize the name Castle Rock for being the fictional town of Maine where many of the author's stories have been set. Stories like Cujo, The Dead Zone and The Body are set in that location while works like It, Dreamcatcher, Pete Sematary, Sleepwalkers, The Shawshank Redemption and Under the Dome make reference to the town. Now it appears a new show from J.J. Abrams will take us back to this fictional locale and all the terror and mystery that comes with it.
Castle Rock is a new Hulu series from Stephen King and executive producer J.J. Abrams, who all previously teamed for the time travel series 11.22.63, and a new teaser drops the names of plenty of famous characters and locations from the world of Stephen King's most famous stories. You'll see what I mean when you watch the Stephen King Castle Rock series teaser after the jump.
Here's how Bad Robot and J.J. Abrams announced the surprise teaser:
— Bad Robot (@bad_robot) February 18, 2017
And here's where that link went, revealing the teaser in question:
While the teaser mentions several characters and locations that have clear ties to Castle Rock, it also drops names like Annie Wilkes from Misery, Danny Torrance from The Shining and John Coffey & Mr. Jingles from The Green Mile, all characters whose story takes place far from Castle Rock. But maybe this series will somehow tie all of Stephen King's stories together. You can read all about the Castle Rock connections in his work right here.
As of now, we don't know what the story of this endeavor, but Deadline indicates that it will be another limited series, this time from writer and executive producer Sam Shaw (Manhattan). Meanwhile, THR says the series will be an anthology kind of series that weaves together characters and themes from the novels that use the Castle Rock location.
That doesn't mean there won't be allusions to other stories and characters (especially since some of them could easily have spent time in the location at any point in their lives), especially since many more are shown in that teaser. But the number of characters and stories referenced might be limited since any potential seasons that could follow would focus on an entirely different set of characters.
As of now there's no indication as to when this series will debut on Hulu, so it could hit the streaming service later this year or it might not end up premiering until next year. We'll be sure to keep you posted as more information becomes available.