Ryan Murphy Has Seen Your 'American Horror Story: Election 2016' Memes, Will Make Them A Reality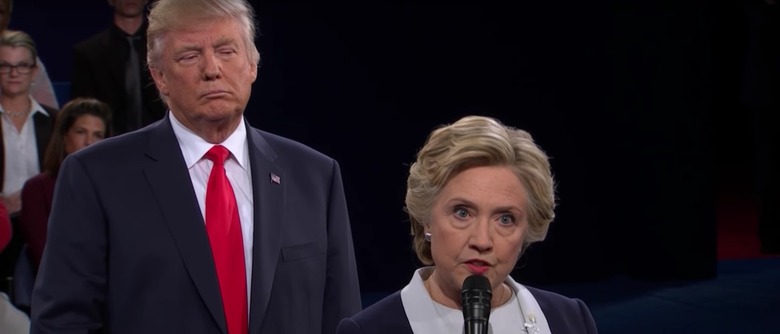 If there's one thing 2016 taught us, it's this: be careful what you joke about on Twitter, because it just might end up coming true. You might actually see serious politicians arguing on the debate stage about the size of their junk. You might actually end up with a president whose main hobby is going on Twitter rants. And Ryan Murphy might actually turn the 2016 presidential election into his next American Horror Story. Yup, that's the newly revealed theme for the seventh season FX's horror anthology series, which premieres this fall. 
Murphy revealed the American Horror Story election theme during an appearance on Watch What Happens Live. "Well, I don't have a title," he said, "but the season that we begin shooting in June is going to be about the election that we just went through. So I think that will be interesting for a lot of people." Host Andy Cohen followed up by asking whether a Donald Trump character would appear the show, but Murphy would only respond with "maybe."
The producer had previously revealed that season 7 would be a "modern-day story." American Horror Story regulars Sarah Paulson and Evan Peters will once again return, but their roles have not been revealed. Interestingly, Murphy has additionally teased the return of several Freak Show characters in season 7. So go ahead and make your best guesses as to how the ghost of Dandy or an extremely elderly Elsa might fit into all of this. I'd also be curious to see if characters from Murder House, Coven, or Hotel might pop up, since all of them take place roughly in the present.
On the one hand, an American Horror Story season about the election does feel fitting. The 2016 race was the very definition of an American horror story, and if Murphy wants to tap into real-life fears and anxieties there's no better way to do it. On the other hand... I don't know, guys. What's Murphy going to show us that's more grotesque than what's already happening on the news every day? But like it or not, we're clearly going to be reliving last year's events over and over again for the foreseeable future. Just yesterday, we reported that Zero Dark Thirty writer Mark Boal is penning his own TV miniseries about the election.
Certainly, Murphy's not the only artist to envision the 2016 election as a literal horror show. Remember Danny Elfman's spooky score for the second presidential debate?