'Logan' Clip Reveals X-23's Origin Story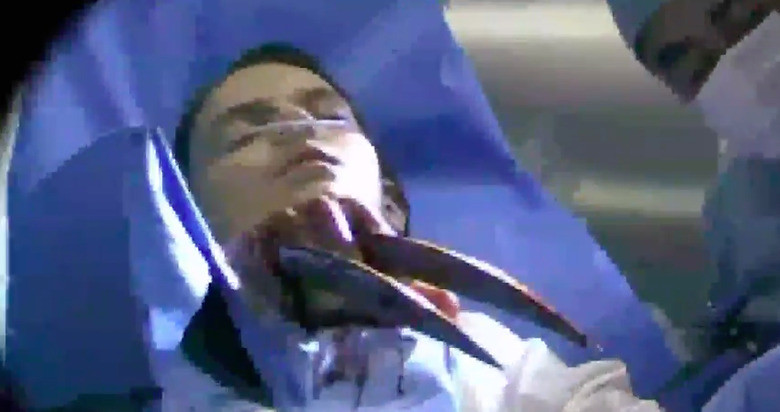 Over the past couple of months, the marketing for Logan has been consistent and impressive. The red band trailer, the black-and-white photos, the storyboards, and both the official one sheet and IMAX poster all promote a comic book movie with its own attitude and style. Just the other day we saw a black-and-white clip — how many of those do we see to promote superhero movies? — showing how much Logan's life has deteriorated since his X-Men days. The latest video promoting the R-rated movie shows Laura's (Dafne Keen) life isn't much better than the once great Wolverine.
Below, see what happens when a few doctors try to remove X-23's adamantium claws in the new Logan video.
Logan has come a long way since the cartoonish antics of X-Men Origins: Wolverine. Back around 2009, we likely wouldn't have come close to seeing a Wolverine movie that looks as uncompromising as Logan. We'll see if the final result is as ambitious and as dramatic as we hope it is in the coming weeks, but the marketing has continued to keep our expectations high. The promotional materials, including this new Logan video, seem to capture the grounded tone Mangold was aiming for. But this looks more like low-res camera phone footage than a proper clip.
The low and muffled sound of Laura's scream after the operation calls to mind Logan seeing his claws for the first time in X2: X-Men United. The pain and horror he experiences in that sequence is still disturbing. It's one of Jackman's finest moments as the tortured mutant. In his last outing as the character, he'll go on a road trip with X-23 and an unwell Charles Xavier (Sir Patrick Stewart) that Mangold has said is partially influenced by Little Miss Sunshine.
Here's the extended synopsis for Logan:
In 2024 the mutant population has shrunk significantly and the X-Men have disbanded. Logan, whose power to self-heal is dwindling, has surrendered himself to alcohol and now earns a living as a chauffeur. He takes care of the ailing old Professor X whom he keeps hidden away. One day, a female stranger asks Logan to drive a girl named Laura to the Canadian border. At first he refuses, but the Professor has been waiting for a long time for her to appear. Laura possesses an extraordinary fighting prowess and is in many ways like Wolverine. She is pursued by sinister figures working for a powerful corporation; this is because her DNA contains the secret that connects her to Logan. A relentless pursuit begins ... In this third cinematic outing featuring the Marvel comic book character Wolverine we see the superheroes beset by everyday problems. They are aging, ailing and struggling to survive financially. A decrepit Logan is forced to ask himself if he can or even wants to put his remaining powers to good use. It would appear that in the near-future, the times in which they were able to put the world to rights with razor sharp claws and telepathic powers are now over.
Logan opens in theaters March 3rd.