Joe Carnahan To Direct 'The Raid' Remake- Sorry, ''Reimagining''- Starring Frank Grillo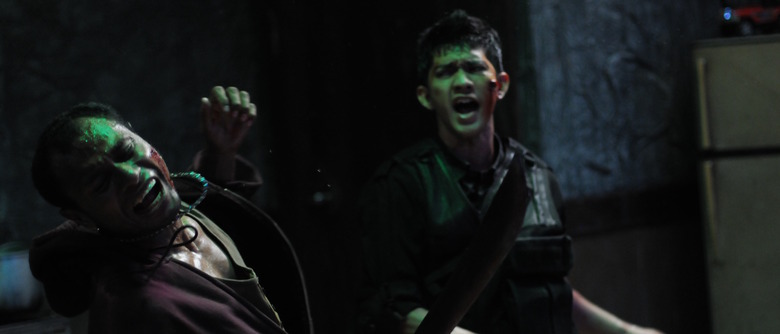 The Raid came out of seemingly nowhere to become a surprise hit in 2011, which meant it wasn't long before Hollywood came knocking with plans for an English-language remake. Over the years, that intended project has suffered some stops and starts, flirting with different combinations of stars and directors, and seemed to run out of steam around 2015.
But a really buzzy remake idea never really goes away. It just lies in wait until the right people come along. And those people, apparently, are director Joe Carnahan and star Frank Grillo. The two have slyly announced a "reimagining" of Gareth Evans' instant action classic, apparently set in Caracas, Venezuela. 
Production company XYZ Films dropped the big news on Twitter. (Carnahan shared the same video on his Instagram with a slightly different caption.)
💥 BIG NEWS WEDNESDAY💥 #TheRaid @carnojoe #FrankGrillo pic.twitter.com/ALhgZWgafq

— XYZ Films (@XYZFilms) February 15, 2017
The video above shows Carnahan and Grillo watching The Raid and talking pretend-casually about it. "Caracas, Venezuela is pretty dangerous. I wouldn't go in with — I wouldn't have this many guys," muses Carnahan during a sequence where a group of police officers enters an apartment block, suggesting that "six or seven guys" would be sufficient. He continues, "The fighting, too, the fighting would have to be something no one's ever seen."
Maybe because they know how suspicious fans are of remakes, the pair goes out of their way to emphasize that this won't be that. Not exactly. "It wouldn't be a remake," Grillo says. "It would be a reimagining." (Okay, guys. If you say so.) Just in case you're still unclear about what's going on here, the video ends with the guys agreeing, "I think we should do it."
While the video itself doesn't actually confirm anything in explicit terms, Carnahan has since clarified that he plans to direct and produce the movie, with the blessing of Evans (who is a producer).
Grillo has been attached to the lead since about 2014 and has remained on board even as the previous director, The Expendables 3 director Patrick Hughes, walked away. I'm of the mind that The Raid is a movie that doesn't really need an English-language remake (or "reimagining"), but if it has to happen, Carnahan and Grillo are about as promising a combination as we could've hoped for.
Interestingly, the news comes just a few days after Carnahan's other upcoming project, Bad Boys for Life, was delayed from January 2018 to November 2018. Is it possible he plans to squeeze in The Raid first? Or does this mean we'll be waiting til 2019 or 2020 to see the movie? My guess is the latter – Bad Boys for Life would probably have to start shooting in late 2017 to make that release date, and unless The Raid comes together really, really quickly, it'd be tough for Carnahan to complete it before moving on.