'Jurassic World' Sequel Starts Production, Will Probably Be About Dino Rights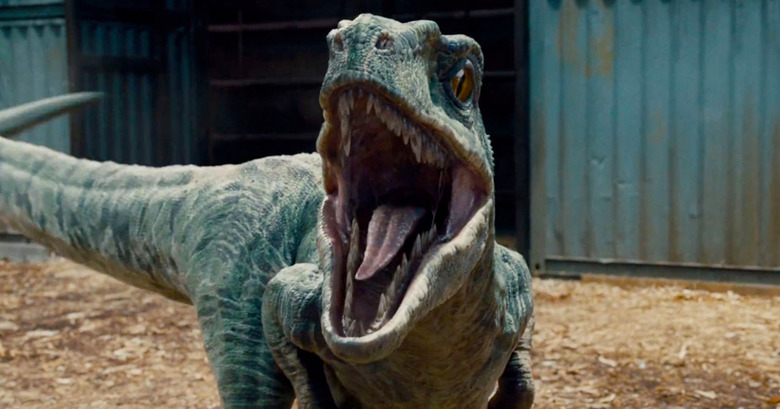 The question of why people in the Jurassic Park universe keep returning to the idea of resurrecting dinosaurs is a good one, but the question of why Universal keeps coming back to the Jurassic Park franchise has an obvious answer: audiences love these films. The studio was already planting the seeds for Jurassic World 2 before Jurassic World even opened, and now those plans are starting to come to fruition.
Producer Frank Marshall seems to have announced the start of production on Jurassic World 2, which is expected to open in summer 2018. That means we've got plenty of time to keep speculating about what the film will actually be about... and right on time, a couple of clues have come up to point the way.
Marshall shared a photo from his office to mark the start of work on Jurassic World 2.
My office in London up and running. And so it begins... @JurassicWorld #JurassicWorld pic.twitter.com/zl8fm0JwaF

— Frank Marshall (@LeDoctor) February 14, 2017
While Marshall and the other filmmakers have been careful not to give away too many plot details, we may have some new clues thanks to recent activity by Universal's marketing team. No, it's not tie-in toys this time — it's domain registrations. Fan site Jurassic Outpost (via MovieWeb) noticed that Universal had claimed the addresses IslaNubarRescueMission.com, AllCreaturesHaveRights.com, and AllCreaturesHaveRights.org. I wonder if the latter two will be tied to some sort of fictional animal rights group.
Director J.A. Bayona has previously acknowledged that his Jurassic World sequel will have some political elements. "I think there's a lot of possessiveness towards our creations," he said. "It's so different from the other films, it talks a lot about the moment we live in right now." Producer and co-writer Colin Trevorrow was a little more explicit when he discussed the plot of the film last year: "The dinosaurs will be a parable of the treatment animals receive today: the abuse, medical experimentation, pets, having wild animals in zoos like prisons, the use the military has made of them, animals as weapons."
Elsewhere, we've heard that Jurassic World 2 will be "way bigger" and "more suspenseful and scary" than the last film, with a stronger connection to Jurassic Park. And yes, it'll also pave the way for a third film. It is, of course, being described as the Empire Strikes Back of the new Jurassic trilogy.
The Jurassic World sequel is in theaters June 22, 2018. Bryce Dallas Howard, Chris Pratt, and probably B.D. Wong will return from the last film. Toby Jones, Rafe Spall, Justice Smith, Daniella Pineda, and Ted Levine will also join in on the dino-related shenanigans. Michael Giacchino will compose the score because apparently the man will not rest until he's soundtracked every single big-budget franchise in existence.