'Zero Dark Thirty' Writer & Producer Reunite For Miniseries About 2016 Election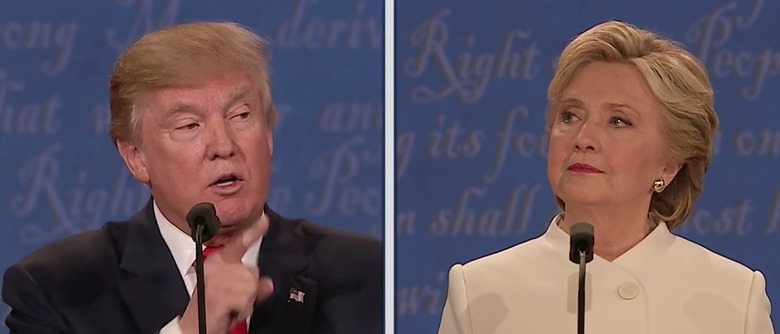 Hey, remember the complete and utter national meltdown that was the 2016 presidential election? Of course you do — it was only three and a half months ago, even if it feels like it was four lifetimes ago. Well, how would you like to relive that entire debacle as TV drama? Zero Dark Thirty writer Mark Boal and producer Megan Ellison are reportedly working on a project about last year's events, to be released as an eight- to ten-hour miniseries. 
The Hollywood Reporter writes that Boal will write the as-yet-untitled series, and produce it through his Page 1 production company. That company is financed by Ellison's Annapurna Pictures. A group of journalists is being assembled by Hugo Lindgren, a Hollywood Reporter editor and New York Times Magazine alum who is also president of Boal's Page 1, to act as investigative reporters for the project.
In a hilarious understatement, the trade notes that the election "remains a very contentious topic in America three months after it was held." The 2016 presidential race is certainly one of the most dramatic sagas in recent American history, and it was probably just a matter of time before someone tried to turn it into a movie or show. Boal and Ellison might be along the first ones to announce an adaptation of it, but I'd be surprised if they were the last ones.
There's no word yet on when we might actually see the show. Since it seems to be in the very early stages, it'll probably be a while. (Hopefully that means the wounds from that election will feel a little less fresh by the time we're reliving it on the small screen.) Nor is there any indication of where the miniseries might air. Based on the pedigree, I'd say a premium cable channel like HBO or Showtime seems likely, or perhaps a streaming service like Amazon — but that's just speculation on my part.
Boal and Ellison have already demonstrated a knack for dramatizing real-life events. Ellison produced Boal's Zero Dark Thirty, which was directed by Kathryn Bigelow, and all three have since reunited for the untitled Detroit Riots movie currently in post-production and the untitled Bowe Bergdahl movie still in development. Boal's other notable credits include The Hurt Locker, which earned Oscars for him and Bigelow, and J.C. Chandor's upcoming drama Triple Frontier. (The latter just recently scooped up Mahershala Ali to join Tom Hardy and Channing Tatum, in case you were curious how that's going.)