'Everything, Everything' Trailer: This Summer's Potential YA Tearjerker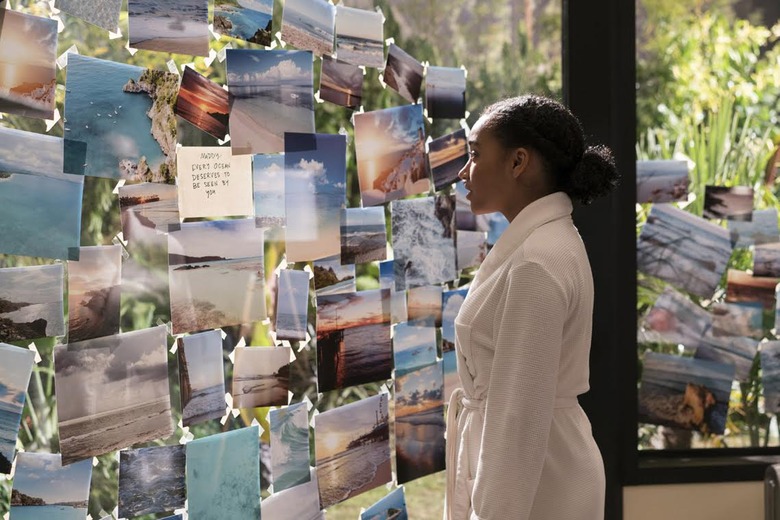 Director Stella Meghie's (Jean of the Joneses) adaptation of Nicola Yoon's novel, Everything, Everything, looks like a movie that'll get some moviegoers reaching for a kleenex box. The romance stars Amandla Stenberg (The Hunger Games) and Nick Robinson (Jurassic World) in a love story about a teenage girl who can't ever leave the house.
Below, watch the Everything, Everything trailer.
18-year-old Maddy Whittier has a rare genetic disorder called severe combined immunodeficiency (SCID), which makes her allergic to nearly everything. She has her mom (Anika Noni Rose) and her nurse, Carla (Ana de La Reguera), but she wants to explore the world outside her home. Maddy maybe gets her chance when she meets Olly, the new neighbor she falls for. In the trailer, Maddy proclaims she's willing to sacrifice her life for "one perfect day." Screenwriter J. Mills Goodloe (The Age of Adaline) wrote the adaptation.
Everything, Everything is from the producers of If I Stay and a big hit from last summer, Me Before You. The audiences that enjoyed those movies might go for Everything, Everything:
MGM had optioned the rights to Yoon's book before it was published. Pages of the Everything, Everything are Maddy's book reviews, drawings, and charts. "It's kind of an odd book," Yoon told EW. "My biggest concern was would the movie be able to capture the spirit of Maddie, writing these reviews, and drawing, and being trapped in her house but being okay with that." She wouldn't say how Meghie visualizes those sequences, but the author went on to explain she captures the young protagonist's imagination through some dream sequences shown in the trailer. MGM and Warner Bros. are already working on an adaptation of Yoon' s second novel, "The Sun is Also A Star."
Here's the synopsis:
From Warner Bros. Pictures and Metro-Goldwyn-Mayer Pictures comes the romantic drama "Everything, Everything," directed by Stella Meghie and based on the bestselling book of the same name by Nicola Yoon. What if you couldn't touch anything in the outside world? Never breathe in the fresh air, feel the sun warm your face...or kiss the boy next door? "Everything, Everything" tells the unlikely love story of Maddy, a smart, curious and imaginative 18-year-old who due to an illness cannot leave the protection of the hermetically sealed environment within her house, and Olly, the boy next door who won't let that stop them.
Maddy is desperate to experience the much more stimulating outside world, and the promise of her first romance. Gazing through windows and talking only through texts, she and Olly form a deep bond that leads them to risk everything to be together...even if it means losing everything.
Everything, Everything opens in theaters May 19th.