A Visit To The IMAX VR Experience Centre: Is This The Future Of Immersive Entertainment?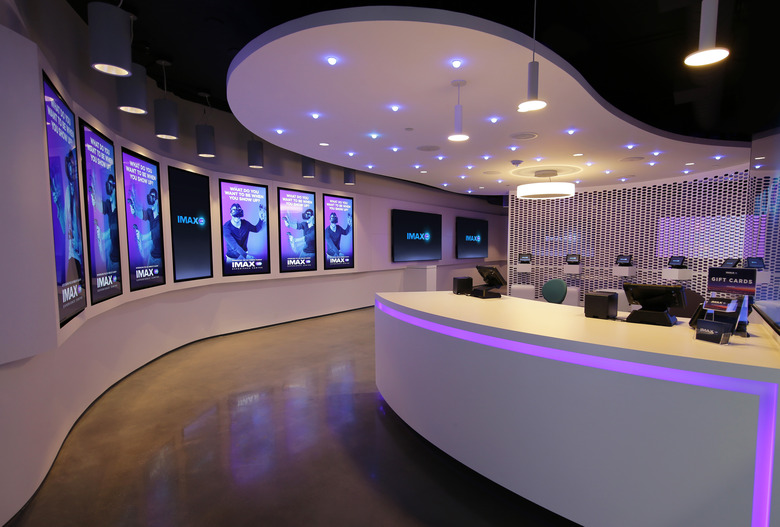 With movie theater ticket sales in decline and the piracy still on the rise for home video, Hollywood is looking towards virtual reality as another avenue for the entertainment dollar. And IMAX wants in on the ground floor, announcing last year that they would be opening six IMAX VR Centres in 2017. On Tuesday morning, I visited the first IMAX VR Centre located in Los Angeles, hoping to get a glimpse of the future of immersive entertainment.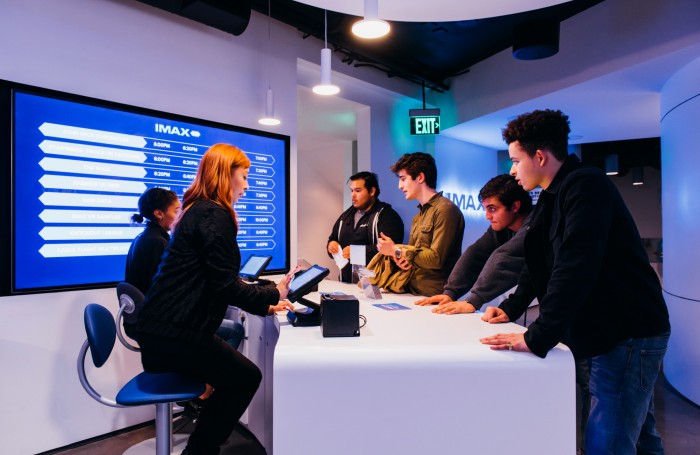 The Beginning of a Category-Building New Entertainment Experience?
The IMAX VR Centre in Los Angeles is the first of six venues planned to open this year. Located across the street from one of Los Angeles' busiest tourist attractions, The Grove shopping center, the IMAX VR Centre is the company's first step into the world of immersive entertainment.
Constructed in an old hat factory, the facility has been designed to look sleek, functional and cutting edge by the same retail designers hired by Apple and Tesla. Stepping through the front doors, you are transported into a vision of the future, complete with shiny white walls with huge displays advertising the latest IMAX VR experiences, much in the same way a movie theater promotes upcoming films with one-sheets.
IMAX views their entry into the world of VR as an experiment, but hopes they will be helping to define a new category of entertainment experience. As such, there is a lot of education geared to customers who have never experienced virtual reality before, which helps to define the experience as a whole for newcomers.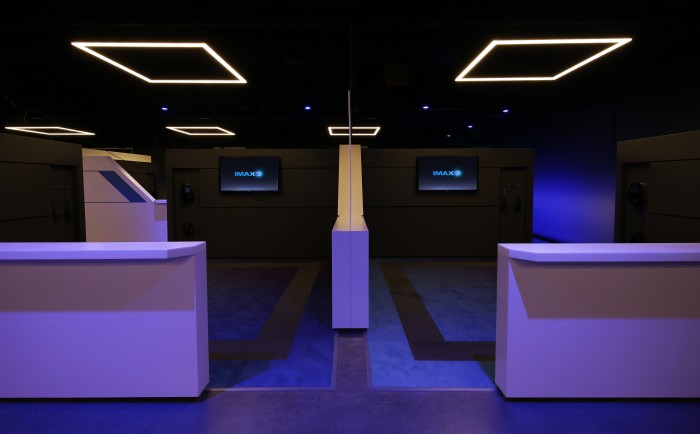 The First IMAX VR Centre
The Los Angeles facility had its soft opening on January 6th, 2017, and over 5,000 customers have come through those doors so far. IMAX claims that of those guests, 90% were satisfied with the experience overall and that paid admissions increased 75% week over week. The company feels that they are approaching a level where the concept feels viable.
The VR Experience area is a big warehouse-like environment that is divided into fourteen small 12' x 12' cubicle rooms called VR Pods. The entire space looks like something out of Tron: Legacy, so don't hear "cubicle" and think Office Space. Right now, most of the experiences use HTC Vibe headsets, which are connected to a computer in the black-painted catwalk system above you head via a moving pulley.
The carpet on the floor in each Pod has a rubber square inlay near the walls, ensuring that guests wearing VR headsets can feel by their step when they are approaching the edge of the space. Each Pod has an opening that allows friends and onlookers to watch you play, with a huge monitor displaying the gameplay on the wall.
A point-of-sale system sits in the center of the room which means that players in the VR experience don't need to go back to the lobby to buy more experiences. IMAX eventually wants to network between other IMAX VR Centres for tournaments, complete with leaderboards showing the current standings.

The Cost of the VR Experience
The IMAX VR encounters currently being offered by the facility include games and interactive experiences which can range from sitting to standing to room-scale (meaning the user can make full use of their surrounding space). Feature experiences cost around $7 – $10 and are usually around 9-12 minutes in length. They also offer sample packs which consist of different VR experiences not offered in the "featured" pods. The sample packs are categorized by difficulty, lasting around 25 minutes in length and costing $25.
I'm shocked that IMAX is not offering a pass that includes multiple features. I know that if I was a kid going to the VR Centre, I would love the ability to buy a passport that allows me access to a bunch of different feature experiences for a combined discounted cost. I'm also surprised that they are not yet offering an annual pass/subscription service that allows you to come back time and time again, although IMAX reps said they are currently discussing the possibility.
I assume there is probably a limit to how many people can experience any one pod, and if they are already completely selling out certain features, it may prove difficult to accommodate the people who have paid for passports or subscriptions. It's interesting that IMAX has adopted the ticket and showtime model for this venue instead of looking towards how Disney run their theme park attractions.
Right now, IMAX realizes that this is a huge experiment. They are testing out what content consumers want and will be constantly adjusting their vision of this experience.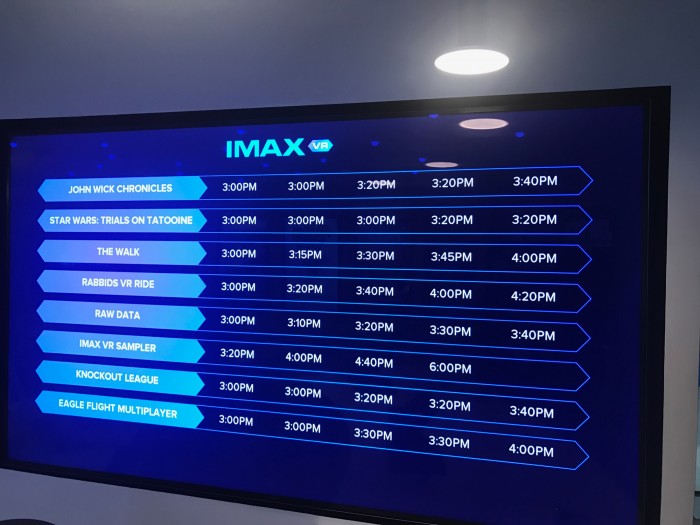 How Can IMAX VR Replace Cinemas?
While the first IMAX VR Centre is built in its own facility, the company imagines that most of the IMAX VR venues will be built inside existing movie theaters. The five other pilot VR locations planned for 2017 will be inside cinemas, like the AMC Theatre in New York City, Regal Cinemas in New York City and downtown Los Angeles, an AMC theater in China, and a cinema in the UK. Some will completely take over space which was previously occupied by a movie theater screen, while others will take over a large section of the theater lobby. Later this year, they will evaluate the success of this venture and consider expanding worldwide, looking towards Japan, Europe and the Middle East for further locations.
Starbreeze, the company that produces the John Wick Chronicles VR game using their proprietary StarVR system, was gloating that tickets to their experience had been sold out for the previous couple days. The John Wick experience operates out of two of the fourteen pods, with guests being cycled through the ten-minute experience at twenty-minute intervals (due to explanation, set-up, and equipment sanitization & cleaning). At $10 a ticket and eight hours of experience time per day, that means the company has made nearly $1,000 in two days with those two pods alone.
At first, this concept seemed crazy to me. Can a movie theater actually believe they would make more money on single VR experiences as opposed to a cinema full of hundreds of seats? IMAX hopes to fit anywhere between nine to fourteen pods in any given center. If you do the math, a cinema could charge $10 per VR experience and potentially make $600-$1,000 in the same amount of time as movie theater screening and reset cleaning.
The problem with this current model is that a movie theater requires a couple ushers to clean the cinemas in between screenings, but the IMAX VR experience requires dedicated operators at each attraction for the length of the day.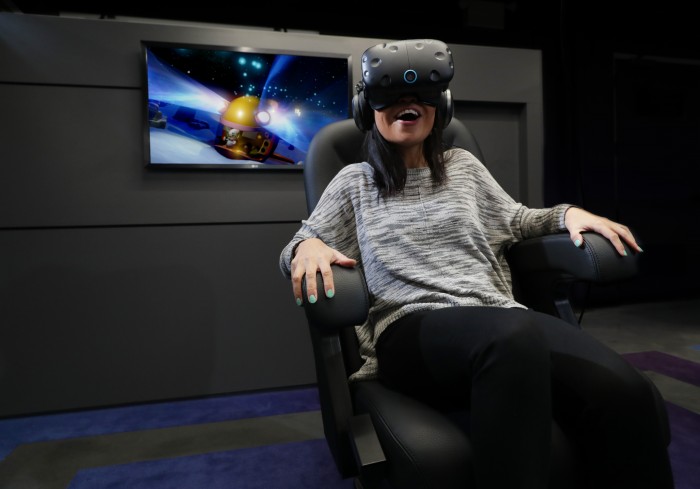 They Need to Make the VR Experience More Social
My biggest skepticism towards VR arcades is that I'm not sure I would want to go with my friends to a place where we all split up and have our own separate solo experiences. Sure, the design of the pods allow you to watch your friends as they play an experience, but it's still mostly an individual adventure. I think that we'll see that groups going to these centers will gravitate to multiplayer experiences. Right now, they only have one experience, Eagle Flight, which can accommodate anywhere from one to six players via 3-vs-3 team games of capture the flag. They mentioned that Ubisoft's Star Trek Bridge Crew VR will be coming to the facility soon, and I think that kind of cooperative game could do extremely well in this kind of environment.
IMAX has become an investor in Dreamscape along with Warner Bros., 21st Century Fox, MGM, IMAX, Westfield, and director Steven Spielberg. Dreamscape, much like the Void's Ghostbusters VR experience in New York City, will create untethered VR headsets to allow consumers to move freely through a space and interact with real and virtual objects as well as with each other. Dreamscape is expected to open a VR multiplex at Westfield's Century City Mall in LA this September and IMAX says they have begun talks with the company to partner in the centers for multiplayer room-based VR experiences.
The IMAX VR Experience Centre also has a room for catering for functions like birthday parties, because some things never change (the Centre has already hosted a few parties as of this article being published).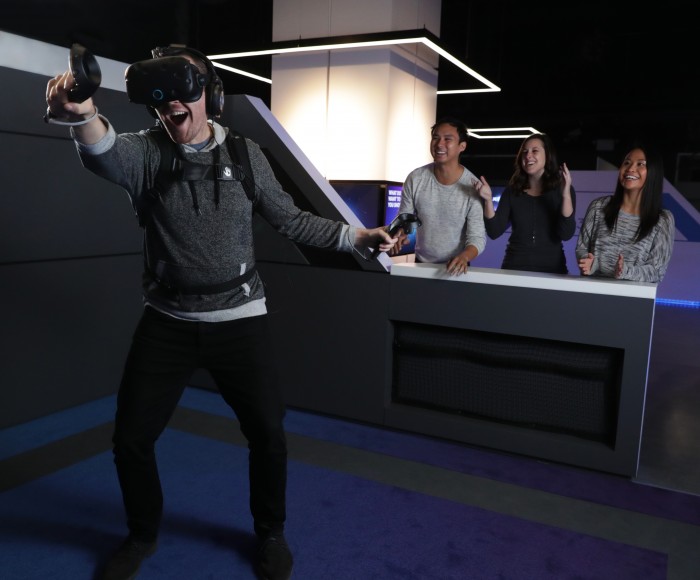 The Long and Short
It's also frustrating because the experiences sometimes feel short and incomplete. John Wick Chronicles is one level of a multilevel narrative game available for download elsewhere, and when it ends you feel like you only got to experience a small piece of content. On the other side of the coin, I confidently felt like I was done with The Walk VR in just a few short minutes and I'm not sure anyone would walk away satisfied having to spend $10 for such a short piece of content.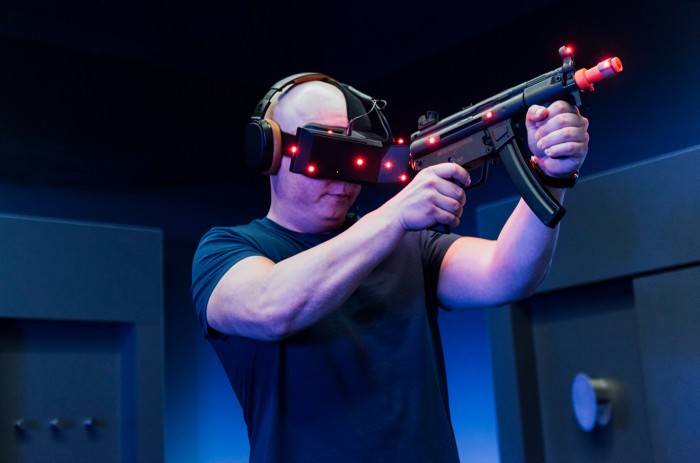 Why Would People Pay to Play What Is Free at Home?
Why would people pay to come to an IMAX VR Experience Centre for content that they can play at home for free on VR rigs they can buy on their own? For starters, the IMAX executives believe that there is still a considerable cost of entry to get a good VR gaming rig. And even then, most home set-ups don't have the proper space to allow for a stand-up experience and one VR rig can't accommodate multiplayer play.
One of the selling points of the IMAX VR Centre is that some of the experiences come with accessories to enhance the activity. For instance, when I was walking on a tightrope across the two World Trade Center towers in The Walk VR experience, I was walking on a tactile rubber right rope inlaid on the ground in the middle of a pod with a vibrating backpack that sent base rumbles through my body, reacting to my movements. The Rabbids VR Ride features a moving DBox-like chair that enhances the experience.
John Wick Chronicles was the most impressive of all the experiences I tried, featuring a controller constructed out of a retrofitted gun. After nine minutes, I was feeling fatigued from ducking behind cover and wielding a gun that felt like it got heavier as the action got more intense. It was very cool. I can only imagine if the gun actually had pullback when I fired to make the experience feel even more real.
One of my big criticisms with the current VR tech is the pixelized screen-door effect you get from most of these goggles. This is obviously something that will improve as the technology advances, but right now it's not ready for primetime. That said, I was extremely impressed with the StarVR employed in the John Wick Chronicles experience. The StarVR features a 210-degree field of view, the largest of any VR headset right now —  much larger than the traditional 110 degrees offered by the other headsets. The resolution is 5k, almost triple that of the competing VR headsets. The IMAX VR Centre is the only place in the world that you can experience this rig right now, which might be very appealing even to those who own a VR headset at home.
If the IMAX VR Centre can keep on the cutting edge of VR technology, and continue offering new games with interesting peripherals that enhance the experiences, there is definitely a place for these establishments in the marketplace. In their first five weeks of operation, IMAX says that 20% of visitors have been people who already own a VR headset and 90% of those guests have said they will return again in the future.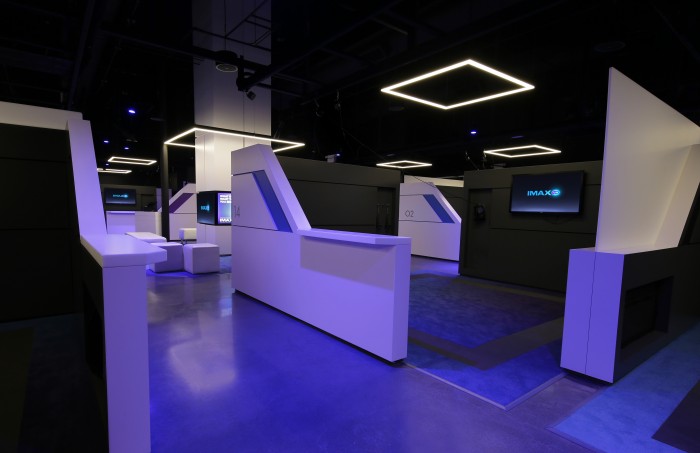 The Challenge to Create Exclusive VR Content
At the end of the day, I think IMAX will ultimately need to have exclusive VR content that you can't experience elsewhere. IMAX executives admit that they are in a similar position to when they were ramping up their theatrical business. Filmmakers and studios didn't want to offer exclusive content until there were enough theaters to warrant the extra effort and cost, while movie theater chains didn't want to build IMAX theaters until there was more exclusive content.
Right now, IMAX is making inroads to this future. The company helped establish a $50 million fund to help finance the creation of at least 25 new VR experiences in the next few years. They are utilizing their relationships with top filmmakers and film brands, teaming with Google to develop a next level VR cinema-grade camera that should be ready by mid-2018. Michael Bay has always revealed that he is teaming up with IMAX on a Transformers VR experience that will coincide with the release of Transformers: The Last Knight.
At the event I attended, IMAX announced they would be partnering with video game publisher Ubisoft and movie production company Skydance on five VR experiences over the next year or so. Skydance, who helped produce the Star Trek, Mission: Impossible and Terminator movies, is developing a VR experience based on the upcoming movie Life, set for March, and an action mech shooter called Archangel, set for July. I was able to try out a very early copy of Archangel and it felt like a VR version of a fun on-rails arcade experience from yesteryear. Ubisoft will be bringing the Star Trek Bridge Crew game to IMAX centers shortly.
When I asked the IMAX executives about purely exclusive content, they admitted that much of it would be exclusive for a time period window (probably one month) similar to the way movies have a theatrical release window. This makes sense, as the IMAX team seems to realize that to be more than a tourist attraction, they will need to change out the content on a regular basis.
Is IMAX VR the Future of Immersive Entertainment?
It's hard to predict if IMAX will be successful in their VR experiment but after experiencing the IMAX VR Experience Centre for myself, I'm a lot more interested to see the evolution of this new entertainment complex.
Without exclusive content, IMAX will have to constantly chase new expensive high-end technology and impressive peripherals to compete with the home VR offerings. They will have to go after more socially minded virtual reality multiplayer games to appeal to groups. I think IMAX will need to evolve past the movie theater convent and eventually have to offer a more versatile entry into the experience in the form of multi-experience ticketing, timed all-you-can-play entry, and/or annual memberships.
With all of these concerns, I'm still very excited to see how this concept evolves. I'm particularly interested to see how movie releases will go hand in hand with new VR experiences produced by some of the biggest filmmakers of today. I want to explore VR experiences which reach far beyond what's capable in the home, with inventive custom controllers and rigs — I want to feel immersed in a way that is not possible on my couch. I want to feel like I'm actually flying or falling or shooting or whatever.
Is IMAX VR the future of immersive entertainment? It's promising, but ultimately we'll have to wait to see how this experiment pans out.