Sundance Favorite 'The Big Sick' Lands Summer Release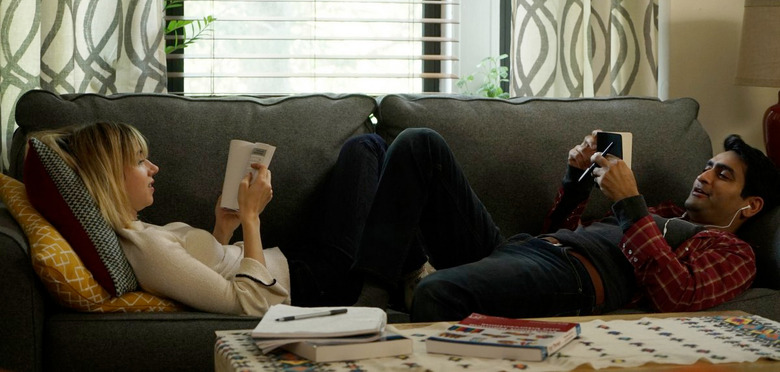 The 2017 Sundance Film Festival came and went last month, and some of the /Film crew was up in the mountains to see the latest offerings in independent cinema. Our favorite movie from the festival ended up being The Big Sick, the remarkably true and touching story of how comedian Kumail Nanjiani and producer Emily V. Gordon met and fell in love. The film was picked up by Amazon for distribution in a major $12 million deal, and now The Big Sick release date has finally been set for this summer.
The Hollywood Reporter reveals that Amazon will be teaming with Lionsgate for the distribution of The Big Sick, and they'll start by giving it a limited release on June 23, opening the same weekend as Transformers: The Last Knight and Sofia Coppola's The Beguiled. After that the film will expand into a wide release on July 14, the same weekend that War for the Planet of the Apes and the Bad Moms spin-off Bad Dads will hit theaters.
Summer can be a difficult time for indies to get attention, but since this has the charm and comedic style of a Judd Apatow-directed comedy (he actually produced this one), it shouldn't have a hard time finding a decent audience, especially with all the buzz from Sundance helping it along the way.
In my review from Sundance, I called The Big Sick one of the "most unique and authentic romantic comedies I've seen in years." In addition, I remarked that "I don't remember the last time a movie was able to have this much hilarity one moment and pure emotion from me, back and forth throughout the entire film." You can find much more praise in my full write-up over here.
Kumail Nanjiani plays himself in The Big Sick, proving that he's got potential as a funny and affable leading man, while Zoe Kazan charmingly and affectively plays Emily, sparking some great chemistry with her co-star. The rest of the cast includes Holly Hunter and Ray Romano as Emily's parents, not to mention comedians Kurt Braunohler, Bo Burnham and Aidy Bryant as Kumail's fellow stand-up acts.
Michael Showalter adds another fantastic film to his growing directorial resumé, following his work behind the camera for The Baxter and Hello, My Name Is Doris, as well as his writing credits on Wet Hot American Summer and They Came Together. In The Big Sick, he's crafted a wonderful romantic comedy that will please crowds across the board as long as they give it a chance.
Based on the true story of the film's writers (and real-life couple), Emily V. Gordon and Kumail Nanjiani, this modern culture clash shows how Pakistan-born Kumail and his American girlfriend, Emily, have to overcome the expectations of his family and their 1,400-year-old traditions. As his parents relentlessly set him up with potential brides for an arranged marriage, Kumail navigates treacherous waters in the worlds of both dating and stand-up comedy.
The Big Sick hits limited theaters on June 23 and expands wide on July 14.