TV Trailers: 'Feud: Bette And Joan' And 'Love' Season Two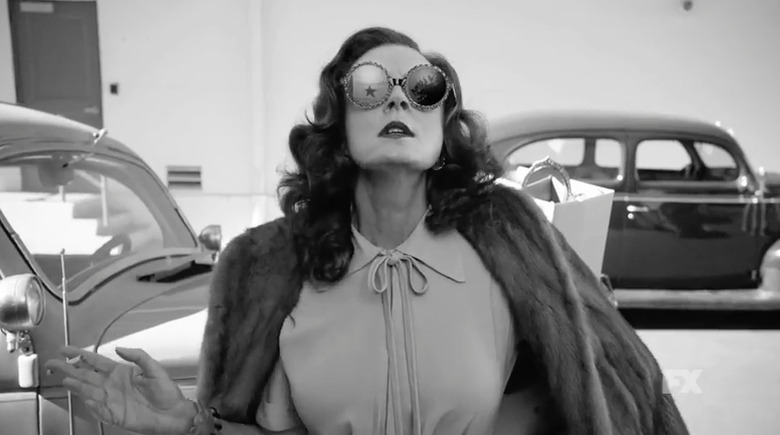 Before Mickey (Gillian Jacobs) and Gus (Paul Rust) return for season two of Love, Netflix decided to share the good news: they've already renewed the Judd Apatow-produced series for a third season. We're already guaranteed more time with these charming but flawed characters.
But before we see the current state of their relationship, another show — an entirely different show — premieres on FX. That series is called Feud: Bette and Joan, which you can watch a new trailer for.
Below, watch a full Love season two preview and the Feud: Bette and Joan trailer.
Season one of Ryan Murphy's new anthology drama, Feud, is about Joan Crawford (Jessica Lange) and Bette Davis' (Susan Sarandon) strained relationship, mainly during the making of Robert Aldrich's What Ever Happened to Baby Jane? The show's main title sequence pays homage to some of the film's most memorable (and often comedic) moments. The two actors famously feuded for years, never shying away from sharing their true feelings about one another. "The best time I ever had with Joan was when I pushed her down some stairs in What Ever Happened to Baby Jane," Davis once said.
Here's the Feud: Bette and Joan trailer:
And here's the splendid opening title sequence:
The FX series co-stars Sarah Paulson, Kathy Bates, Catherine Zeta-Jones, Judy Davis, and Alfred Molina. The Hollywood Reporter ran a very favorable review of the show today. They called it an "an eight-episode extension of the tremendous 'Marcia, Marcia, Marcia' episode of People v. O.J. Simpson," which is an encouraging comparison.
Gus and Mickey, thankfully, have a much healthier relationship than Crawford and Davis. Season one of series showed the bumpy start to the two thirty-something's relationship, while season two is about them dealing with commitment. Here's the full Love season two trailer:
Gus and Mickey are dealing with new problems, but it also looks like they've grown since season one, especially Gus, who by his admission needed to get a grip during a lot of season one. The character appears more confident and much happier in season two. He no longer resembles fake nice Gus.
Here's the official synopsis for Love season two:
The series follows nice guy Gus (Paul Rust) and brazen wild-child Mickey (Gillian Jacobs) as they navigate the exhilarations and humiliations of intimacy, commitment, love and other things they were hoping to avoid. In the second season, Mickey and Gus face commitment and all that comes with it as they attempt to bring order to their chaotic lives.
Season two of Love is available to stream starting March 10th. Feud: Betty and Joan premieres on March 5th.