Rumor: Ben Affleck Doesn't Want To Be Batman Anymore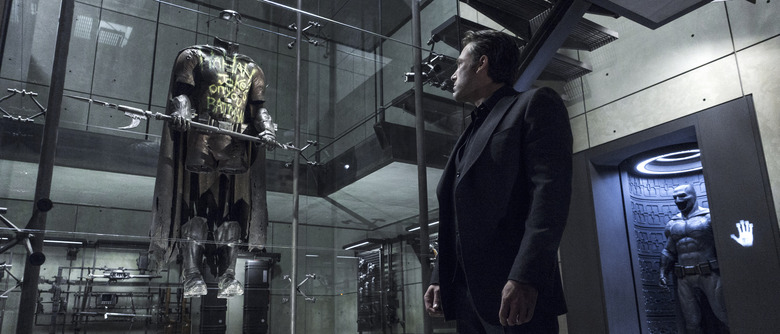 As soon as Ben Affleck announced that he no longer planned to direct Warner Bros.' solo Batman movie, speculation began to swirl that he might step down from the starring role as well. After all, things aren't looking terribly promising for the DCEU right now and Affleck has seemed frustrated by the pressure and hype surrounding this very high-profile role. Now, right on time, comes a rumor claiming just that — that Affleck would very much like out of the franchise, preferably before that planned solo movie.
Click through to catch up with the latest Ben Affleck Batman rumor. 
The new Ben Affleck Batman rumor comes from Collider Talk's John Campea, who prefaces his own claim with the disclaimer, "Please take this with a massive, massive grain of salt." However, he cites three separate anonymous sources who've told him that "Ben Affleck, make no mistake, he does want out. He doesn't want to be Batman anymore." Campea adds that Affleck is currently "talking with Warner Bros. in an attempt to get out of being Batman." If Affleck can't get out of his contract, the solo Batman film will be his last time playing the Caped Crusader.
It all sounds very plausible — maybe even too plausible. It's all too easy to get sucked into a rumor that verifies what you already suspected, so this could just be a case of confirmation bias, whether on our part, on Campea's, or his sources'. So we'll repeat his warning here about not taking this report too seriously. On the other hand, it's also possible that this rumor sounds so plausible because it is, in fact, true. Let's be real: would it actually surprise anyone at this point if Warner Bros.' DC franchise lost Affleck as Batman? And could anyone blame Affleck for wanting out of a franchise that, in its first three outings, has been polarizing at best?
Officially, Affleck's explanation is that he decided not to direct because he didn't think he could do that and star. "Performing this role demands focus, passion and the very best performance I can give," he said at the time. "It has become clear that I cannot do both jobs to the level they require." The statement emphasized that Affleck would continue working with the studio as the star of the film, and that a new director would be announced soon. Just days later, news broke that Matt Reeves was in early talks to take over at the helm.
Unofficially, anyone looking for signs of Affleck's Bat-fatigue shouldn't have any trouble finding them. Reports about the state of the Batman movie script have been all over the place (depending on who you ask, either it's getting a complete overhaul or all good to go and perfectly good as-is), and Affleck's expressed his exasperation over the constant questioning and immense scrutiny from fans. Again, this could all amount to nothing — even under the best of circumstances, it'd be understandable if a director were annoyed at answering the same nagging questions over and over.
But it is concerning that we've been hearing such negative things about this movie. The franchise's track record so far hasn't exactly been encouraging (yes, Man of Steel, Batman v Superman, and Suicide Squad all made a lot of money, but the reaction from fans and critics were severely mixed), and Affleck's choice to drop out of directing the movie seemed to indicate something wasn't going exactly as planned. If I had to guess, I'd say there's probably some ambivalence on Affleck's part. Whether that means he's really going to drop out of the lead role, well, only time will tell.