LOL: Thor's Poor Sad Roommate Darryl Returns In 'Team Thor: Part 2'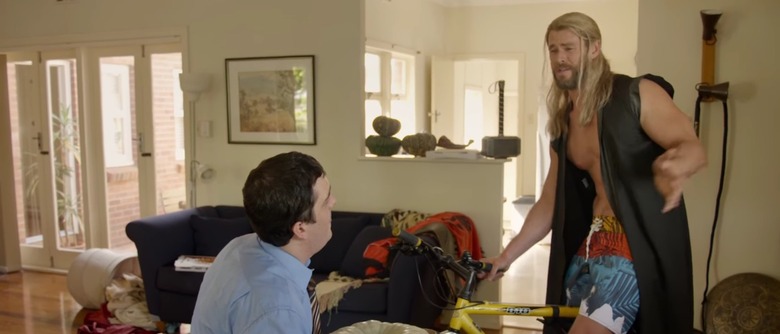 The saddest man in the Marvel Cinematic Universe isn't Loki with his daddy issues or Bruce Banner with his self-loathing or even Bucky Barnes with his unreliable brain and unfortunately highly effective assassin training. No, if you ask me, it's Darryl, the poor ordinary schmoe who somehow got stuck rooming with Thor while the rest of the Avengers were off having their Civil War.
As we saw in the first mockumentary short unveiled at Comic-Con, Thor might be a great superhero but he is a terrible roommate. Things don't look much better for sad Darryl in Team Thor: Part 2, where it's revealed Thor is not so much into the "paying rent in actual money" part of living with someone. Watch the new Thor Darryl short below.
Team Thor: Part 2 has been released as a bonus feature on the Doctor Strange Blu-ray, doubling as a bit of promotion for the upcoming Thor: Ragnarok. It might be a little too good at that latter part. I love these Thor Darryl short films so much that I'm genuinely bummed to realize Ragnarok isn't just going to be two hours of Thor and Darryl bickering in their flat. (Think about it! It'd basically be What We Do in the Shadows with superheroes.) But since a Marvel movie is inevitably going to involve some of the usual save-the-universe stuff, my dearest hope is that after Ragnarok, director Taika Waititi and star Chris Hemsworth will reunite for a non-Marvel comedy.
While Thor's generally tried to be a nice guy in his previous installments, he lets his "inconsiderate jerk" side show with Darryl, refusing to pay actual money or get a real (paying) job. He goes on a weird and nonsensical rant that somehow ends with him declaring, "I am covered in brains and I have more brains than you" and deciding that what the two of them really need is a servant for their apartment. Waititi has previously hinted that there's more of Thor and Darryl to come, so can we see that next, please?
Doctor Strange is available now on Digital HD and will be out on Blu-ray February 28. Thor: Ragnarok is in theaters November 3.