'The Bad Batch' Teaser Trailer: Keanu Reeves Leads A Cult In A Cannibal-Filled Dystopia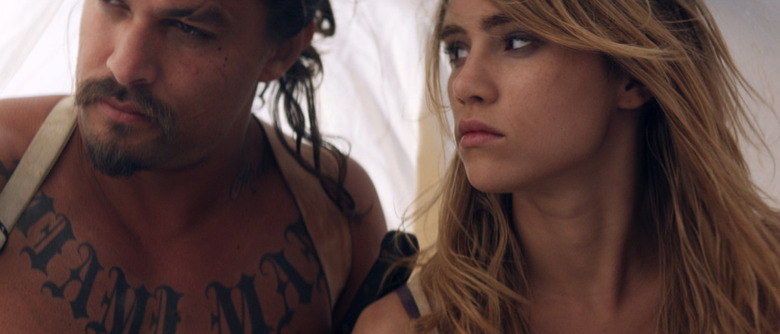 Ana Lily Amirpour's debut feature, A Girl Walks Home Alone at Night, felt simultaneously fresh and familiar: it borrowed from the iconography of several decades' worth of cinema, but it combined those elements in a way we'd never quite seen before. Her sophomore effort, The Bad Batch, looks every bit as attention-grabbing. Suki Waterhouse and Jason Momoa star as two very different people whose paths collide in a dusty dystopia overrun by cannibals, while Keanu Reeves shows up late in the game as a charismatic cult leader.
If that description doesn't pique your interest, I can't help you — this movie might just be Not Your Thing. But if it entices you, click through to get a little taste of this weird, colorful world that's equal parts Mad Max and Spring Breakers. Watch the first The Bad Batch teaser trailer below. 
The Bad Batch Teaser Trailer
The new Bad Batch teaser follows a clip released last fall to promote the film's TIFF debut. I absolutely love this scene, which sets a very specific tone.
I caught The Bad Batch at TIFF last year, and I'm sorry to say that Amirpour falls victim to the same sophomore slump that's hit so many other promising young filmmakers. The characters feel more like ideas than people, and while its political references are pointed (the film, like the trailer, opens with a U.S.-Mexico border fence), its actual political message seems muddled. The film runs out of gas and starts crawling in circles with about half its running time still to go.
Still, the film's flaws do nothing to change my conviction that Amirpour is one of the most exciting young up-and-comers working today. The Bad Batch never lacks for ambition, imagination, or style. It's one worth sampling, just to see what she's managed to cook up this time around — even if the film itself leaves you hoping the next meal will be better. You can read my full review from TIFF here.
Neon will release The Bad Batch on June 23. The film also stars a hard-to-recognize Giovanni Ribisi, an even-tougher-to-recognize Jim Carrey, and an impossible-to-recognize Diego Luna. Seriously, one of my friends asked me how Luna was in this movie and my response was "I don't think he's in this movie."
The highly anticipated follow-up to Amirpour's acclaimed directorial debut, A GIRL WALKS HOME ALONE AT NIGHT, THE BAD BATCH follows Arlen (Waterhouse) as she is unceremoniously dumped in a Texas wasteland fenced off from civilized society. While trying to orient her unforgiving environment, she is captured by a savage band of cannibals and quickly realizes she'll have to fight her way through her new reality. As Arlen adjusts to life in 'the bad batch' she discovers that being good or bad mostly depends on who you're standing next to.