How Many Seasons Will 'Stranger Things' Last?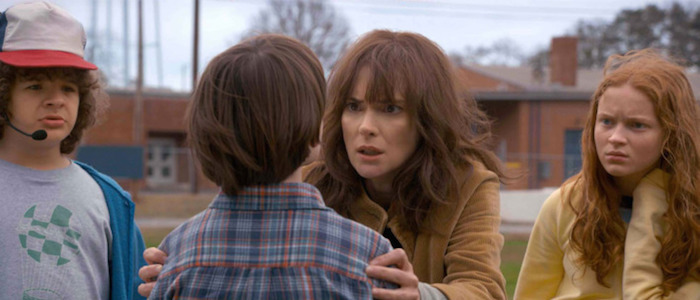 The first season of Stranger Things got so much buzz and acclaim that a second-season renewal seemed like a foregone conclusion — even if it took Netflix a month and a half to get around to making it official. And based on the hype already building around season two, it seems possible that the next chapter of this story will be an even bigger hit than the last. If that's the case, you can bet Netflix will re-up for season three before you can say "l'eggo my Eggo."
But all good things have to end eventually, and that includes Stranger Things. Creators Matt and Ross Duffer have revealed that they have no intention of keeping their '80s sci-fi thriller going forever. In fact, they've already given some thought as to where the series could go beyond season two — and when they would like the series to end. Below, find out how many seasons Stranger Things could last. Lest that news get you down, there's also a new Stranger Things season 2 photo for you to enjoy. 
Speaking to Entertainment Weekly, the Duffers revealed that they're envisioning a four- or five-season run for Stranger Things. Ross Duffer clarified that the plan wasn't set in stone. "Everything changes as we move forward so we'll see," he said. But Matt Duffer made it clear they wanted to go out on a high note. "I want it to have a really finite ending," he said. "I don't want it to be one of those shows that runs out of gas and they lose it because they're losing interest. You wanna end when you're on top."
Four or five seasons sounds like a pretty good run for Stranger Things. At that point, it'll be unlikely that the best is yet to come – it is exceedingly rare for a show maintain a consistent quality for that long, and rarer still for a show to continue improving at that point. At the same time, four or five seasons seems like a long enough lifespan that fans could walk away satisfied, rather than upset that Netflix or the Duffers cut the story short before its time.
Besides, Stranger Things would almost definitely suffer if the showrunners had to keep spinning the wheels indefinitely. While I'm not necessarily of the belief that every serialized tale needs to be completely thought out in advance, an open-ended run can force a show to tread water. And the Duffers seem more interested in moving forward. "Hopefully you'll come to the end of season 2 and feel fully satisfied and want more but you'll feel like it has come to a conclusion," said Ross Duffer. "But also we've laid the groundwork for further seasons."
We'll get a better idea of what that means in a few more months, but The Telegraph does have a new photo today that offers a look at an exciting new addition to season 2: Max, a new girl played by Sadie Sink.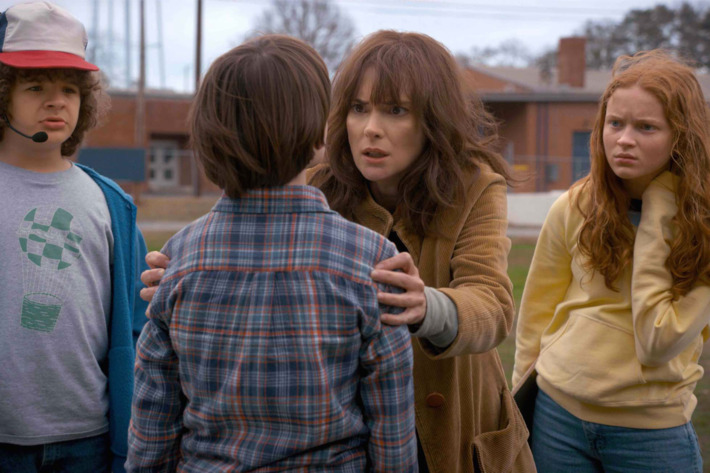 Max is the one way off on the right. She's described as a "tough and confident" tomboy who's new to Hawkins. She has a difficult relationship with her mean older brother, Billy (Dacre Montgomery). How exactly she fits into the season remains to be seen, but she reportedly attracts the romantic attentions of Lucas (Caleb McLaughlin) and Dustin (Gaten Matarazzo). The first episode of season two, "Madmax," is likely a reference to her character.
In this picture, though, she's not really doing much but at Will Byers (Noah Schnapp). Whatever he's doing — or whatever is happening to him — is alarming enough that Joyce (Winona Rider) has grabbed him by the shoulders. Dustin, off to the left, also looks pretty concerned. It probably comes as a terrible shock to all these nice folks that Will hasn't quite recovered from his experience in the Upside Down. But it shouldn't be a surprise to viewers, given that the first season finale made it very clear he's brought the Upside Down back with him in some way or another.
Stranger Things season 2 will premiere around Halloween.