The Next 'X-Men' Sequel Will Shoot This Year, According To Sophie Turner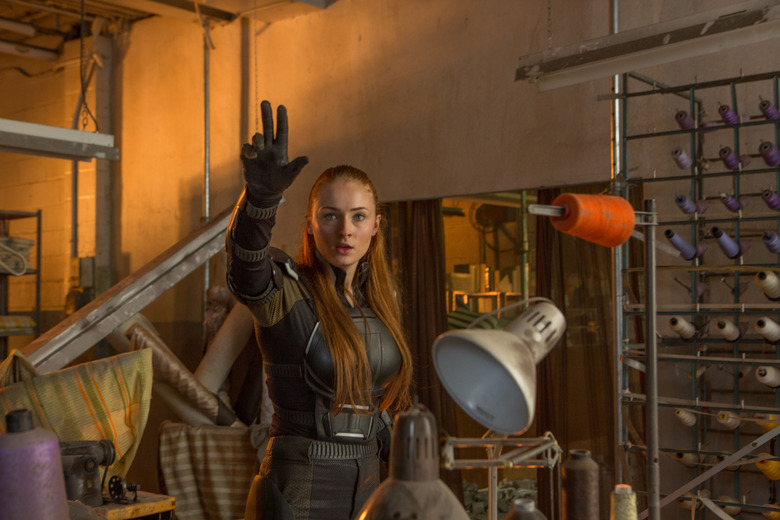 Details on the X-Men: Apocalypse sequel have been scant, but we should start to get some concrete details soon, at least if Sophie Turner is to be believed. The Game of Thrones actress, who played Jean Grey in Apocalypse, has confirmed the next X-Men movie will shoot sometime in 2017. 
Hey U Guys caught up with Turner at the BAFTAs red carpet last night. Asked what projects she had coming up next, Turner answered:
We're about to start shooting the next X-Men. We've just finished shooting Season 7 of [Game of] Thrones, and I've got a couple of movies to do before X-Men starts. And then we go on to Season 8. So I've got a busy year lined up.
Based on Turner's comments, it sounds like 20th Century Fox would like to go into production with the X-Men sequel sometime this summer. It's the only window that really makes sense based on the rest of her schedule, which has her making a couple of movies this spring before X-Men and then heading to Game of Thrones season 8 in the fall. (That's assuming Game of Thrones season 8 shoots on a similar schedule as Game of Thrones season 7.) Of course, all this should be taken with a grain of salt since things change and actors are often the last to know when they do.
The next X-Men movie will jump ahead to the 1990s, in keeping with the same bizarre pace established by the past three films. (First Class was set in the '60s, Days of Future Past in the '70s, and Apocalypse in the '80s, though for some reason none of the characters seem to have aged more than five years across all those decades.) It's rumored to be titled X-Men: Supernova, and believed to be an adaptation of the Dark Phoenix storyline from the comics. At least, that's what Bryan Singer seemed to be hinting in a recent interview:
Another thing that's been introduced in the comics is a big alien, interstellar tenant within the X-Men universe that hasn't been explored. And to me, that might be kind of fun because I'm a huge Star Wars and Star Trek fan, and exploring the X-Men universe and being able to utilize that would be exciting, visually.
Longtime X-Men fans will recall that elements of the Dark Phoenix arc were incorporated into X-Men: The Last Stand. But no one seemed particularly thrilled with the results — not the filmmakers, not the fans, and not the critics — so it wouldn't be too surprising if the franchise producers wanted to take another crack at the classic storyline, now with a brand-new Jean Grey.
However, Fox will have some work to do before they can get rolling on the next X-Men sequel. Kinberg is said to be working on a new script already, but we don't know yet who'll direct it. Bryan Singer, who helmed Days of Future Past and Apocalypse, apparently doesn't plan to return for the sequel. It's also unclear who'll star, since several of the stars, including Jennifer Lawrence, completed their contracts with Apocalypse. And there's no release date yet, although Fox does have a few release dates set aside for untitled Marvel movies between now and 2019.