'Ghost In The Shell' Trailer: Scarlett Johansson Is A Cyborg Searching For Her Past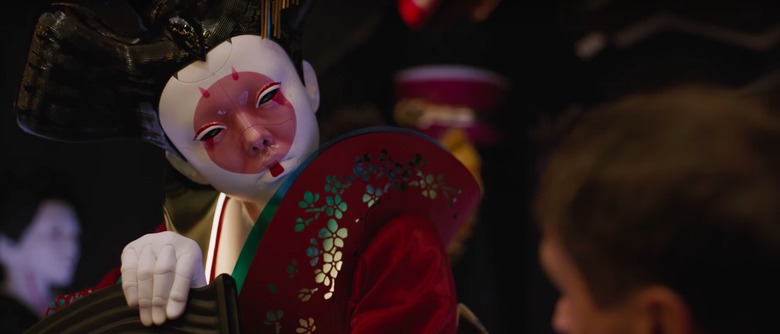 While Marvel continues to hem and haw about giving Scarlett Johansson her own solo superhero movie, Paramount's swooped in and made her the centerpiece of her very own would-be sci-fi action franchise. She stars as the Major in Ghost in the Shell, a new live-action adaptation of the classic Japanese manga. With director Rupert Sanders behind the camera, the film seems to have no shortage of stunning visuals. But can the rest of the movie live up to those cool designs?
A new Ghost in the Shell trailer offers a bit more story, so you can judge for yourself. Plus: find out what Johansson has to say about the ongoing whitewashing controversy over the casting of this film.
Ghost in the Shell Trailer
Ghost in the Shell has already come under fire for casting a white actress to lead an adaptation of a Japanese property. In a recent interview with Marie Claire, Johansson offered her thoughts on the whitewashing controversy:
I certainly would never presume to play another race of a person. Diversity is important in Hollywood, and I would never want to feel like I was playing a character that was offensive. Also, having a franchise with a female protagonist driving it is such a rare opportunity. Certainly, I feel the enormous pressure of that—the weight of such a big property on my shoulders.
Yeah, I don't know how much those comments will do to smooth over criticism of Johansson's casting. Diversity is indeed important... which is why so many people were disappointed that Ghost in the Shell shrugged off an opportunity to cast a woman of color and decided to go with yet another white star. As rare as it is to see a big-budget franchise led by a white woman, it'd be even rarer to see one led by an Asian woman.
Putting aside the movie's racial issues for a second, its other big challenge will be to live up to its acclaimed source material. The Ghost in the Shell trailer features some stunning visuals, but so did Sanders' last film, Snow White and the Huntsman — and none of them could save that film from being a heavyhanded slog. The "mysterious badass searches for their past" premise of Ghost in the Shell seems a bit overfamiliar to me, but maybe the whole cyborg angle will be able to put a new spin on it.
Ghost in the Shell is in theaters March 31. Pilou Asbæk, Michael Pitt, Juliette Binoche, and Takeshi Kitano also star.
Based on the internationally-acclaimed sci-fi property, "GHOST IN THE SHELL" follows the Major, a special ops, one-of-a-kind human-cyborg hybrid, who leads the elite task force Section 9. Devoted to stopping the most dangerous criminals and extremists, Section 9 is faced with an enemy whose singular goal is to wipe out Hanka Robotic¹s advancements in cyber technology.