The Best & Worst Sketches From Alec Baldwin's 'Saturday Night Live'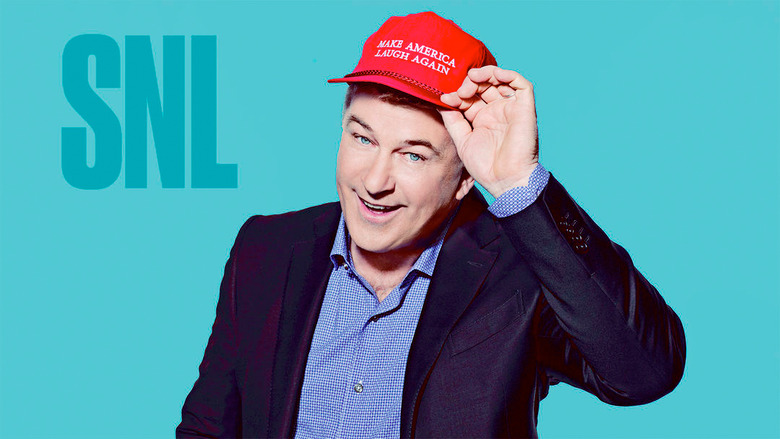 Alec Baldwin hosted Saturday Night Live for the 17th time this weekend, setting a record for hosting the most times, even more than Steve Martin. There was a lot of hype for this episode, mainly because people thought SNL would really tear into Donald Trump's administration even more than they have been recently. The late night sketch series didn't really do anything out of the ordinary to react to the hype, but that doesn't mean it wasn't a great show.
Even though Rosie O'Donnell wasn't brought in as Steve Bannon, as many hoped she would, Melissa McCarthy returned as White House Press Secretary Sean Spicer, and Kate McKinnon added another political impression to her growing roster as well. Of course, Alec Baldwin reprised his role as Donald Trump, but another cast member also played the president in another fantastic sketch as well. You'll see what I mean in our recap of the best and worst sketches from last night's show.
The Best
Sean Spicer Press Conference – Last week's debut appearance of Melissa McCarthy as White House Press Secretary Sean Spicer went viral and ruffled plenty of feathers in Washington DC, so it should come as no surprise that she came back for another round this week. What is surprising is that the writers at SNL were able to craft a sketch that was just as good as the original. It has all the charms of a recurring presidential parody, but Melissa McCarthy brings an amazing level of energy and commitment to the character that never wavers. Plus, the gag with the podium was even funnier this week, and that leafblower bit was great physical comedy too. Then we also got to see Kate McKinnon as Jeff Sessions, like a political Foghorn Leghorn, and it was all just so fantastic.
Jake Tapper – As funny as the new Sean Spicer sketch was, I had a hard time choosing between that one and this one. This is a pitch perfect parody of Fatal Attraction, and Kate McKinnon does an incredible job of staying in character as her dead-eyed impression of Kellyanne Conway, but also doing some real acting along with it. This is outstanding sketch comedy.
Russell Stover – The recent Kristen Stewart episode of SNL featured a great spoof of Totino's pizza snacks, and this week we get this Valentine's Day treasure. Just the idea of a Russell Stover collection of Black History Month chocolates is funny by itself, but the way it plays out in this advertisement, especially when they assign flavors to the various figures, makes it that much better. The inclusion of a Bill Clinton chocolate is a nice touch too.
Leslie Wants to Play Trump – If Donald Trump, Sean Spicer and the White House were upset about Melissa McCarthy's political sketch, then I would love to hear what they have to say about this. Leslie Jones earnestly trying to play Donald Trump on SNL is hilarious, but making it even more funny is the fact that it plays as a sequel to the "Love and Leslie" sketch from Dave Chappelle's episode last fall. The fact that this sketch was played so serious is what makes it work, not to mention having Leslie Jones freak out on Lorne Michaels while being self-aware about her usual character portrayals.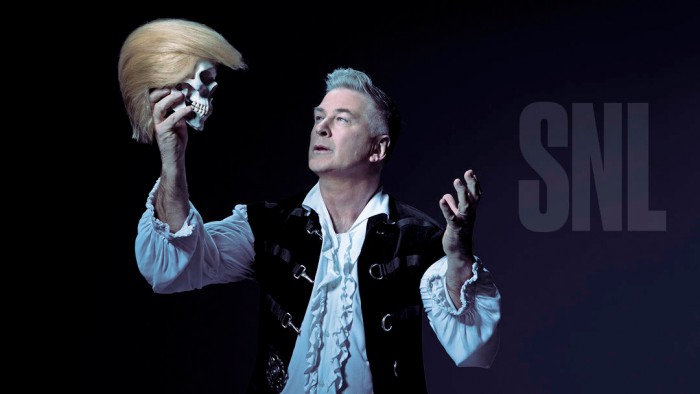 The Average
Trump People's Court – After judges officially ruled on upholding the reversal of the executive travel ban, Donald Trump famously said on Twitter that he would "see you in court," apparently not aware that the matter was just resolved in court. So SNL took Donald Trump to The People's Court, where Donald Trump truly belongs as a TV president. Unfortunately, the sketch wasn't quite as good as it could have been, and the bit part by Beck Bennett as Putin felt awkward and really fell flat.
Pitch Meeting – While there were some pretty powerful narrative commercials about immigration during the Super Bowl, you have to admit it's kind of silly for something like that to come in the form of a beer commercial during the biggest football game of the year. SNL did a great job of mocking how these commercials might be pitched, this time in an attempt to create some equally dramatic commercials for Cheetos. There's a part of me that would rather have seen the commercials than having Alec Baldwin and Aidy Bryant describe them, but it was still pretty amusing.
Gym Class – I can't stress how simple and stupid this sketch was, lasting just two and a half minutes. Sometimes farts are still funny, and while this wasn't a laugh riot, I got a decent chuckle out of this completely immature sketch.
The Worst
Beyonce's Babies – The thought of this sketch itself is funny, but it didn't seem to be executed very well on a comedic level. It almost feels half-baked, like it could have used another rewrite. The presence of Tracy Morgan elevated it a bit, but otherwise, the only laugh out loud moment for me was that dig at the other members of Destiny's Child.
Drill Sergeant -Even though this sketch isn't particularly bad, it's just not that great. The best thing about it is seeing how great Alec Baldwin is on the fly when he messes something up live on TV. He flubs a line, but quickly fixes it without breaking character or slowing down. That's a guy who has serious skills when it comes to live comedy, and it shows why he's hosted so many times and every at SNL loves working with him.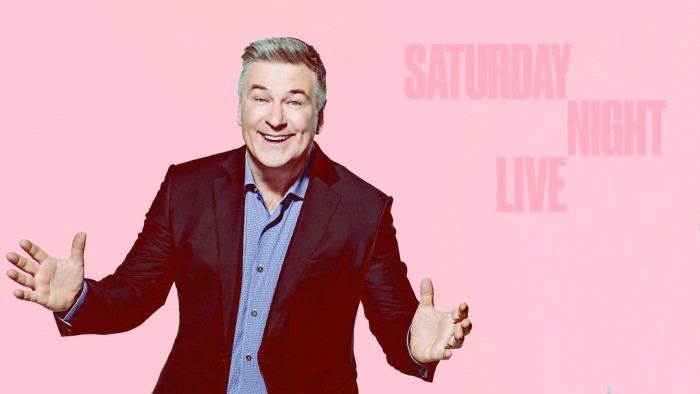 Weekend Update
Weekend Update – This felt like an extremely relaxed edition of Weekend Update. Michael Che and Colin Jost had great interaction, they were cracking jokes on the side (or at least pretending very well that they were off the cuff) and all their work with the segment guests was top notch too. Speaking of which...
Senator Elizabeth Warren – Kate McKinnon is a treasure who only gets more valuable. Her voicework is impeccable, and her take on Elizabeth Warren is only more evidence of that. Having her pretend that she's interrogating Jost worked very well and this is one of the many instances this week that serves as the perfect explanation as to why SNL is still done live. It allows them to be extremely topical and offer almost immediate social commentary, and with everything that's happening every single day, that couldn't be more important.
Guy Who Just Bought a Boat – It's nice to see Alex Moffat put himself out there a little bit with a character like this. The running gag was a comical one, and the character work is great, but I can't help but feel like he might have worked better appearing in a sketch instead of on Weekend Update like this.
Greg and Shelly Duncan – Seeing Leslie Jones take on a character like this was very refreshing. It's not what we'd usually expect, and having her paired with Mikey Day for it made for a great contrast too. The concept itself of a couple exploring S&M and having the man be nervous about how it's unfolded is nothing new, but in this form, it was entertaining enough.
The Host
We all know that Alec Baldwin is great at hosting Saturday Night Live, which is why he's done it 17 times, and will continue to do it as long as he is still acting. Baldwin was on as soon as the monologue started (and it was a funny one with Pete Davidson), and he stayed at that level the rest of the night. Every sketch benefited from his enthusiasm and energy, and most of them were good, with a couple underwhelming exceptions. The only problem with Baldwin lately is that his portrayal of Trump is starting to get overshadowed by the mocking of the rest of his administration.
The MVP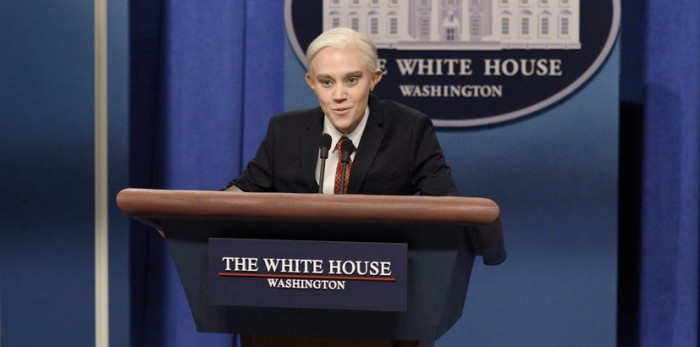 Kate McKinnon – Between her cold open appearance as Jeff Sessions, her amazing work as Kellyanne Conway this week, and the Weekend Update spot as Elizabeth Warren, this week was a great one for Kate McKinnon. She continues to be the best and most consistently good cast member on Saturday Night Live, and her range of impressions shows why that's the case.
The Final Word
Overall, this was a strong episode. The political satire was top notch even if most of the other sketches weren't as good. Sometimes when SNL gets on a streak with their topical humor, they just keep nailing it. That doesn't always mean non-political sketches always take a hit, but that's what happened for the most part in this episode. I'll be interested to see how their political sketches continue the rest of the season, especially how often Melissa McCarthy comes back as Sean Spicer and how the cast of Trump's administration expands.
We'll be back with another review after Octavia Spencer hosts Saturday Night Live on March 4.