Will We Ever Get A Black Widow Movie? Scarlett Johansson Says It's All About Timing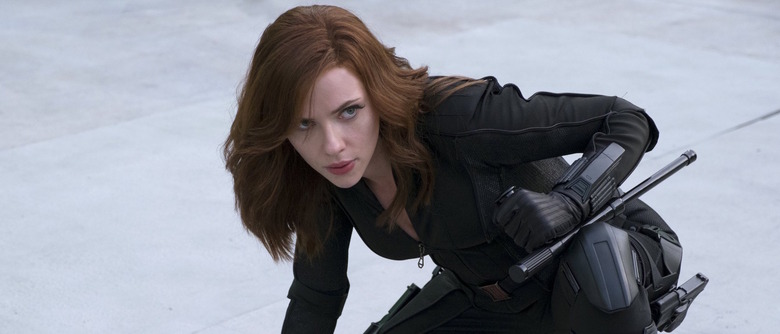 It's a question Marvel fans have been asking for years: where the hell is the Black Widow solo movie? The no-nonsense heroine has emerged as one of the most popular Avengers, and Scarlett Johansson has proven more than capable of leading her own action movie. Filmmakers are practically lining up around the block to direct, and Kevin Feige himself has said he'd like to make a Black Widow movie. So what's the holdup?
Well, according to Johansson, "it's just a case of timing." Which is a disappointing answer, for those who'd like to see the character step up from her supporting roles, but maybe kind of an understandable one. Read Johansson's full quote after the jump. 
Speaking with Total Film (via GamesRadar), Johansson stressed that both she and Marvel are still interested in a Black Widow solo movie:
I've talked to Kevin Feige about it. We're creatively really compatible. I think we both agree that the character is right for a standalone, it's just a case of timing at this point for both Marvel and myself. Marvel has a really huge roster. They're looking four years ahead. I also have a lot of things that I want to do. If I did it, I would dedicate myself completely to making it amazing. It would have to be the best version that movie could possibly be. Otherwise, I would never do it.
"Timing" is one of those reliable excuses that gets trotted out whenever anyone asks Marvel's creatives or stars why something hasn't happened yet. And given that a Black Widow movie has been in on-again, off-again development for years, you'd be forgiven for being skeptical all over again. This could just be a nice way for Johansson to downplay the possibility without rejecting it outright.
But for what it's worth, Feige said last year that Marvel was "creatively and emotionally" committing to making a Black Widow movie. "She's a lead Avenger and has amazing stories in her own right to tell that we think would be fun to turn into a standalone franchise," he said. And Johansson has been very clear about her desire to star in one, preferably sooner rather than later. "If I did it, I'd have to do it while I still actually wanted to wear a skin-tight catsuit," she said a few months ago. "I don't know how much longer that's going to be."
Marvel has already announced its films through 2019, so the earliest a Black Widow film could possibly happen is 2020, where Marvel already has three dates set aside for as-yet-unnamed movies. So if a Black Widow movie is in the works — and that's a big if — it's still not coming anytime soon. Meanwhile, Johansson continues to be in high demand. Her upcoming roles include the Avengers sequels, Wes Anderson's stop-motion Isle of Dogs, and the comedy Rock That Body. And of course we can't rule out a Ghost in the Shell sequel if the first film does well at the box office next month.
While we wait for Marvel and Johansson sort out their schedules, at least we've got this SNL parody of the Black Widow solo movie we may never get.