'Goon: Last Of The Enforcers' Trailer: Seann William Scott Isn't Done With Hockey Yet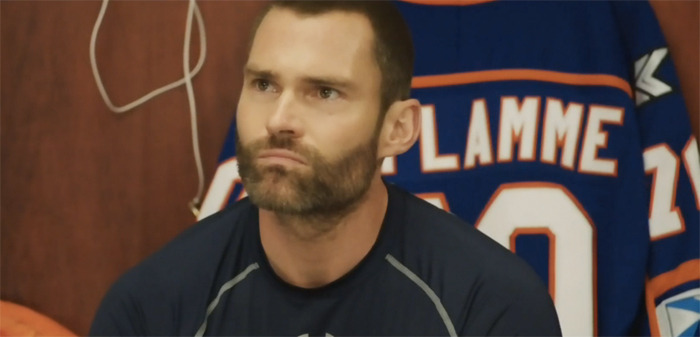 Seann William Scott was once quite the popular comedic actor, but in recent years, he hasn't been as in demand as he once was. Thankfully for him, fans of the 2011 hockey comedy Goon have been wanting to see him return to the ice for years, and how the American Pie franchise star finally has his skates on and fists up for the sequel.Goon: Last of the Enforcers brings back Seann William Scott as Doug "The Thug" Glatt. But in the new trailer for the movie, it appears the years of beatings have finally caught up with Doug as the doctor tells him that he can't play hockey anymore. Meanwhile, a lockout brings some new players to Doug's old team, the Halifax Highlanders, including his rival Anders Cain (22 Jump Street star Wyatt Russell) as the new captain. Doug has no choice but to pick up his stick and throw some punches back on the ice.
Watch the Goon 2 trailer after the jump, but beware of some potentially NSFW language.
Here's the Goon: Last of the Enforcers trailer from Bar Down:
The trailer feels a little clunky, almost like it's intended for a home video release, but the spirit of the original Goon is there, with blood-splattering hits, the return of the hilarious Liev Schreiber and all that jazz. It's easily the best thing Seann William Scott has done in years, and while that may not sound like a great compliment, I mean it in the best way possible.
The rest of the cast includes Alison Pill, Marc-André Grondin, Callum Keith Rennie, Jason Jones, Jay Baruchel, Kim Coates and Elisha Cuthbert. Sadly we don't know when we'll see them in this movie since there's no US release date yet, but if you can make the jump up to Canada, it starts playing there on March 17.
For an even more NSFW look at Goon: Last of the Enforcers, watch the first red band teaser trailer here.
A lockout has brought a crew of new players to the Halifax Highlanders, but there's a notable omission from the line-up... and that's none other than Doug "The Thug" Glatt. The enforcer has been sidelined by one too many hits, is married with a baby on the way, and has a new job as an insurance salesman. But when rival Anders Cain becomes the Highlanders captain, and new ownership threatens to tear the team apart, 'The Thug' is forced back into action.