The Script For 'The Batman' Is Done And Everyone Is Apparently Happy With It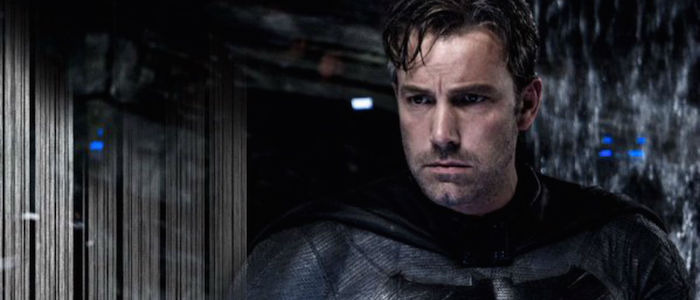 From the outside looking in, just about every major film production looks like a total disaster. The world of movie news isn't always kind to films that showcase growing pains as they come together – when you don't have the full story, everything is a sign of serious trouble to come. This was the case with Rogue One: A Star Wars Story last year and it's now the case with Warner Bros.' The Batman. We still don't know exactly why Ben Affleck vacated the director's seat, but the internet immediately assumed the worst because that is what the internet does.
So how about some positive buzz for once? Specifically, it seems that the latest draft of The Batman has arrived and everyone is happy with what they're seeing.
The news comes to us via the Twitter feed of Variety's Justin Kroll, the same gentleman who broke the news that Affleck would no longer direct the next Batman solo movie. So while everyone reading this should acquire a grain of salt, this comes to us from a source who is very much in the know about these things.
When asked if there was truth to the Forbes report that The Batman being completely rewritten following Affleck stepping down as director, Kroll responded that a new script has arrived this month and that the right people are happy with what they're seeing:
No, several sources already saying new script came in this month and everyone including Emmerich and Ben very happy with it

— Justin Kroll (@krolljvar) February 9, 2017
For the record, the Emmerich he's talking about here is Warner Bros. President and Chief Content Officer Toby Emmerich. In a separate tweet, Kroll reiterated that any potential rewrites should be viewed less as a sign of trouble and more as a sign that the studio is trying to make sure they make a good movie.
To be fair, people overreact to rewrite or script work all the time. It just shows WB wants to get it right

— Justin Kroll (@krolljvar) February 10, 2017
And he's right. A film production is an unwieldy beast with thousands of different moving parts, all of which have to work together perfectly to create something even remotely watchable. If more studios took the time to nail the screenplay, to create the perfect foundation and blueprint for those thousands of moving parts to operate upon, movies would be better. Embrace the rewrite, internet. Embrace the reshoot.
So could there be rewrites coming to The Batman? Maybe. All major movies undergo them until the very last moment (and many are rewritten on set). But for the extent of the work ahead, it's Variety's sources versus Forbes' sources.
The Batman is supposedly eyeing a summer 2019 release date. Argo and Batman v Superman writer Chris Terrio was among those who did work on the script.