'Jay And Silent Bob Reboot' Is Kevin Smith's New Film, 'Clerks III' And 'Mallrats 2' Are Dead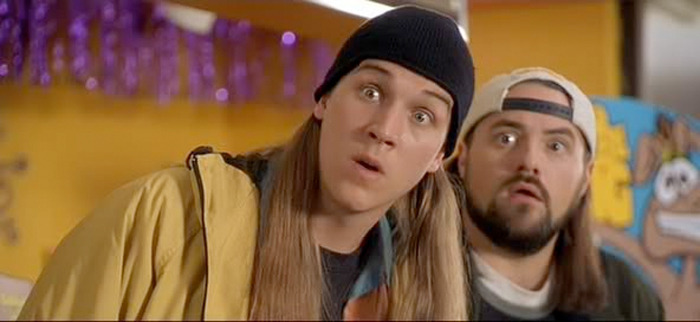 Over the past few years, Kevin Smith has branched out beyond what came to be known as his View Askewniverse film roster to try his hand at some different kinds of movies. There was the dark thriller Red State; the creepy thriller Tusk; and the hodgepodge of Clerks, Canada, and Gremlins with Nazi sausages that was Yoga Hosers. Plus we're still supposed to get Moose Jaws as the third film in what Kevin Smith calls his True North Trilogy.
More recently, Kevin Smith was looking to go back to the well with Clerks III and Mallrats 2 (the latter of which was supposed to be turned into a TV series instead), but it appears both projects have hit rather big snags. That's not stopping Kevin Smith from being just like the rest of Hollywood by cashing in on any nostalgia that fans may have for his movies, because now he's working on something called Jay and Silent Bob Reboot. You can find out all the details after the jump.
Kevin Smith posted this on Instagram yesterday afternoon:
A photo posted by Kevin Smith (@thatkevinsmith) on
For those who can't read what that says, the title is Jay and Silent Bob Reboot. Thankfully, Smith posted this photo with a lot of context provided by a lengthy caption. But we left that out of the embed above so we can break down what he had to say about Clerks III, Mallrats 2 and this new project.
First up, Kevin Smith explains what happened with those first two projects:
Sadly, Clerks III can't happen (one of our four leads opted out of the flick). So I worked on a Mallrats movie instead... which also didn't happen because it turned into a Mallrats series. I've pitched said sequel series to 6 different networks only to find no takers thus far.
There's no indication as to which of the four leads in Clerks III dropped out, but if I was a betting man, it would be Rosario Dawson. She's got quite a stellar career going on right now with her role in the Marvel Cinematic Universe by way of Netflix's comic book TV shows like Daredevil and Jessica Jones, and she also voices Barbara Gordon, aka Batgirl, in The LEGO Batman Movie this weekend. Clerks III probably wasn't going to do much for her career, so I wouldn't be surprised if she ended up passing on it as time went on. Then again, Smith has talked about the difficulty of getting Jeff Anderson (who plays Randall) to reprise his role, so maybe he just didn't want to come back this time.
Anyway, Smith wanted to make sure it didn't sound like he was whining, because while those two projects were heading into the dead zone, he got to do some things that he never thought he'd do. The director adds:
Mind you, I'm not complaining: nobody gets to make EVERYTHING they wanna make in this business (do they?). And I've been lucky to make anything at all, there's so much competition out there, so many much cooler ideas from fresh folks. And besides: I had Comic Book Men and then Tusk and Yoga Hosers (which all came together so crazy quickly), and the podcasts and Fatman on Batman. With all of that, how could I bitch about no Clerks III or Mallrats 2? Then when I started directing The CW shows, it was such a slice of Heaven on Earth, I happily put my Askewniverse sequels to the side.
You might be wondering why Kevin Smith doesn't just create a Kickstarter in order to get the Clerks and Mallrats projects off the ground. But Smith explains why that can't really happen either:
Since I sold Clerks and Mallrats years ago, they're owned by others, which limits my moves with my own material. I don't mind: back in the day, all I ever wanted to do was sell my stuff so I could be in the movie biz in the first place. So I don't own Clerks, Mallrats, Chasing Amy or Dogma... But I DO own Jay and Silent Bob.
That brings us to today, when Kevin Smith revealed that he had completed a script called Jay and Silent Bob Reboot:
While I love playing with someone else's new toys on The Flash and Supergirl, I'm getting eager to play with my old toys again in the inter-connected View Askewniverse I spent the first half of my career creating. And so all last month, I had the time of my life laughing while writing "Jay and Silent Bob Reboot" – a fun flick in which the Jersey boys have to go back to Hollywood to stop a brand new reboot of the old "Bluntman & Chronic Movie" they hated so much. It's a tongue-in-cheek, silly-ass satire that pokes fun at the movie business's recent re-do obsession, featuring an all-star cast of cameos and familiar faces! And I already met with the good folks at Miramax and they're into it, so I'm hoping we'll be shooting in the summer! Never give up, kids. You CAN do anything you want in life, so long as you're patient and malleable.
Well, if Kevin Smith is going to dig around in his old toy box, I'm at least happy he's going to do it in a way that's self-aware and self-parodying like Jay and Silent Bob Strike Back. Even though that movie is immature and goofy, I still like the way it skewers pop culture and the movie business. As someone who grew up loving the work of Kevin Smith, there's a part of me that's definitely interested in seeing how this goes. But there's also a part of me that wonders whether Smith can still pull off a comedy like this.
If all goes well, we'll probably find out sometime next year.