'Castlevania' Producer Guarantees The First Good Video Game Adaptation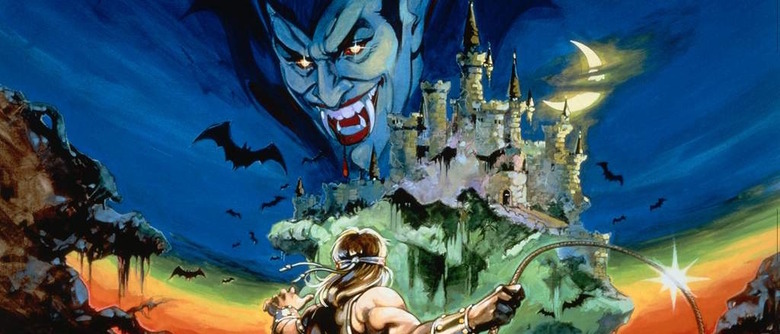 Yesterday Netflix announced Castlevania season 1, part 1 is coming out later this year. Adi Shankar (Dredd), comic book writer Warren Ellis (Planetary), and executive producer Fred Seibert (Adventure Time) are working on the animated series, which Shankar says has a "Game of Thrones vibe to it." He also guarantees it'll conclude "the streak and be the western world's first good video game adaptation."
Below, read what else Shankar had to say about the Castlevania Netflix series.
"I'm personally guaranteeing that this is going to be the best f***ing video game adaptation ever made to date," Shankar told Collider. "I've seen it, and it's f***ing amazing." Considering the quality of most video game adaptations, that's not exactly a promise tough to deliver on, but perhaps it's heartening to hear for fans of the video game series.
The 31-year-old video game series is about Belmont clan's battle with Dracula, which has been ongoing for centuries. Ellis wrote two four-part seasons, with each episode being 30 minutes long. According to Shankar, Ellis wrote everything:
You know how most TV shows have writers rooms and stuff? This one doesn't. Warren just wrote all the scripts. It's totally his voice. He's amazing.
Years ago, Ellis was hired to write a straight-to-DVD adaptation of Castlevania III: Dracula's Curse. The movie never came out, but he got to adapt that installment in the series again for the Netflix series. Shankar promises the new show is very violent, comparing it to Akira, Ghost in the Shell, and Young Justice.
In addition to producing The Grey and Dredd, Shankar has made some well-known bootleg fan films, including The Punisher: Dirty Laundry, Venom: Truth in Journalism, and Power Rangers. He's handled popular character and properties before. All he wants to do is treat these properties with the respect and treatment they deserve:
Sometimes you work with them officially, like Konami, you make Castlevania and it's the real thing. Then sometimes you just go off on your own and say, "You know what? F*** it. We're just making our own thing. This is how I look at it: This genre stuff, it doesn't have to be schlock. There needs to be a point of view and a purpose to everything. These characters that are so ingrained in our culture, since we're so divided as a species now, the one unifying thing is, "Well, everyone knows Batman, so if you want to get a message across, use Batman to do it."
He also said in his latest Facebook post that season two of Castlevania comes out in 2018.
Fred Seibert's Frederator Studios have had the adaptation rights to the "dark" and "satirical" series for almost 12 years. Finally, they were able to make the animated series happen with Shankar, Netflix, and all involved. Their goal is to make some "hard hitting anime."
Here's Netflix's description for Castlevania:
Inspired by the classic video game series, Castlevania is a dark medieval fantasy following the last surviving member of the disgraced Belmont clan, trying to save Eastern Europe from extinction at the hand of Vlad Dracula Tepe himself. The animated series is from Frederator Studios, a Wow! Unlimited Media company, written by best-selling author and comic book icon Warren Ellis and executive produced by Warren Ellis, Kevin Kolde, Fred Seibert and Adi Shankar.
Castlevania debuts on Netflix this year.