'Dredd 2' Could Still Happen, But As An Animated Movie [UPDATED]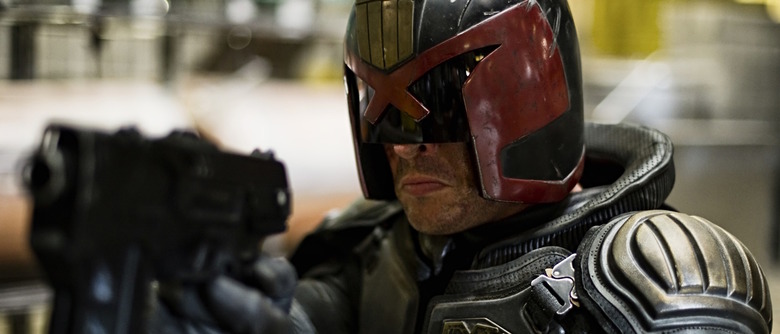 UPDATE: Dredd executive producer Jason Kingsley has revealed
that Adi Shankar has nothing to do with the series at this point
. This quote feels like a polite way of kindly requesting that we all stop paying attention to him:
While we truly do appreciate Adi's enthusiasm for Judge Dredd, he has no involvement with the franchise and any future cinematic or small screen outings. Claims of him pushing forward a sequel to DREDD are not true and we don't want fans to get excited only to have their hopes dashed. 2000 AD and Rebellion continue to work hard to bring the future's greatest lawman back to screens.
The original article follows below.
We recently learned that producer Adi Shankar
has been working on an animated adaptation of the Castlevania video game series for Netflix
with two seasons already written by comic book legend Warren Ellis. That is astonishing news. I didn't know those words could all fit together in the same sentence and in that order. However, wherever there's Shankar, there's probably an update on Dredd 2, which everyone involved in the original film
has been chatting about for five years now
. The latest tidbit: this purely theoretical sequel could be animated.
First of all: Dredd is terrific, blending psychotic action, bloody violence, science fiction dystopia, and one seriously committed Karl Urban performance into one of the more entertaining action movies of the past decade or so. Second of all: Dredd was a massive bomb, grossing only $35 million worldwide. Third of all: Shankar
has already produced an animated web series called Judge Dredd: Superfiend
. And with that foundation laid, here is Shankar saying (via
) that Dredd 2 is going to happen, even if it has to be animated:
If anyone is still wondering, there's no update on a Dredd sequel, but I'm gonna make it happen at some point. It may not be live-action, but it's going to happen at some point. There will be more Judge Dredd at some point.
However, don't expect this currently non-existent sequel to be attached to Superfiend in any way...the team behind that series are now working on another film in Shankar's "bootleg universe," an ongoing project where he funds lavish "fan films" that threaten to stomp all over copyright law.
Remember Joseph Kahn's Power/Rangers
? Anyway, he spoke a little bit about what's up next:
I'm not going to continue with Judge Dredd: Superfiend. In fact, the guys I partnered with on Superfiend are going to release an 85-minute project this year based on a superhero that everyone on the planet knows. Rights-holders are going to be very pissed.
It's great. I love it. Sometimes you work with them officially, like Konami, you make Castlevania and it's the real thing. Then sometimes you just go off on your own and say, "You know what? Fuck it. We're just making our own thing. This is how I look at it: This genre stuff, it doesn't have to be schlock. There needs to be a point of view and a purpose to everything. These characters that are so ingrained in our culture, since we're so divided as a species now, the one unifying thing is, "Well, everyone knows Batman, so if you want to get a message across, use Batman to do it."
So there you have it: Dredd 2 could possibly maybe hopefully exist someday, but only after a feature-length "bootleg" animated movie that may or may not be about Batman.