'Stranger Things' Season 2 Reveals A New Look For Eleven, New Plot Details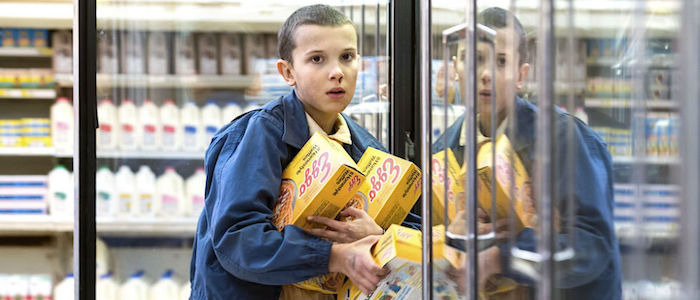 Everyone who binged the first season of Netflix's Stranger Things last year probably walked away with a favorite character (I'm partial to David Harbour's weary Sheriff Jim Hopper), but there was one character who left the biggest thumbprint on pop culture in 2016: Millie Bobby Brown's Eleven. The Eggo-loving, telekinetic government test subject was the perfect blend of innocent and badass, winning over the hearts of just about everyone with a Netflix login.
While the first season ended with her current status unknown, we've known that she'd be back for the second season for some time now. And wouldn't you know it, she's now front and center on a new magazine cover.
This technically isn't our first look at the returned Eleven since we caught the briefest possible glimpse of her in that Super Bowl spot from a few days ago (and there is lot to take away from that footage if you go through it frame-by-frame). However, the cover of Entertainment Weekly's Fall TV preview issue offers our first look at her new shaggy head of hair. Is this another wig or has enough time passed between seasons one and two for her formerly shaved head to officially grow out? If you want to get really specific, the first season took place in 1983 and we've already seen footage of the young cast dressed as Ghostbusters, which was released in 1984.
Hold on to your Eggos! Your exclusive first look at #StrangerThings season 2 is officially here: https://t.co/VX7a2uOwtP 😱 pic.twitter.com/stAY6xGzuC

— Entertainment Weekly (@EW) February 8, 2017
Since Stranger Things is not above jamming as many pop culture references as possible into every episode, I'm not above pointing out that Eleven's new hairdo does look an awful lot like Sigourney Weaver's Aliens haircut. Curly-haired science fiction heroines, unite!
Anyway, Brown's Eleven is flanked by Finn Wolfhard's Mike Wheeler, Gaten Matarazzo's Dustin Henderson, Caleb McLaughlin's Lucas Sinclair, and Noah Schnapp's Will Byers (who spent the bulk of season one barely surviving the alternate dimension known as the Upside Down). The kids all look a little older, a little wiser, and little more prepared to deal with monsters upending their daily lives.
For more details, you'll have to go behind that cover. Entertainment Weekly has posted a story about the plot of the second season and what we can expect to see. For starters, Sheriff Hopper is trying to cover up what happened for the good of the kids, the lab is now being run by a seemingly kind character played by Paul Reiser, Winona Ryder's Joyce is now dating an old high school classmate played by Sean Astin, and Dustin will befriend a new pet with supernatural origins. I'm especially intrigued by two new characters, one of whom is being set-up as a human villain in the Stephen King mold:
Shaking up the dynamics in Hawkins is the arrival of another brother-sister duo, Billy (Dacre Montgomery) and Max (Sadie Sink). While Max becomes pals with the boys (and attracts romantic interest from Lucas and Dustin), Billy doesn't exactly make friends. Teases Matt Duffer, "Stephen King always has really great human villains. The evil in the real world is often as bad or worse than the supernatural evil, so we wanted to introduce a character like that."
The Stranger Things season 2 Super Bowl spot teased a Halloween release date and since Netflix always drops new content on Fridays, we can go ahead and estimate an October 27, 2017 release. We will surely have a great deal to say about this after we binge-watch it that weekend.