Zack Snyder's 'Batman V Superman' VFX Reel Shows 12-Minutes Of Digital Destruction & Mayhem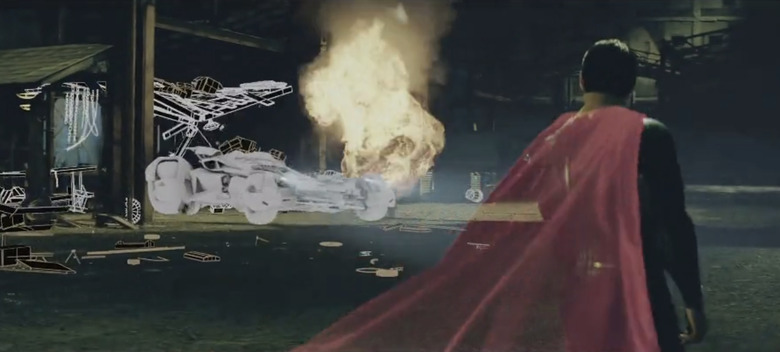 Even though Batman v Superman: Dawn of Justice didn't come away with an Academy Award nomination for Best Visual Effects, it must be said that there is still some outstanding post-production work done on the comic book movie. No matter how you feel about the movie itself, you can't deny that there are some incredible visual effects seen on screen.
Director Zack Snyder wanted to make sure everyone knew just how much hard work went into creating Batman v Superman, so he put together a VFX reel that's nearly 12 minutes long, showing everything from digital destruction to animation tests for Doomsday to shots that were created entirely with computer generated imagery.
See Batman v Superman before and after visual effects after the jump.
Batman v Superman VFX Reel
We've seen plenty of visual effects breakdowns like this before, but there are several interesting sections to pay attention to. Around the 7:15 mark, there's a section where one of the visual effects crew members talks about creating the fluid and slime that surrounds Doomsday when he's finally unleashed. There are videos of various liquid tests with varying viscosity and textures in order to make it look realistic. It's pretty fascinating.
However, my favorite moment comes just before the 4-minute mark when you can see someone dressed head-to-toe in a green screen suit, pushing a green screen pillow into the body of Henry Cavill to simulate the Batmobile bumping into Superman just before it crashes. Now that's movie magic!
Otherwise, there's a healthy mix of stuff we've seen in other VFX reels, along with some new footage comparing final shots with all the composite pieces that were used to create the final sequences. It's still crazy to me that Superman's cape is almost always created with visual effects, but that's the most efficient way to make sure it's always doing exactly what Zack Snyder wants it to do, especially in those stylish hero shots of the Man of Steel.