Brad Pitt Is Considering James Gray's Sci-Fi Film 'Ad Astra'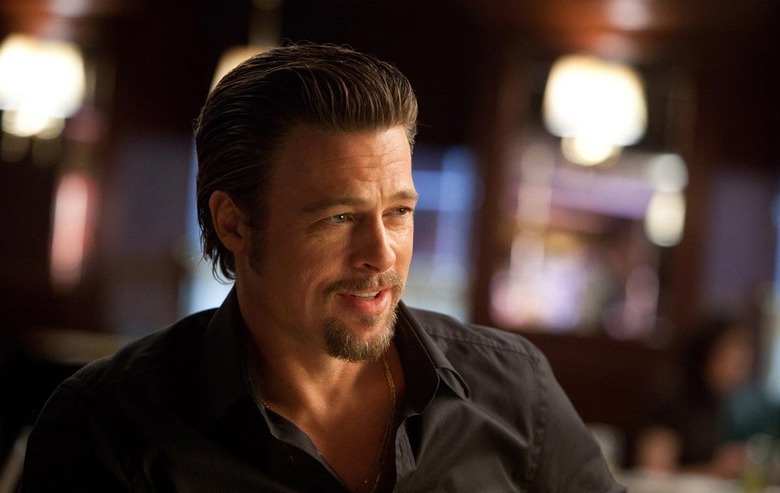 There's a bit of a holdup on the World War Z sequel. We don't know the exact reason why Paramount hasn't green-lighted the movie, but they've created an opening for Brad Pitt to pursue another job for the near future. The actor is now thinking about starring in director James Gray's (The Lost City of Z) original science-fiction film, Ad Astra (translation: "Through hardships to the stars.").
Below, learn more about the James Gray sci-fi movie.
Deadline has learned Pitt might choose to star in Ad Astra next. If he signs up, he will play "the slightly autistic space engineer Roy McBride." The story takes place 20 years after Roy's father embarked on a one-way mission to Neptune, searching for any signs of extra-terrestrial life. The mission was a failure, and Roy goes a journey through the solar system to learn what happened.
Gray co-wrote the script with Ethan Gross (Fringe), who also co-storied the director's first script, Mecca. Last summer we heard Ad Astra could start shooting early this year, but Deadline reports that a summer start date is likely. Pitt's Plan B is now behind the project, which may end up at New Regency. Right now, Gray, Plan B, and all involved are working on keeping the budget manageable.
Gray has previously said he wants to make a sci-fi film that is "conceptually amazing, not visually amazing":
I want to try and do something specific and rather different, and the intention is to make a film which is almost science fact, and it takes place entirely in space. I had read about NASA trying to find 'emotionally — what's the right word — 'undeveloped' people to travel to Mars, because being cooped up for a year and a half is very difficult. So the idea that I had was to sort of mix a kind of Conrad-ian story, a 'Heart of Darkness,' with the idea in which NASA has made a miscalculation about one of its astronauts, who cannot handle deep space. So the idea is a kind of mental breakdown in space, and to do it almost like Apollo footage: incredibly realistic — so no sound in space, obviously — and to do it distinguishing itself with the idea that, in a way, human beings need the earth.
Gray has struggled to get his movies made in the past, so it's wonderful to see so soon after the release of The Lost City of Z he may start shooting another film. Gray and Pitt worked together on the adaptation of David Grann's novel, which Pitt was initially going to star in. He stayed onboard as a producer with Plan B, but the starring role went to Charlie Hunnam.
Gray and Pitt almost collaborated on We Own the Night and a scrapped movie about an assassin, The Grey Man, but for one reason or another, deals didn't work out. Finally, they may have found the right project, which, as we expect from Gray, sounds ambitious. The story of Ad Astra is set entirely in space.