'Wish Upon' Trailer: Joey King Has A Few Deadly Wishes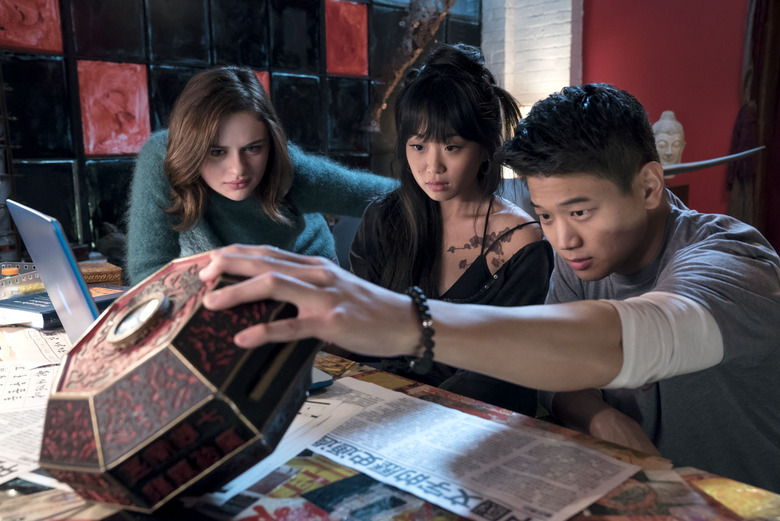 Actress Joey King gives an excellent performance in The Conjuring. The sense of fear and terror she expresses is unsettling, especially during the "there's someone behind the door" sequence. Not all actors are believable acting scared, but she can pull it off. Now she's back in the horror genre with Wish Upon, which reunites her with The Conjuring's cinematographer, John R. Leonetti, who directed that film's hit spinoff, Annabelle.
Below, watch the Wish Upon trailer.
Leonetti shot a few of director James Wan's films, including Death Sentence and Insidious, but he's also the DP behind Piranha 3D, The Mask, Detroit Rock City, and Hot Shots! Part Deux. He's worked on a variety of movies, but he fares well with horror considering he's made some terrifying images and scenes over the past few years. He made his feature debut with Mortal Kombat Annihilation, before going on to direct The Butterfly Effect 2 and Annabelle.
His new movie stars King as a 17-year-old high school student who starts to get her every single wish. She asks for fortune and popularity, but being a horror movie and all, everything she wishes for comes with a price. The Barbara Marshall-scripted film co-stars Sherilyn Fenn (Twin Peaks), Shannon Purser (Stranger Things), and Ryan Phillippe (MacGruber).
Here's the trailer for the horror movie (Source: Yahoo! Movies):
For a summer horror movie, Wish Upon looks light on cheap jump scares. "Be careful what you wish for" is the obvious moral, but it looks like Wish Upon plays with that idea in some darkly comedic ways. Cutting from the girl rotting to King walking on sunshine and delighted by her new life is a bit funny and makes for a good cut in this trailer, which quickly sets up the plot and shows a few of the scares without making it feel like we've already seen the whole movie.
Here's the synopsis:
Twelve years after discovering her mother's suicide, 17-year-old CLARE SHANNON is bullied in high school, embarrassed by her manic, hoarder father JONATHAN and ignored by her longtime crush. All that changes when her father comes home with an old music box whose inscription promises to grant its owner seven wishes. While Clare is initially skeptical of this magic box, she can't help but be seduced by its dark powers, and is thrilled as her life radically improves with each wish. Clare finally has the life she's always wanted and everything seems perfect – until the people closest to her begin dying in violent and elaborate ways after each wish. Clare realizes that she must get rid of the box, but finds herself unable and unwilling to part with her new-and-improved life – leading her down a dark and dangerous path.
Wish Upon opens in theaters June 30th.