'Battlestar Galactica' Star Richard Hatch Dead At 71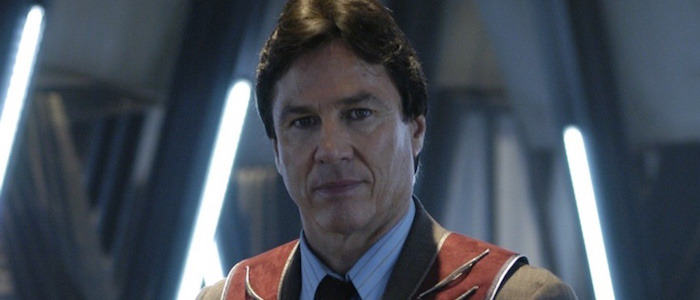 Richard Hatch, the prolific television actor best known for his work in the original Battlestar Galactica as well as the 2003 remake series, has passed away at the age of 71. While never a household name, Hatch holds a special place in the hearts of millions of science fiction fans all over the world as a convention regular and a charismatic ambassador for the genre.
Born in Santa Monica, California on May 25, 1945, Hatch broke into the industry like so many other actors: with a role on a soap opera. His 1971 turn on All My Children led to a number of other television appearances throughout the '70s, including roles on Kung Fu, Hawaii Five-O, and The Waltons. He also played Inspector Dan Robbins in 24 episodes of The Streets of San Francisco.
In 1978, Hatch was cast as hotshot spaceship pilot Captain Apollo in Battlestar Galactica, the role that would define his career and earn him a Golden Glob nomination. Although the series only ran for 21 episodes, it developed a passionate following that still persists to this day. Hatch even worked to keep the Battlestar universe alive long after the show was canceled, writing seven sequel novels to the series and actively working to get a new show off the ground.
While Hatch was initially upset by the decision to launch a remake series in 2003 that would ignore the original show, he was eventually won over by series creator Ronald D. Moore and regularly guest starred as Tom Zarek, a terrorist/political prisoner who becomes a key player in humanity's desperate journey across space. It's a terrific character and a terrific performance, the kind of "villain" whose every motivation makes sense and whose end goals often align with those of the main characters (even if the path to get there is very different).
Hatch passed away following a battle with pancreatic cancer. His family released this statement:
Paul Hatch, on behalf of the Hatch family and friends is sad to confirm the passing of his beloved father Richard Lawrence Hatch, who passed away in Los Angeles, California this afternoon. He died peacefully with his family and friends at his side after a battle with pancreatic cancer. Richard was well known to legions of fans for his roles as Captain Apollo in the original Battlestar Galactica television series and also as Tom Zarek in the 2003 remake of the series.
Born May 21, 1945 in Santa Monica, Richard was an actor, writer, and producer best known for his role as Captain Apollo in the original Battlestar Galactica television series, and also as Tom Zarek in the 2003 remake of Battlestar Galactica. After beginning his career in Off Broadway theatre, in 1970 he joined the cast of All My Children and then went on to become a fixture as a guest star on numerous hit TV series and movie for television, eventually replacing Michael Douglas as Karl Malden's partner in the Streets of San Francisco.In 1978 his starring role in Battlestar Galactica brought him worldwide recognition as well as a Golden Globe nomination. In spite of significant roles in other series and motion pictures over the following decades, his connection with the original Battlestar as well as the remake, created an international following among science fiction fans. While continuing his acting career Richard was a popular figure at Comic Book conventions, science fiction forums and even hosted his own cruise ship events.
Further information on memorial services and tributes can be found at RichardHatch.com.