Yup, Cyborg Is The Third Mother Box In 'Justice League'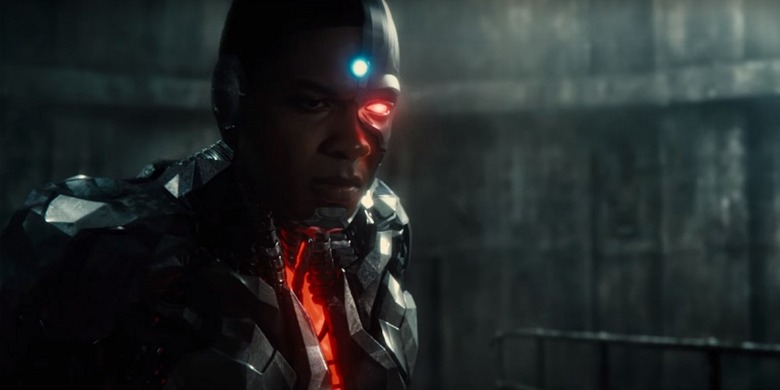 We met Wonder Woman and Batman in Batman v Superman: Dawn of Justice, and we know a bit already about the Flash and Aquaman. But what about Cyborg (Ray Fisher)? How exactly does he fit into Justice League? A new report offers a bit more detail, confirming what eagle-eyed fans may have already gleaned from his cameo in Batman v Superman (or long-time DC readers probably already knew from the comics.) Yup, it turns out Cyborg is the third Mother Box.
The Cyborg Mother Box connection was confirmed in the latest issue of Total Film (via Heroic Hollywood). To back up a bit, Mother Boxes are strange but immensely powerful devices that come from the planet Apokolips, which in the comics is ruled by Darkseid. Justice League villain Steppenwolf (Ciarán Hinds) also hails from the planet, and serves as a military leader. The Mother Boxes are apparently the MacGuffins that Justice League will revolve around, so they'll play a huge role in the plot.
As Peter learned on his visit to the set of Justice League last year, there are three Mother Boxes scattered around Earth. "These Mother Boxes are best when they work in threes," teased producer Charles Roven. "The Amazonians and the Old Gods came together and decided that based on an event that happened, these Mother Boxes were going to be placed in the care of the Amazonians, the Mankind and the Atlanteans." Peter described the Amazonian one as "red, ornate, with circular symbols and ancient writing," and the Atlantean one as "grey and organic-looking in nature."
Cyborg is the third Mother Box, the one designated for the humans. In Batman v Superman, we saw a severely mutilated Victor Stone propped up on what looked like a giant circuit board inside S.T.A.R. Labs. His dad, Dr. Silas Stone, is conducting experiments to try and save his son. At one point, he tests out a mysterious device called "U.S. Gov Object 6-19-82," which comes apart and reassembles itself as Victor's new body. Here's a screenshot of the scene in question (via ComicBook.com). The Mother Box is that glowing cube in the bottom left-hand corner.