'The Lego Ninjago Movie' Trailer: The Other 'Lego Movie' Spinoff Also Hits Theaters This Year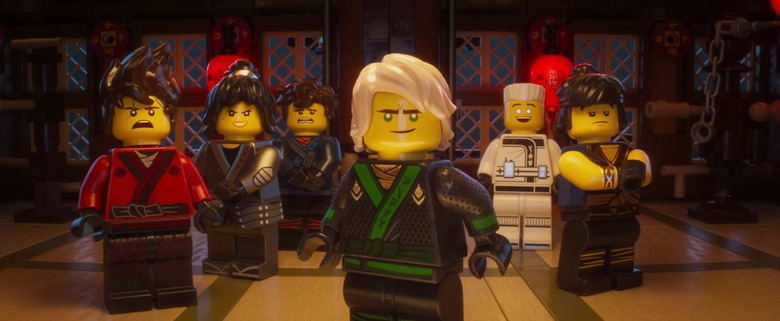 It took Warner Bros. a while to get out a follow-up to 2014's The Lego Movie, but now we're getting two of them in one year. This weekend marks the debut of The Lego Batman Movie, featuring the return of the tiny plastic minifig version of the Dark Knight. Then this fall we're getting The Lego Ninjago Movie, centered around an entirely new cast of characters based on a distinct Lego toyline.
Dave Franco voices Lloyd, a young secret ninja who's friends with a bunch of other young secret ninjas. When his dad, the evil lord Garmadon (Justin Theroux) poses a threat, Lloyd and his friends must take him down with the guidance of their mentor, Master Wu (Jackie Chan). Olivia Munn plays Lloyd's mom Koko, and Fred Armisen, Abbi Jacobson, Kumail Nanjiani, Michael Peña, and Zach Woods round out the core cast as Lloyd's buddies. Click through to watch the first The Lego Ninjago Movie trailer.
The Lego Ninjago Movie Trailer
The Lego Ninjago Movie is in theaters September 22. It's directed by Charlie Bean (Tron: Uprising). The Lego Movie's Phil Lord, Chris Miller, Dan Lin, and Roy Lee serve as producers.
In this big-screen NINJAGO adventure, the battle for NINJAGO City calls to action young Master Builder Lloyd, aka the Green Ninja, along with his friends, who are all secret ninja warriors. Led by Master Wu, as wise-cracking as he is wise, they must defeat evil warlord Garmadon, The Worst Guy Ever, who also happens to be Lloyd's dad. Pitting mech against mech and father against son, the epic showdown will test this fierce but undisciplined team of modern-day ninjas who must learn to check their egos and pull together to unleash their inner power of Spinjitzu.