Matthew McConaughey To Star In Harmony Korine's Stoner Comedy 'The Beach Bum'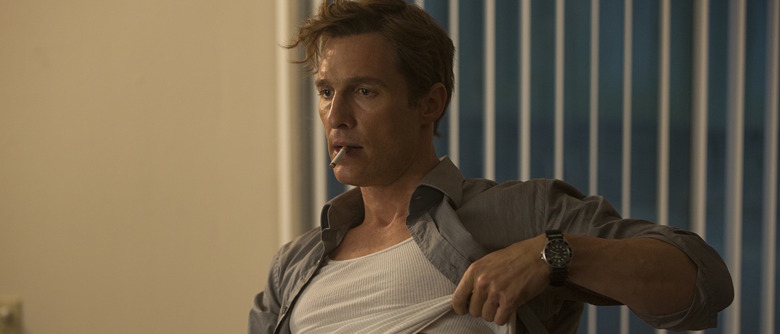 Harmony Korine's (Spring Breakers) Cheech and Chong-style stoner comedy, The Beach Bum, has found its lead. Matthew McConaughey will play Moondog, who's described as a charismatic rebel. Korine starts shooting the stoner comedy this July.
Below, learn more about the new Harmony Korine project.
Korine wrote the script while he was waiting for to move forward with The Trap, a movie set to star Benicio Del Toro, Idris Elba, and Al Pacino that stalled. Korine has said The Beach Bum is inspired by Cheech and Chong and the 1978 Jerry Schatzberg film, Scarecrow, starring Al Pacino and Gene Hackman. Korine's latest "follows the hilarious misadventures of Moondog, a rebellious and lovable rogue who lives life large," which sounds like a role practically tailor made for McConaughey.
LeGrisbi Productions' John Lesher describes Moondog as "pure charisma":
McConaughey's Moondog character is pure charisma — a force of nature and an uncompromising maverick with a lust for life and everything it throws at him. The Beach Bum brings together an incredible team of acting, directing and producing talent.
Rock Science is handling international sales for the project. The company's CEO and founder, Thorsten Schumacher, calls The Beach Bum the stoner comedy for today's grim world:
In The Beach Bum, Harmony has crafted the perfect movie for our dark and serious time — a refreshingly original, irreverent, and hilarious stoner comedy that only he could create.
A Harmony Korine stoner comedy with Matthew McConaughey does indeed sound like the perfect movie. Korine and McConaughey working together is more than promising. The director isn't one for conventionality, so perhaps we'll get another unconventional performance from McConaughey, whose last few films have been hit and miss with audiences. While Gold and The Sea of Trees didn't connect with audiences or critics, at least the actor was continuing to take some chances with those projects. We'll see McConaughey next in the long-awaited adaptation of The Dark Tower.
Korine has two other notable projects in the works. The Trap remains on hold, but Korine says he'll make that film someday. The movie — which was also going to star Robert Pattinson and James Franco — is about a feud between a musician (Elba) and his old, ex-convict pal (Del Toro). The project was ready to go, but Korine had some issues with the actor first attached to Elba's role, which ended up causing some delays. The Gummo director is also working on an adaptation of Alissa Nutting's novel Tampa.