The Collector Confirmed For 'Avengers: Infinity War'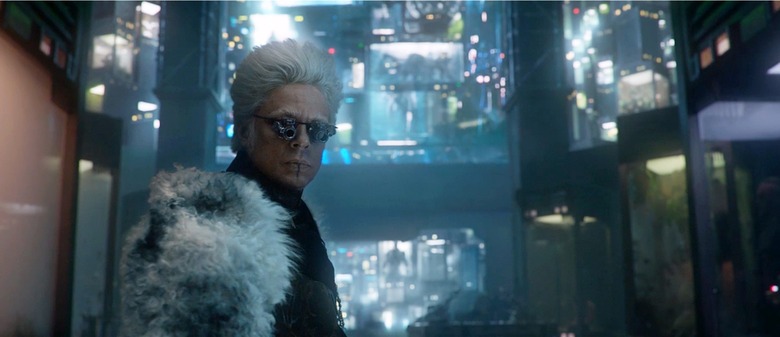 Avengers: Infinity War began filming in Atlanta two weeks ago, but Marvel has still yet to send out a press release announcing the film's cast. But we've gotten a bunch of cast confirmations via social media postings and spotting outside of the production. The latest is a confirmation that Benicio Del Toro will be reprising his role as The Collector for the upcoming epic crossover event film. Learn some more details about The Collector Infinity War casting, after the jump.
Del Toro's involvement in the movie was revealed via an Instagram live video by Josh Brolin (found via HH), who is playing Thanos in the film. Brolin mentioned that he'd be working with Del Toro and two of the Guardians — Chris Pratt and Zoe Saldana. The actor was also recently spotted in the area where Infinity War is currently filming.
In my Infinity War cast breakdown, I mentioned that The Collector would most likely make an appearance in the upcoming Avengers sequel. We know that the film's villain Thanos, who Kevin Feige recently said is pretty much the film's main character, is after the Infinity Stones to complete his Gauntlet.
And the last time we saw the Reality Stone, better known as the Aether from Thor: The Dark World, was in the end credits sequence of that film which featured characters from the Thor sequel giving the Collector possession of the stone for safe keeping. And we've been told the character won't appear in Guardians of the Galaxy Vol. 2, which probably means he will still have the stone at the start of Infinity War.
We don't know the Collector's motivations yet — when he gets the Aether, he says "one down, four to go." Is he working with Thanos or is he also after all the Infinity Stones for himself? Also, did the Aether escape his collection after his museum was destroyed in Guardians?
Avengers: Infinity War will hit theaters on May 4th, 2018.