NBC's 'Saturday Night Live' Considering 'Weekend Update' Spinoff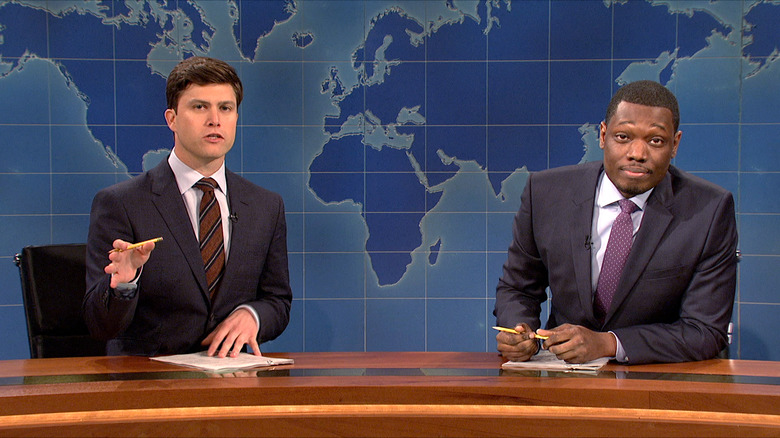 Saturday Night Live's Weekend Update could be headed to weekdays. The show is reportedly considering a half-hour spinoff to debut on primetime sometime this fall. The Weekend Update desk has been manned by Colin Jost and Michael Che since 2014, but details are sparse at this time and we don't have any confirmation on which talents will be involved. 
The Weekend Update spinoff rumor comes from Politico, who reports NBC is in talks for a 30-minute primetime edition of the long-running segment. The show will likely air on Thursday evenings. Saturday Night Live has enjoyed a ratings boost this season, as reported by Variety — it's up 22% in total viewers over the same time last year, giving the show its highest ratings since the 1994-1995 season. Naturally, the powers that be are looking to capitalize on the series' rising popularity.
The upcoming spinoff wouldn't be Weekend Update's first foray into weekdays. In 2008, NBC aired several weeks of Saturday Night Live Weekend Update Thursday in the run-up to the presidential election. Weekend Update Thursday returned again for brief periods in fall 2009 and fall 2012. In all, there have been eight episodes of Weekend Update Thursday. We don't know if the new show will take on the same title, or start fresh with a new one.
While Saturday Night Live has gotten a lot of buzz lately for its coverage of political news and current events, I'd argue that Weekend Update is actually the weak point there. It took Jost and Che a while to gel, and they're still not really great together — they're just kind of fine. (In their defense, let's take a moment to acknowledge that the job is much harder than it looks.) Instead, SNL's best recent political moments have come from its skits, like the ones starring Alec Baldwin as Donald Trump — or, more recently, Melissa McCarthy as Sean Spicer. If Weekend Update does come to Thursdays, here's hoping they figure out a way to weave some of that magic into the show.