'Bad Boys 3' Delayed 10 Months As 'Bad Boys 4' Falls Off The Schedule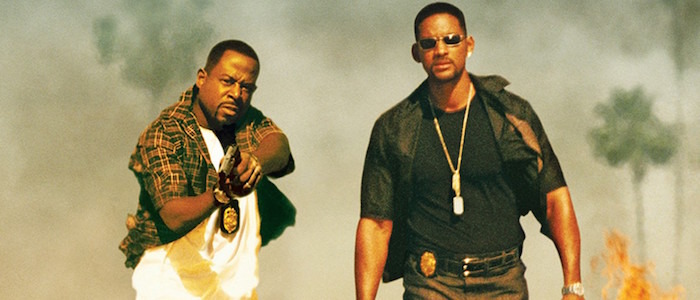 The game of release dates can be a tricky thing. On one level, the studios love to lay out their slates for the next five years in advance, promising an impressive line-up of titles to make sure everyone knows that they're keeping busy. But on another level, this can sometimes backfire – if a movie needs a little more time to marinate in the development process or if something simply doesn't come together at the right time, the ensuing schedule changes can be a bad look. It's not a sign that things are necessarily going wrong, but it does get everyone to wonder what's going on.
So now we have to wonder what's going on with Joe Carnahan's Bad Boys For Life, the third entry in the Bad Boys series, which has been delayed ten months while the also-in-the-works Bad Boys 4 has apparently fallen off the schedule altogether.
The news comes our way via Exhibitor Relations, who revealed that Bad Boys For Life will now hit theaters on November 8, 2018 instead of January 12, 2018. Bad Boys 4, which was just set for a May 24, 2019 release back in December, no longer has a release date at all.
Sony's BAD BOYS FOR LIFE is now a holiday vehicle, rolling out November 9, 2018 instead of January 12, 2018. BAD BOYS 4 is now TBD.

— Exhibitor Relations Co. (@ERCboxoffice) February 7, 2017
Although the reason for the initial shift is unknown, the latter change makes perfect sense – there's no way a fourth Bad Boys could arrive six months after the release of the third one unless Sony followed a The Matrix/Pirates of the Caribbean-style plan and filmed two movies simultaneously. And even then, would audiences be hungry for two Bad Boys movies to arrive in such short order?
This isn't the first time Bad Boys For Life has been pushed around the schedule. The film was originally set to arrive on February 17, 2017 (literally ten days from now!), but it was delayed to June 2, 2017. Five months later, it was given that new title and pushed to January 12, 2018. And here we are.
Whatever is happening behind-the-scenes at Bad Boys For Life, I hope the delay is simply allowing Carnahan more time to make the best possible movie (and to wrangle stars Will Smith and Martin Lawrence into a schedule that works for everyone). While I have mixed feelings on the first two Bad Boys movie and can't join the punch-drunk fandom that has sprung up around them, I do love me some Joe Carnahan and would love to see him cut loose with a wild 'n' crazy cop movie.