'Pacific Rim: Uprising' First Look: John Boyega Is Pentecost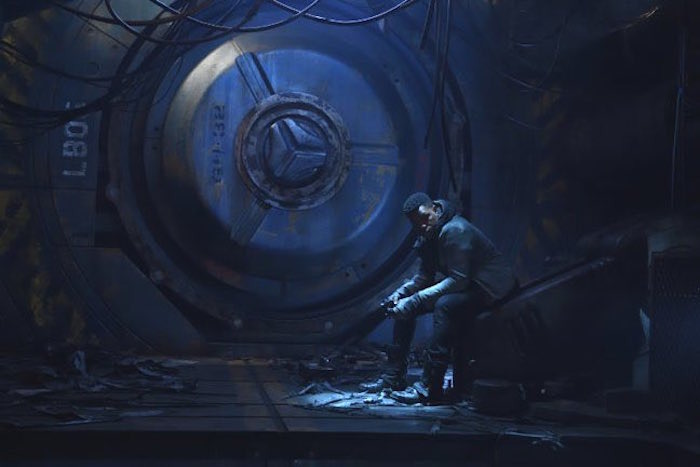 Ready for some jaeger-on-kaiju action? John Boyega sure looks like he is, in the first official look at Pacific Rim: Uprising. He plays Jake Pentecost, son of Stacker Pentecost (Idris Elba's character from the first film), and we already know he's a jaeger pilot like his dad. The picture doesn't show him suited up just yet, but he looks like he's thinking deep thoughts canceling the apocalypse and whatnot. Feast your eyes on the John Boyega Pacific Rim: Uprising image below. 
Boyega shared the first official look at Pacific Rim: Uprising on Twitter.
I am Pentecost
2018#PacificRimUprising pic.twitter.com/36BEwIVRVD

— John Boyega (@JohnBoyega) February 7, 2017
The image quality is not so great and it's honestly hard to tell if this is an actual photograph or a painting of some sort. But if you're a big fan of the original, it's probably enough to send a thrill down your spine.
This seems to be the same outfit he was wearing in a different picture he shared from the set.
Battling the apocalypse here in Sydney. Thank you for having us ! #PacificRimUprising
A photo posted by BOYEGA (@jboyega_) on
While Pacific Rim: Uprising does bring back some characters from the original — including Mako Mori (Rinko Kikuchi), Gottlieb (Burn Gorman), and Newt (Charlie Day) — it largely focuses on a new cast. In addition to Boyega, the film stars Cailee Spaeny, Scott Eastwood, Tian Jing, Mackenyu, and Jin Zhang. Steven S. DeKnight (Netflix's Daredevil) directs, replacing Guillermo del Toro who remains on board as a producer.
Pacific Rim: Uprising won't be in theaters until February 23, 2018, but fear not — you'll be seeing a lot more of Boyega between now and then. Right now you can see him in the long-delayed indie drama Imperial Dreams, just released on Netflix, and later this year he'll star in The Circle, Kathryn Bigelow's untitled Detroit riots drama, and, of course, Star Wars: The Last Jedi.